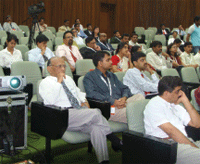 And so it finally happened!
eINDIA 2008, India's largest ICT event was held from 29th to 31st July 2008 at Pragati Maidan, New Delhi. As part of the seven tracks, 'eHEALTH India 2008' – presented by eHEALTH magazine provided a unique opportunity for healthcare industry players, policy makers, academicians, researchers, technology vendors and other stakeholders to come together on a common platform and share experiences, discuss pertinent issues and showcase innovations over three days of active conferencing and an exciting exhibition.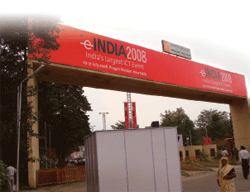 The eHEALTH track kicked off with an opening address by Dr. Rachel Jose, Additional Director General (Health Services), Directorate General of Health Services, Ministry of Health and Family Affairs. Dr. Jose highlighted the poor state of healthcare delivery in India. She went on to state how telemedicine is a possible solution to the healthcare crisis as by 2025, 65% of the Indians are likely to be literate. Emphasising the pioneering work done by the Indian Space Research Organisation on this front, she said that though e-health in the country is mostly restricted to medical transcription, there are more than 150 live telemedicine projects. The majority of these are funded by ISRO.

Speaking of the urgent need for automation, she said that 'there is a need for automation of data because of the presence of health insurance'. Dr. Jose pointed out the main challenges to automation, including, shortage of reliable connections, the need for greater bandwidth, legal/ethical issues, complicated licensing procedure and data security issues.
Today we have several stand alone Electronic Medical Record (EMR) systems without interoperability. Dr. Bidhan Das, a member of the National Accreditation Board for Hospitals (NABH) introduced the pertinent issue of EMR. As of today, EMRs are an expensive option. Currently, no national standards exist and there is also minimal exchange of information between service providers. Dr. Das painted a picture of an ideal situation which healthcare service providers can aim for. This includes standardisation, integration, and seamless information exchange. He stressed the need for a well drawn out roadmap for health IT, which takes into account Integration, Automation and Accessibility. An important point raised at this time was the need for a standard tariff structure and increased insurance coverage. Automation can help to reduce the cost of administration as price falls. For this to happen, i.e. to push for wider use of automated systems, Dr. Das suggested that stringent action should be taken against defaulters.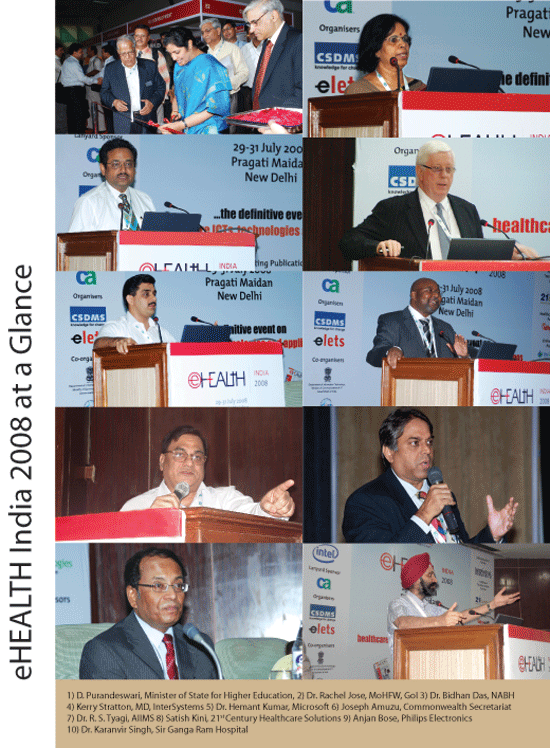 People Speak
"It Was wonderful to be part of the mega event" – Dr. Sridhar Arunachalam, Manipal University.
"Please accept my congratulations for eHEALTH India 2008 conference. Unfortunately I could not attend the event because of my pre occupation with project related work. The conference was attended by my Principal Consultant from Infosys, who appreciated a lot about the sessions and speakers" – Dr Fahad Mustafa Khan,Business Analyst, Healthcare & Lifesciences Consulting, Infosys Technologies Ltd.
"Thanks for your great support" – Nikita Chavan, Business Development Manager, idhasoft
"The event was fantastic in terms of content and industry insight. Excellent platform to network with other healthcare players and exchange thoughts. Kudos to eHEALTH team for organiSing such a wonderfull conference. Wish you more and more success in future." – A. Baskaran, Head-Strategic Business & Relations, Karishma Software
"It was a worthwhile event to attend. The coverage on eHEALTH is excellent and selection of topics and speakers was well thought out. I certainly enjoyed meeting and networking in this event and look forward to attending the one in Malaysia." – Raghu Iyer, Founder & Chairman-Business Intelligence Technologies
"Great show. Truly phenomenal, the work that you guys have done. Well thought-out sessions, most informative. Overall, excellently managed. Cannot wait for 2009 and do keep up the good work!" – Dr. S. B. Bhattacharyya, VP (Clinical Services), Karishma Software lTD.Secretary, IAMI
"It was a good conference overall. However,the level of participation from the providers (doctors, hospitals) was not that high'" – Nagesh Srinivasan, Director, Marketing&Sales-Yos Technologies Private Limited.
There was a special address by Kerry Stratton of InterSystems and Dr. Hemant Kumar of the Microsoft Health Solutions Group. Kerry Stratton gave the audience a comparative overview of the national e-health policies of various countries (including India, China, UK, Sweden and Brasil). "Technology is not the issue today", said Stratton. " The problem is with fragmented systems." Dr. Kumar provided an insight into the future of medicine. Dr. Kumar pointed out how Bumrungrad Hospital at Bangkok, Thailand increased its efficiency and output levels several fold by implementing a Microsoft system of automaton.
The theme of the first session was 'Public Health Transformation