The long term success of IT projects, particularly electronic government, is determined by far more factors than those which are often assumed. On-line applications and their benefits are only one aspect. In fact, there is a whole range of factor such as organisational measure, strategic planning, qualifications, political support, rules and regulations issues, partnerships and much more. This article presents a critical analysis of barriers experienced in urban and public sector organisations, which prevent the successful adoption of e-Government; such barriers being presented in taxonomy.
Introduction
One of the most important emerging applications of Information and Communication Technology (ICT) is e-Government. New technologies and means of communication have become available for urban managers in developed and developing countries. This changes the functioning of the urban economy of cities and of urban management. This also affects the way people communicate with authorities and the way officials and inhabitants can be trained and organised.
Applications of information technology for urban management in developed countries range from creating a 'virtual town hall' to registration of the movements of companies. The virtual town hall can beimportant in developing countries where people do not easily go to the town hall to investigate matters. Information technology can also be used for the purpose of city marketing, to attract business, or to provide tourist useful information.
Information technology (IT) has the potential to transform municipal government structure and to improve the quality of urban services. IT provides opportunities like increased operational efficiency by reducing costs and increasing productivity, and better quality of services provider by public organisations.
As a result, information technology and internet are transforming public and urban administration in digital era.
The municipality has a direct contact with the citizens and businesses and is responsible for providing an array of basic services. In recent years the municipalities throughout the world have made considerable efforts to establish and refine their on-line presence.
Information technology managers in municipal government must be aware of the many problems they face in IT intensive project. IT initiatives in general, and in government projects in particular, face multiple and complex challenges. Identifying and overcoming these challenges is not always easy. Many national, state, and municipal governments are developing tools to help managers make decisions about IT investments and implementation.
Factors Influencing Deployment of e-Government at Municipal Level

As per the research done in the field there are specific factors that influence the quality of electronic municipal services. In fact, these factors contribute to the adoption of e-Government among municipalities. These factors can be generally classified into four categories: (1) IT infrastructure, (2) Organisational and managerial, (3) Environmental and institutional, and (4) Rules and regulations (see Table 1).
Infrastructure

Research indicates that to have a successful e-Government plan, the public sector must create an IT infrastructure that is optimised to support new information systems and applications that are necessary for e-Government. e-Government IT infrastructure may comprise of a number of technologies with a network infrastructure at its genesis; including an application server, hardware and operating systems, data and application development tools. A substantial infrastructure is needed to support municipal government with IT resources, and services. The existence of an IT infrastructure is related to the ability of municipal governments to implement innovative IT. In addition, availability and compatibility of software, systems and applications are important factors to consider. Adequate network capacity or bandwidth is the foundation for integrating information systems across public organisations.
Managerial and Organisational Factors

The lack of IT skills is also a bottleneck in taking to IT initiatives. It is ranked as the number one barrier to e-Government, based on the e-Government survey in the year 2000 conducted in USA by the International City/County Management Association and Public Technology, Inc. Staff, citizens and council members training is an important factor in the success of IT initiatives. Municipal e-Government cannot be implemented without the expertise and active support of the staff because their ideas and information are needed. Council members also decide on budgets and the duration of the relevant projects. The managerial staff also need competence, qualifications and skills for local e-Government. While effective top management leadership involvement is a cornerstone of any IT investment strategy, strong government leadership and responsive management process must support an e-Government initiative, because of this is the complexity and scale of changes that take place in the organisation during the implementation of e-Government. So, employees must have the training and tools they need to do their jobs.
Finally, individual interests and associated behaviours like resistance to change, internal conflicts, and turf issues also act as roadblocks. Resistance to change from the people and the municipal organisations must be managed well. Strategic planning techniques can be seen as an umbrella for more specific strategies such as clear milestones and measurable deliverables; good communication channels; and previous business process improvement. This fact indicates that e-Government initiatives are often pursued and implemented without a long-term strategic plan by many municipalities.
Factors Related to Rules and Regulations
Most of the time public organisations are created and operated by virtue of a specific formal rule or group of rules. For any decision making, including those in IT projects, public managers must take into account a large number of restrictive laws and regulations.
The statutory regulations do not yet meet the requirements for virtual administration at all levels of the federal state and municipal law. For example, changes may be needed in formal requirements and the provisions for fees. The legal experts are, therefore, needed to determine the need for changes in law, statutes and by-laws.
"The rapid pace of technological development has resulted in the integration of computers and telecommunications to unfold within public and private organisations. These Information and  Communication Technologies (ICT) are useful instruments, capable of achieving  quantum leaps in the fi eld of enabling governments to enhance and possibly transform  relations with citizens, businesses and agencies as well as other governments"
Developing appropriate government-wide IT policies and standards can also provide adequate framework for e-Government initiatives to be successful.
Institutional and Environmental Factors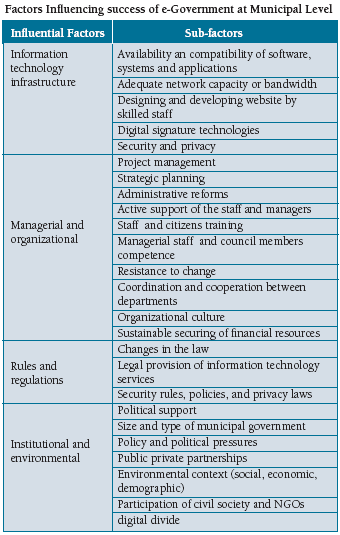 There are additional challenges related to a more general institutional framework and the policy environment in which government organisations operate. The research has shown that municipality size and type of government are significant institutional factors in the implementation and development of e-Government. Larger municipal  governments are likely to be more proactive and strategic in advancing e-Government, and council- manager governments seem to pursue e-Government more actively than mayor–council governments.  Larger municipal governments have the external pressures to make the  government more effi cient. More importantly, larger municipal governments may be more  receptive to and more easily afford new technological innovations than smaller governments;  larger governments often have the advantage of greater administrative, technical and fi  nancial resources than smaller governments in seeking alternative managerial innovations.  The council- manager municipal governments also tend to be early adopter of web technologies.
Also, public private partnership (PPP) plays a useful role in effectiveness, reducing risk and  better management relating to change. Participation of civil society and NGOs must also be  ensured in decision making, implementation, monitoring, and review of local e-Government projects.
Political support for the introduction of local community e-Government must be assured.  Without clear support by the municipal council, the comprehensive modernization project of  local e-government is doomed to be a failure. Finally, external pressures such as policy agenda  and politics may affect the results of IT initiatives.
One of the more pressing issues in the evolution of the municipal e-Government is that of    digital divide, or the gap in computer and Internet access across economic, demographic, or social lines.
The digital divide is potentially a serious issue, as large portions of society are purportedly left out of the digital revolution in business, and they have potential to eventually lose touch with  government as the e-Government transition takes shape while other, more computer-  and Internet- savvy citizens become better served by government. Evidence has shown that  minorities, low-income people, the less educated, and rural dwellers have less access to the  Internet, and hence e-Government, is problematic for the public sector, which by its nature  must give adequate consideration to equity concerns in its decision calculus.
CONCLUSION
The rapid pace of technological development has resulted in the integration of computers and  telecommunications to unfold within public and private organisations. These Information and  Communication Technologies (ICT) are useful instruments, capable of achieving  quantum leaps in the fi eld of enabling governments to enhance and possibly transform  relations with citizens, businesses and agencies as well as other governments.
In order to enhance the effectiveness of the e-Government practices, many municipal  governments will need to move towards a higher level of e-Government development, which  will require more technical, personal and fi nancial commitments. In particular, continued  and vigorous need to be made to advance web-based participatory and democratic local  governance. Municipal governments also need to establish systematic and comprehensive  e-Government plans, in which they assess available resources and address related legal issues  like privacy and security as well. Acceptance of a new public service delivery paradigm,  privacy concerns, equitable access, and transition fi nancing appear to be the major obstacles  holding local government back. The literature has also suggested that trust and security were  key areas that needed attention in the deployment of e-Government.
SAP Public Sector Solutions in India: Touching the Lives of Millions
In the government space, in some cases, SAP works directly with the government or quasi- government entities. Otherwise, SAP would be a part of a consortium working with systems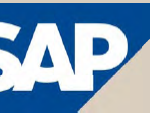 integrators or other channel partners. Ranjan Das, President & CEO, SAP, Indian  Sub-continent, says, "We want to have a model that would best suit the interest of our  customer. At all levels, we believe we are automating and optimising the business processes  for these government entities, making them more effi cient"
SAP works with the 'Coalmines Provident Fund' that used to be a non-automated system. Accessing the Provident Fund money was not easy. There were middlemen stealing money  from them. SAP automated the entire process of managing the retirement funds and then we made it available to them through kiosks established across the country. Even peoplewho do  not know how to operate computers can go directly to the kiosks and access the funds.
This initiative of SAP has touched the lives of about 3.5 million people by eliminating    middlemen. We have kiosks across the country. SAP also builds citizen portals such as the one for the Municipal Corporation of Mumbai. The information comes from multiple sources, but   SAP offers a consolidated view to the citizen. (Extracted from interview of Ranjan Das, President & CEO, SAP, Indian Sub-continent, eWorld)
Follow and connect with us on Facebook, Twitter, LinkedIn, Elets video