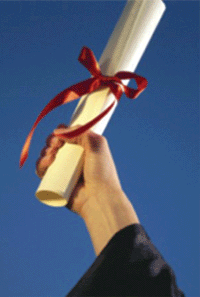 India's emergence as one of the fastest growing economies on the globe, with the possibility of a double digit growth rate, poses a critical challenge of its preparedness to capitalise on opportunities on the horizon for its massive and growing work-force. More importantly, is the country looking towards creating new ways to harvest this promise of growth through appropriate educational and training infrastructure. In this overview we will look at the emerging prospects, the current status of India's higher education system, growing role of private institutions and challenges to emerging as a knowledge economy.
ICT and higher education
There are over 221 universities, 39 Deemed universities plus seven open universities in India. Out of 9703 colleges, 550 are engineering and technical colleges, 655 medical and 600 management institutions

The revolution in ICT has been the main stay of globalisation of markets and knowledge systems. Availability of internet based services and communications has allowed distances and barriers to be breached in realtime and that too at lower costs than ever imaginable.
Internet technology has found two broad applications in higher education or university system. First is its use in creating seamless administrative systems and interfaces, like online admission forms, status tracking, availability of results, course schedule etc. In some cases, depending on how tech savvy faculty members are, online submission of assignments are also being done.
The second application, which is significant in the Indian context, has been in changing the very manner in which education is delivered as a process and also as learning experience. It has taken higher education away from the confines of classrooms, libraries and individual lecture sessions.
Availability of online courses have allowed students and teachers from different parts of the world to converge. Online universities do not require physical infrastructure and thus have facilitated greater accessibility to education as a student need not commute or live on campus.
Flexibility offered by online courses has brought in a new range of students, in terms of social and professional backgrounds. Acquiring specialised degrees is today seen as a sure means of creating possibilities of better jobs, as mid-life career changes become more frequent.
Online education holds tremendous potential for India's massive population, but any grand plans for this depend heavily on reliable high-speed Internet coverage. The concept of e-education, especially at higher levels, is just beginning to be viewed seriously.
Higher education system on threshold of change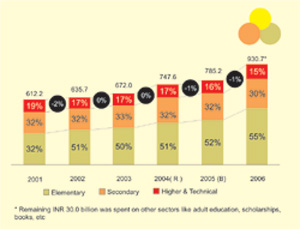 The growth of higher education in India in the past 60 years has been a phenomenal story. The country's technical and medical institutions can boast of powering the global IT industry and becoming a mainstay of health sector in several developed countries particularly in the United Kingdom.
The growth can be ascertained from the fact that starting with only 263,000 students in all disciplines in 750 colleges affiliated to 30 universities in 1950, the numbers have grown to 11 million students in 17,000 Degree colleges affiliated to 230 universities and non-affiliated university-level institutions in 2005.
According to NASSCOM, India had a total of 650,000 IT professionals in 2002 and by February 2005, they rose to 813,500.
According to Brainbench Inc., India ranked behind the US in the number of certified software professionals with 145,517 against 194,211. India produces 400,000 engineers a year compared to 60,000 by US.
In addition to this there are about 10 million students in over 6500 in vocational institutions. The enrollment is growing at the rate of 5.1 % per year.
This also presents a glaring contrast by the way of massive illiteracy that still persists in our country. Over the years, rigid policies and red tape have compromised the quality of higher education, and in some cases marketability, as they have failed to keep pace with emerging knowledge systems and technology.
Financial and infrastructural stagnation are placing massive pressure on the higher education system with explosion in enrollment due growing population. High demand from primary and secondary education has led to the deterioration in the financial
support provided by the government.
Open University System

The sheer geographical expanse and a large population have made India look at open university for a long time now as a viable means of reaching out hundreds and thousands of people outside the mainstream university system. Indira Gandhi National Open University (IGNOU) has been a pioneer in the field and has over 11,87,100 students on its rolls. Currently there are more than seven open universities in India offering over 500 courses. Modern communication technology can be harnessed to effectively provide education through this medium. A distance education Council has been set up and a commonpool of programmes is available for sharing.
A National Mission for Education through ICT had been proposed by Human Resource Minister Arjun Singh. Under this plan all institutions of higher learning would be networked through broadband connectivity.
A provision of INR 502 crore had been made for the Mission and substantial portion of this money would be used to provide high speed interconnectivity between 84 Central Educational and Research Institutions and for developing the e-course content.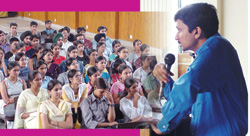 Open Universities can be highly cost effective as the cost of teaching through distance education comes down to a third compared to the traditional system. They also maintain a close relationship with the industry and is specially helpful to those who cannot afford a regular university degree.
Growing role of private institutions

Since the late 1990s the higher education market is growing by 7 % a year. With the growing demand for higher education and the need for aligning of content with the newer skill demands, the stage is set for private educational systems to come of age and assume much greater role than ever.
In 2000-01, of the 13,072 higher education institutions, 42% were privately owned and run catering to 37 % of students enrolled into
higher education.
It will not be too ambitious to say that the growth in higher education sector itself is being propelled through private and unaided colleges or self-financing institutions. Many universities have now granted recognition or affiliation to unaided colleges and are also initiating self-financing courses in government and aided colleges. According to one estimate, close to 50 % of the higher education in India is imparted through private institutions, mostly unaided.
Privatisation of education has also brought in a sea change in the way education is viewed. From being seen as service delivery, it has now become a  quality product. Universities are actively pursuing students, especially foreign institutions, using a wide variety of strategies to market their courses. The student is now the customer or client. With globalisation, Universities are spreading their reach beyond geographical and political borders.
The British, Australian and American Universities are setting up campuses in other countries, realising that they can examine many more students than they can teach.
Hence many of them are collaborating with other institutions or franchisees to teach their courses under their brand name without getting involved in the direct business of imparting the education.
Moment of reckoning for India

India, with a critical mass of skilled English-speaking knowledge workers, a functioning democracy and a massive domestic market, has many of the key ingredients for seizing the opportunity for making a transition to a knowledge economy.
'India has a dynamic private sector, institutions of a free market economy, a well-developed financial sector, and a broad and diversified science and technology infrastructure. In addition, the development of the ICT sector in recent years has been remarkable. India is becoming a global provider of software services. Building on these strengths, India can harness the benefits of the knowledge revolution to improve its economic performance and boost the welfare of its people,' reads a World Bank report titled India and the Knowledge Economy; Leveraging Strength and Opportunities (April 2005).
'The time is very opportune for India to make its transition to the knowledge economy