The Indira Gandhi National Open University in its 22 years of existence has emerged as the single largest University in the democratic world. It serves the educational aspirations of more than 1.8 million students in India and 32 other countries through the 21 Schools of Study and a network of 58 regional centres, more than 1804 study centres/tele-learning centres and around 46 overseas centres. The University offers 138 Certificate, Diploma, Degree and Doctoral programmes comprising around 1300 courses. Conventional teaching learning methods are being effectively supplemented with Information and Communication Technology and Satellite-based teaching-learning systems.

The University provides multi-channel, multiple media teaching-learning packages in the form of self-instructional print and audio/ video materials, radio and television broadcasts, face to-face counselling/tutoring, laboratory and hands-on experience, video conferencing, interactive radio counselling, interactive multimedia CD-ROM and internet-based learning. Apart from the print based self instructional material, the educational programmes are reaching over 5 million homes through the Gyan Darshan Channels, via the DTH (Direct-To-Home) platform and webcasting. The University is now gearing towards the development of interactive multimedia content and learner support through web-based platforms.
The e-Learning market is booming world over and is predicted to follow an upward swing with more and more institutions, organisations and individuals implementing and adapting to this mode. The power of e-Learning lies in its potential to provide the right information to the right people at the right time and place. With advent of Information and Communication Technologies (ICTs), the delivery of educational programmes has witnessed a paradigm shift from print based teaching-learning to e-Learning. The learners having access to the internet and those who have adapted to learning through computers have shown their preference for e-Learning over print.
Web that gives information access to users who are physically remote from resources is emerging as a democratising, emancipating, empowering force facilitating self-publishing, knowledge sharing and peer-to-peer networking. It has now shifted from being a medium, in which information was transmitted and consumed, into a platform, where content is created, shared, remixed, repurposed, and passed along. In the same spirit e-Learning has moved from being merely a content repository and emulating classroom teaching to more dynamic concepts of Social Networking, Do-It-Yourself (DIY), Personal Learning Environment (PLE) and Mobile Learning.
The ICT led initiatives in the form of e-Learning, online student support, digital repositories, open source courseware, etc. are now part and parcel of the Open and Distance Learning (ODL) systems. The earlier generations of ODL has given way to new generations which are ICT dependant for dissemination of knowledge without compromising on the quality and being more cost-effective.
Realising the potentials of e-Learning to reach out the un-reached, IGNOU has recently embarked on a few major initiatives towards developing online learning environment for distance learners. eGyanKosh: a national digital repository, e-Learning platform for LIVE (Library and Information Virtual Education), PAN- African E-Network and Sakshat a one stop education portal of the Ministry of Human Resource Development (MHRD), are some major initiatives of the University in this direction  have been discussed here.
eGyanKosh: A National Digital Repository of learning resources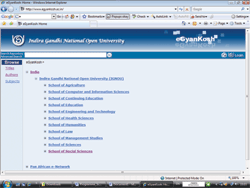 eGyanKosh is an effort towards developing a national digital repository of learning resources. Over the years, a vast amount of self instructional materials, audio and video programmes have been generated by the open and distance learning (ODL) institutions in the country. Huge wealth of structured knowledge is available which is very difficult to access and reuse. This results in duplication of efforts in developing learning materials and wastage of valuable resources. These learning materials have restricted use by the registered programme specific audience only. Some of the materials especially the audio visual ones do not even reach the targeted audience.  Considerable amount of money is invested for the purpose but most of the materials remain under-utilised. Moreover, the audio visual programmes stored in analogue form have a limited life span. Keeping these issues in mind, eGyanKosh, a national digital repository was initiated by IGNOU to store, index, preserve, distribute and share the digital learning resources developed by the ODL institutions in the country.
e-Learning has moved from being merely a content repository and emulating classroom teaching to more dynamic concepts of Social Networking, Do-It-Yourself (DIY), Personal Learning Environment (PLE) and Mobile Learning

In the first phase IGNOU course materials are being digitised for uploading on the repository. This will be followed by incorporation of course contents of other Open and Distance Learning (ODL) institutions in the country.
At present a centralised model of implementation is being carried out where servers are located at a central location in the IGNOU campus and content is being digitised and uploaded in the eGyanKosh unit of the University. There are plans to move on to the decentralized structure where the other ODL institutions will be participating in uploading material on the repository. The content and the metadata will be moderated at IGNOU before uploading on the repository. The long term plan, however, is to implement a distributed model once the ODL institutions have acquired necessary infrastructure and expertise in developing repository at their own end. In the distributed model the repository will have an interoperable architecture with the facility of cross collection federated searching.
IGNOU Adopts ERP To Strengthen Organisational Capabilities
Dr V S P Srivastav (vijaysrivastav@ignou.ac.in), Head, Computer Division, IGNOU
In the 1960's when programming as a discipline came to be advocated in office processes, efforts were made to develop standardised software solutions. Initially, software was  developed for processes like payroll,  inventory and storage management etc. This automation process was termed as Electronic Data Processing. Later on, other tasks in the production system like purchases, billing, customer requirements, etc too were integrated, which led to development of Material Requirement/Resource Planning (MRP) software.
With the advancements in IT, an improved ICT tool 'Enterprise Resource Planning' has come up which integrates all processes at the organisational level. The ERP  integrates several data sources and processes of an organization into a unified system of back end database to store data.
The Indira Gandhi National Open University (IGNOU) has also embarked on an initiative to adopt the ERP  to enhance individual competencies and strengthen institutional capabilities. The move will facilitate availability of consistent and integrated data to all concerned. The ERP will be further extended to cover IGNOU study centres, regional centres and concerned service divisions and schools at the headquarters. 
Through the ERP programmes of  Peoplesoft and ORACLE, the back-end processes for HR, finance, works, purchase and inventory departments have been taken up in first phase. The HR records are being digitised using  the Documentum software with heavy duty scanners. Access controlled Data Centre, with many blade servers and storage systems, will provide all the requisite support for customisation/development, testing, training and further implementation of integrated management solution. The second phase is intended to cover all other stakeholders, up to the study centres. Web enabled integrated solution will thus provide a single platform for all to communicate and retrieve information  online.

e-Learning initiatives at IGNOU
Several e-Learning initiatives were experimented by the University  earlier but they could not take off very well. The Virtual Campus  initiative launched in 1999 by the University for the Bachelor's  Programme in Information Technology (BIT) had great promises.
But the programme was discontinued in 2006. Another programme, Rehabilitation and Resettlement, 'RR online', started as single  online   mode academic programme in 2002, later made as dual mode   (online and offline print based) simultaneously.
Reflecting on the experiences gained in these programmes, one finds that they could not sustain mainly due to their replication of the print based content into e-learning materials. Though, some interactivity was introduced in the form of chat and e-mail, they were not sufficient enough to retain a continuous learning interest in the pedagogy. The content software was mainly text based with additional PowerPoint presentations and online quizzes. These were followed by a few more motivational initiatives at smaller scale. Not withstanding the setbacks in the initial phases in the e-Learning front, the University is surging towards developing complete virtual learning environment to facilitate reaching the un-reached especially those located in far flung areas. From the management angle, a decision has been taken in the IGNOU's Planning Board to incorporate online delivery of its new academic programme parallel to the print based mode.
Experience from the earlier experim-ents clearly indicates that a more learner and learning centric approach is required for successful implementation of e-Learning environment. While certain learning functions can be best performed by Learning Management Systems (LMS) based on structured content, higher learning that is based more on discovery and exploration require learner-centric, pick-and-choose tools. E-Learning technology can be put to good use by enabling blended learning through information, interaction and collaboration. Therefore, apart from the course based structured e-Content, an e-Learning environment requires the following features:
personal knowledge management tools- RSS feed, bookmark, tagging

platform to Interact with the instructor and connect with fellow learners- e-Mail, chat or VoIP,  discussion forums, blog, social networking (Orkut.)

constructivist content development platform- Wiki platform for learner expression-  blogs or portfolios.
The platform for e-Learning delivery at IGNOU is now being developed integrating third generation e-Learning tools. An agreement has been signed with Google Inc to  integrate Google Apps with the system facilitating collaboration and real time interaction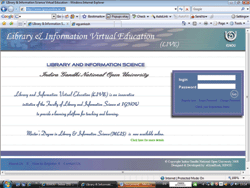 Most of these tools are now available as open source, which facilitates easy integration with the existing e-Learning platforms. The platform for e-Learning delivery at IGNOU is now being developed integrating third generation e-Learning tools. An agreement has been signed with Google Inc. to integrate Google Apps with the system facilitating collaboration and real time interaction.
LIVE (Library and Information Virtual Education) is an initiative of IGNOU to develop an in-house Learning and Content Management System for imparting online education. It is envisaged as a complete virtual learning environment suite covering all the activities from registration to certification. In the first phase only the Master's Degree in Library and Information Science (MLIS) is being announced at international level. The virtual learning environment has the following features and processes involved in it:
Walk in admission – admission will be available throughout the year. The Registration form has been specially devised with the facility of uploading scanned certificates, other required documents and photograph. Registration will be confirmed only after verification of the certificates and payment of the required admission fee. Facility for online payment gateway is being integrated for the purpose.
Integrated multimedia courseware- once registered, learners will have access to personalised learning space (My Page). This includes self instructional material, related audio/ video, slides, self check exercises, etc. weaved in one platform.
Online counselling and mentoring – webcast based counselling integrated with text based chatting facility to be used for counselling purposes. Distributed model is to be followed with e-Counsellors available in remote locations.
Follow and connect with us on Facebook, Twitter, LinkedIn, Elets video