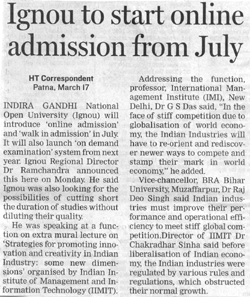 1991
Jan: AIR started broadcasting IGNOU programmes from Bombay and Hyderabad.
May: Doordarshan started beaming IGNOU's video programmes.
1992
Feb: IGNOU's Degrees, Diplomas and Certificates were commended by the UGC as being equivalent to those of other universities in the country.
Mar: The Distance Education Council (DEC) started functioning from IGNOU for coordination and determination of standards of distance education systems in the country.
1993
May: In the international arena, the Commonwealth of Learning (COL), Canada designated IGNOU as a Centre of Excellence in Distance Education.
Aug: The Staff Research & Training Institute in Distance Education (STRIDE), with support from COL, was established for development of human resources in distance education.
1994
IGNOU manifested its presence in the national educational scene with the proposal for a joint IGNOU-ISRO project for establishing a one-way video, two-way audio teleconferencing network and the establishment of audio-teleconferencing facility connecting all Regional Centres and 3 State Open Universities with IGNOU headquarters in 1994.
1998
December: A Letter of Agreement was signed between DOPT, Govt. of India and IGNOU. STRIDE, in collaboration with EMPC, organised training of trainers programmes on 'development of self-instructional training package' and 'development of audio and video training packages' for the senior faculty and officers of central and state government training institutions, sponsored by DOPT, Govt. of India.
199
9March: The Commonwealth of Learning, (COL) conferred upon IGNOU the 'Award of Excellence for Distance Education Material' (CPA) for the course titled 'Education and Training of Elected Members of Panchayats through Distance Mode.
2001
January: Gyan Darshan became 24 hour channel.
2002
August: IGNOU's proposal to set up National Centre for the Differently Abled(NACDA) announced.
September: Memorandum of collaboration with UNESCO.
December: Vice-Chancellors of Open Universities and Heads of Distance Education Institutions of SAARC countries met at the University for the two-day conference on `Borderless Open and Flexible Learning'. SAARC Consortium of Open and Distance Learning (SACODiL) established.
2003
January: Two-day nation-wide induction programme for IGNOU learners through teleconferencing mode.
The country's first technology channel Gyan Darshan III, called Eklavya formally inaugurated. Four FM Radio Stations at Bangalore, Lucknow, Vishakhapatnam and Coimbatore were also formally inaugurated.
August: MoU with Prasar Bharti.
2004
January: Kisan TV Channel was inaugurated.
The Higher Education channel, a joint initiative of UGC-CEC and IGNOU-EMPC was launched.
July: IGNOU developed a virtual campus website for mid-career training programme for Foreign Service Institute (FSI).
September: EDUSAT, the dedicated satellite for education was launched.
November: The Mizoram University accorded recognition to IGNOU programmes as equivalent to other universities in the country for seeking employment under the state government through direct recruitment.
2006
November: IGNOU – ALUMNI ASSOCIATION

Indira Gandhi National Open University (IGNOU) decided to form an Alumni Association so as to bring together all the ex-students of IGNOU.