Women's first rural bank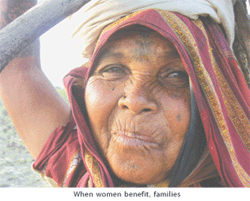 Mann Deshi Mahila Sahakari Bank (Mann Deshi) is a regulated cooperative bank run by and for women. Founded in 1997 by Chetna Gala Sinha, an economist and a social activist, Mann Deshi is India's first rural financial cooperative institution to receive a cooperative license from the Reserve Bank of India. The Mann Deshi bank headquarter is in Mhaswad, a village in the district of Satara, Maharastra, India. Bank branch of Mann Deshi is distributed in Mhaswad, Vaduj, Gondavale with an extension counter in Dahiwadi. Mann Deshi clients are poor women with annual incomes below INR18,000 ($430). The bank caters to the needs of the disadvantaged groups of the community and is is proud to have become the first bank in the country to have more than 11,040 clients from backwards castes.
Mann Deshi's experience has shown that when women control the household finances, more money is spent on children, education, healthcare and other important domestic items. They believe that the financial empowerment of women will hasten the growth and development of rural India, thereby creating a better life for future generations. To this end, Mann Deshi has encouraged hundreds of women to become confident, capable leaders in their families and local communities. They have trained hundreds of their women to lead Self Help Groups (SHGs), manage their accounts, and keep financial records. Through its services Mann Deshi aims to equip women with liquid assets which can be used in emergency situations; to support women in becoming entrepreneurs; and to build on women's ability to plan and save for their family's future.
The deshi services

Mann Deshi offers many services to their clients including savings, pensions, loans and insurance. The Bank requires all of its borrowers to open savings accounts (regular savings, term deposits and weekly and monthly deposits) and to save regularly- daily, weekly, or monthly. In addition, it has created a long-term savings account for those wishing to save for old age. Mann Deshi is the first microfinance institution with a pension scheme in Maharashtra. The amount saved from the Pension Scheme is sent to UTI Mutual Fund. UTI Mutual Fund invests 60 percent of this money in government securities (fixed profit) and 40 percent in shares (ownership in a company: variable profit depending on market conditions). UTI offers a floating interest rate between 8 percent and 15 percent.  Individuals can receive loans of less than INR 15,000 with the signatures of two other women, who serve as guarantors. For higher amounts they must put up some form of collateral. Mann Deshi provides Life Insurance for clients between the ages of 18 and 60 and will insure sums from INR 5,000 to INR 50,000, through TATA AIG. Mann Deshi is also working on a partnership with another organisation that will allow women to purchase health insurance for themselves and their families.
Mann Deshi aims to equip women with liquid assets which can be used in emergency situations

Mann Deshi has also partnership with SIDBI which has offered grants in-kind of hardware and software, as well as support for ISO Certification process and capacity building programmes. Hongkong and Shanghai Banking Corporation (HSBC) bank has formed a partnership with Mann Deshi to create the Business School For Rural Women. HSBC has also generously supported Microfinance and a Payment and Management (PCM) initiative to appoint Mann Deshi as a correspondent bank.
Partnership initiatives

Mann Deshi, in partnership with its sister NGO, Mann Vikas Samajik Sanstha, offers a number of innovative support programmes for women. In rural areas of India, over 50 percent of girls enrolled in primary schools drop out by 5th standard because transportation costs deters their  family from sending girls to school. The Bicycles to Keep Girls in School Programme offers a solution to this problem. Through partnerships with Mann Deshi, Mann Vikas and Mann Deshi's SHG Federation, 'Freedom Ride' provides bicycles to rural girls at a zero percent interest loan.
The 'Umbrella Programme' has distributed as many as 350 umbrellas to female trade vendors at interest free loans. These umbrellas provide shade to protect the vendors from intense heat exposure in the summer time.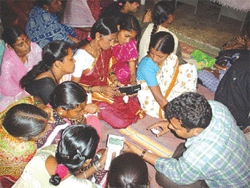 Business school for rural women
On December 2nd 2006 Mann Vikas in partnership with HSBC launched the Mann Deshi Udyogini Business School for Rural Women. The School provides more than just vocational training to women; its courses offer a unique blend of skills, financial literacy and confidence building, all of which are necessary to successfully open or expand a business. Designed for women without a formal education, the Business School fills a capacity gap in the microfinance community, catering not only to the needs of women but also responding to skills gaps in the market.  In addition to the Business School, in 2007 the 'Business School on Wheels' was launched in partnership with the Deshpande Foundation and Ashoka Foundation in Karnataka. It reaches out to women in the remotest areas who are usually left behind because of financial and/or cultural constraints. The bus has been customised to transport the necessary equipment and provide training space. Courses offered in the Business School on Wheels cover vocational, literacy and agricultural topics.
Recent endeavours
Currently, Mann Deshi and Mann Vikas are working on developing and implementing a 'Business Incubator' which ultimately will have multiple locations. The BI will act as a resource centre for entrepreneurs to help them start and run their businesses by teaching them how to market their products to compete more effectively. Mann Deshi is also trying to incorporate new and advanced forms of technologies and services to foster accessibility and coordination. On an overall basis, the bank is continuously striving to serve the underpriviledged sections mainly women who live in the fringes of community life.
Inclusion: A farce or a reality
In the midst of government initiatives and non-governmental concers to extend banking services to the unbanked community, there are farmers in many places of rural India who are committing suicide due to their inability to repay agricultural loans. To potray this exclusive event, a play named 'Suicide' was staged in the School of Arts and Aesthetics Building, Jawaharlal Nehru University, New Delhi on 15th March 2008. The play 'Suicide' is yet another innovative attempt of theatre group 'Sehar' to bring forth real issues and concerns of the underserved communities. The one hour 10 minutes play with 12 dynamic scenes was an endeavour of Sehar to depict the living conditions of the dying farmers of Vidharbha region in Maharastra, India.
Mrityunjay Prabhakar, the director of the play added, "Suicide is about the current socio-political and economic conditions of the Indian farmers in the framework of current agricultural and farmers' crisis in India". Mrityunjay further added that the play was a sincere effort not only to underscore the dismal economic conditions of the farmers in rural India but also to prove that financial inclusion either through e-banking or through the extension of rural credit and microfinance schemes is more a farce than a reality.
Follow and connect with us on Facebook, Twitter, LinkedIn, Elets video