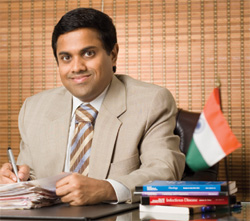 "Our market share of various products ranges from 5% to 40% but as a total share we will be happy to achieve 10% of medical technology industry in the next 5 years' time."

Q. Trivitron Medical Systems already enjoys a place of pride among the top five medical technology companies of India. What is your vision regarding Trivitron's brand-building in the long term?
We want Trivitron to be a globally recognised medical technology brand standing for quality and innovation with strong customer relationships in the areas we are present. For this we will do sustained campaigns and ensure we live up to the promises we communicate through our branding campaign.

Q. The market for medical devices and equipment in India is estimated to reach nearly US$ 5 billion by 2012. What share of the market do you hope to capture by next 3-5 years and which segments do you target in particular?
Our market share of various products ranges from 5% to 40% but as a total share we will be happy to achieve 10% of medical technology industry in the next 5 years' time. As the leading and the largest medical technology company of Indian origin we hope we can achieve our ambition of reaching 10% of market share of the industry by offering a comprehensive range of medical technology products and solutions.

Q. What are your plans for tapping the overseas market

Follow and connect with us on Facebook, Twitter, LinkedIn, Elets video