Advocacy and Interventions: Readings in Communication and Development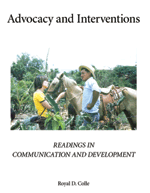 Author: Royal D. Colle
Published by: Internet-First University Press
pages:436
Strategic communication is an effective parameter for development. As the 21st century rolled out, communication in relation to development became more prominent in the international community. Efforts to reach the Millennium Development Goals sharpened our attention on communication with many asking how the new Information and Communication Technologies could accelerate progress toward the goals.  This book addressing these issues is divided into two parts. Part 1, 'Approaches to Communication and Development' and part II, 'Communication Strategy: Techniques and Tools' consists of three chapters.
The book is intended to be 'practical' and is replete with examples and case studies that illustrate the ways how carefully planned and implemented communication interventions have produced positive results. It shows how approaches such as social marketing, extension, participation, and entertainment have contributed to the development initiatives. Many of these have used media and the new Information and Communication Technologies. 'Advocacy and Interventions' includes ideas from people who have experienced the challenges of communicating effectively in development programmes. The book is also based on the author's own insights from almost four decades of communication and development experience in countries ranging from Guatemala to Western Samoa, with many other stops in Asia, Africa and Latin America. 'Advocacy and Interventions' is especially suitable for policy makers, project planners and advanced courses in development communication or rural development.
Empowering Marginal Communities with Information Networking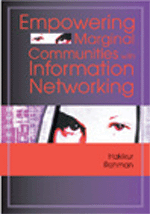 Edited by: Hakikur Rahman
Published by: Idea Group Inc (IGI), 2006
ISBN: 1591406994
Pages:363

The book focuses on human capacity development and addresses the multiple levels of information flow and knowledge of networking skills. The book is divided into thirteen chapters. It tells how ICTs and newer technologies can help people to overcome their poverty by means of increasing productivity.
The role of ICT in promoting indigenous people's development is well investigated and  examines the concept of digital divide with available data and shows that those with low incomes and those who are older have little access to technology. An exclusive overview is also provided on the problems of persons with mental illness and shows how ICT access and usage can be effectively harnessed in order to empower such a marginal population in both developed and developing countries. Use of ICTs to share information with people at grass roots as connecting first mile is also discussed. Ability of Internet as a fundraising tool for marginal communities in South Africa was also discussed besides looking into the challenges being faced by social justice organisations working in South African non profit sector in their attempt to harness new technologies to promote their causes. It defines accessibility and it focuses for capacity development initiatives for marginal communities to achieve MDGs in developing countries.
Villages in the Future: Crops, Jobs, and Livelihood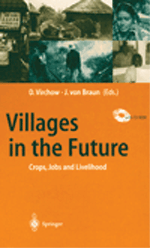 Edited by: D Virchow, Joachim Von Braun
Publisher: Springer, 2001
ISBN: 3540424679
Pages:410

Technological interventions and penetration of communication tools have changed the lives of rural communities. The book is broadly categorised  into four themes: (i) political and institutional frameworks to foster rural development; (ii) natural resources management; (iii) broadening the technological base of rural economies; and (iv) improved linkages between urban and rural areas.
The book talks fairly on broadening the technological  base of rural communities to the development of rural communities. ICTs do strengthen the cultural identities and economic viability of communities by helping to emerge as global villages. They enhance the opporunities of villagers to interact and learn about the outside world and tap markets virtually. Policies for the advancement of information society must be underpinned by a drive for universal and affordable accessibiliy. Without adequate IT diffusion, developing economies would not not be able to participate in the information society and economy. The book embodies  and attachment (as a CD ROM) of a  30-minute video.
Follow and connect with us on Facebook, Twitter, LinkedIn, Elets video