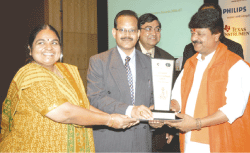 The CSI-Nihilent e-Governance Awards 2006-07 were announced during the 42nd CSI Annual Convention at Grand Ashok, Bangalore, India on December 1st 2007.
Instituted in 2002, the CSI-Nihilent e-Governance Awards encourage the spectacular efforts by states and organisations in the implementation and development of indigenously developed practices and software in the area of e-Governance that benefit the common citizen.
Being held for the fifth successive year, the CSI-Nihilent e-Governance Awards are an annual process of identifying and recognising the best e-Governance initiatives in India, particularly in the government services. The awards received tremendous response in terms of enthusiasm and participation. The awards function was held at the annual CSI convention and attended by dignitaries from the IT industry, as well as personalities from government and non-government organisations.
Kailash Vijayvergiya, Minister of IT, Science and Technology and Public Works, Government of Madhya Pradesh was the guest of honour on the occasion. A book titled 'Compendium of e-Governance Project Initiatives in India' edited by  Gen RK Bagga and Piyush Gupta was released which documents  projects competing for the CSI-Nihilent e-Governance Awards 2006-07. It gives an insight to all stakeholders in e-Governance and shares the critical success factors in the implementation process.
Speaking on the occasion, Prof KK Aggarwal, President, CSI said, "Information and Communication Technologies (ICT) are increasingly being used by governments to deliver services to citizens at convenient geographical locations. The objective of e-Governance initiatives is to improve the reach, make services more transparent and reduce response time with reducing costs. The aim of the CSI-Nihilent  e-Governance Awards is to recognise and replicate the successful initiatives of states and organisations in achieving good governance using ICT. We have continuously improved the evaluation process making these awards the true benchmark for quality conception and implementation of  e-Governance initiatives. This year we received over 100 entries. Heartiest congratulations to all the winners." Mr. Ravi Teja, Associate VP & Head – Enterprise Transformation Group, Nihilent said, "Change management is a subject matter that is currently sweeping public and private sector organisations. It addresses the changes being faced by modern public administrators, both internally and externally. The biggest challenge of deploying e-Governance is not technology but change management in terms of people and processes that the automated environment will introduce. Nihlent is committed to supporting such initiatives that create a sustainable process for change moving in the direction of good governance."
CSI-Nihilent e-Governance Awards for 2006-07
Goa, Jharkhand and Kerala jointly received the award for Progressive e-Governed State.
 The Special Jury Award for Best e-Governed Department was given to Department of Education, National Capital Territory (NCT), Delhi.

 e-Procurement and VAT Information Systems from Gujarat were declared joint winners in G2B (Government-to-Business) category, while the runner up award went  to Petroleum and Explosives Safety Organization  (PESO), Nagpur.

Child Record Information System (ChRIS) from Madhya Pradesh was adjudged the Best e-Governance Project G2C -Rural (Government-to-Citizen) and Samadhan Ek Din Mein from Madhya Pradesh was the runner up.

Centralised Allotment Process for the Professional Course Admissions (CAPNic) from Kerala and Web based Rail Reservation (Internet Ticketing) from IRCTC were joint winners in G2C–Urban and Rural category.

The Best e-Governance Project Award G2G/G2E (Government-to-Government/Government-to Employee) was jointly shared by Integrated System for Food & Grains Management from Food Corporation of India and DC*Suite from Palakkad, Kerala while Basic Services/Amenities Management Programme 'PARAKH' from Madhya Pradesh was the runner up.