Widgit have been developing a range of technologies and strategies for supporting information in print and online with a thrust to freely available and inclusive content
Online symbol resources
In information age, access to information is an essential part of participation, as is the ability to express oneself. However, unless the information is presented in an accessible form, large sections of society are excluded. Of all the information channels, the World Wide Web is increasingly important. It has been described as a democratic medium, in that almost anyone can post information, and it is freely available. Unfortunately, very little information is accessible to people who do not easily read text. There are problems because of the design of the web-pages and because of the level of  the content.
One strategy for addressing this is the addition of symbols. Symbols are graphic representations of ideas or concepts, and a symbol set is an organised system of symbols that covers a wide vocabulary and can handle a certain level of grammar.  Being part of a set, the images have coherence and completeness that distinguishes them from mere icons.
Widgit Software develop symbols and software to help people who have difficulty with text. Their technologies enable text to be automatically supported with graphic images. Symbols have been used to support face-to-face communication for many years, but Widgit have pioneered the application of symbols to support wider literacies since the 1980's. In recent years, they have been developing a range of technologies and strategies for supporting information in print and online.
Widgit are now the leading company in online symbol resources. As well as creating symbolworld.org, the first symbol-supported website for people with learning difficulties, they have worked with other organisations to help them add symbols to support the information. Widgit are now developing more advanced technologies that will give dynamic symbol support, whether on dedicated web-pages, or through a symbol browser that will transform almost any web page.

Inclusive technology

The content of most of the web has been designed for people who are able to read standard text easily. Although icons are sometimes there to assist navigation they are rarely used to support the content of the site. Speech output, available through screen readers, can help people with reading difficulties; but the speed and complexity of language used on most sites does not make this a solution for many people with learning difficulties. There are a number of websites with simplified information designed for children but this content does not cover the wide range of interests users may like to follow. Many children's sites are dominated by cartoons and other childish images, which may not appeal to older readers. There are three main strategies being adopted as a means of making aspects of the Internet accessible to people who do not read easily, in particular to people who use symbols. They are symbol supported sites, symbol websites and symbol web browsers.

Symbol-supported websites
 


A symbol-supported web site generally has small amounts of information supported with symbols to give an indication of the content to the non-reader. It is important that symbol-supported content is simplified but never diluted. A good example of this can be seen on the ISAAC website  (www.isaac-online.org), where visitors are given the chance to opt for support from three different types of symbol: Widgit Literacy Symbols, Bliss or PCS. The symbols support was initially limited to the page titles, but symbol summaries were later added to the pages, using Widgit Literacy Symbols.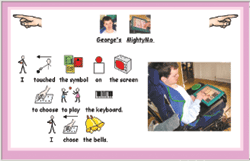 Although the use of symbols was initially intended for people who had reading difficulties, it was soon found that this visual support could help many other readers who simply did not read the language. These symbol summaries allowed both symbol readers and people who could not read the English to gain some insight into the page content. The majority of websites with symbols are created by specific organisations for their members, and so are written for known audiences.
This makes the level of symbolisation  reasonably straightforward. The designers know which symbols the users understand, and can tailor the content to the level of understanding and interest to their community.

Symbolised websites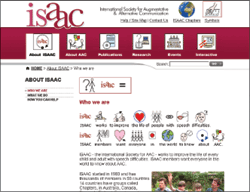 A symbolised website is one where the full content of the site is created with symbol support.  The advent of symbol publishing software is at least making it much easier for individuals, schools and groups to begin to be creative. www.symbolworld.org is a free website for symbol readers. Much of the content has been written by symbol users, their teachers or parents. Symbolworld.org provides for a low-cost publishing medium, free to users, and a way in which individual contributions can be shared and celebrated. Individuals can send in their own personal stories about themselves. These contributors take enormous pride in their work and are very proud to be published on the web, because it is new, fashionable and worldwide. One of the pupils from Ganton School (a regular contributor) had family in the USA and was overwhelmed that he could share his work and success directly with them.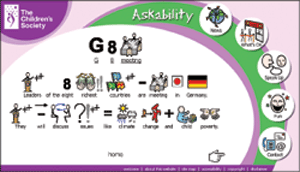 So far, websites that include symbols have had to be static, with the symbols sentences or captions added as images to the web page. But Widgit are now working on technologies where web designers can automatically write into their sites and have symbols appear. This is done through a connection to the Widgit Literacy Symbol Database, an online map of symbols to words. So content providers can have direct access to the latest symbols and update their content online. The first example of these technologies can be seen on Askability.org.uk commissioned by the Children's Society, one of the UK's largest children's charities. They wanted to create a leading-edge, symbol-supported website for disabled and young people. Askability.org.uk contains a range of topical material for children and young people including local, national and sports news, jokes, stories and films and music reviews. The website also encourages contributions from readers, enabling them to create and showcase their own work, giving them a voice and helping to build their confidence.
The Childen's Society wanted a site that could be updated by members of the charity rather than people with high technical knowledge. Widgit Software in partnership with web development company 'Solutions Squared' (SS) created a content management system where the text content is written then sent to the WLS database to be symbolised and can then be sent live. In addition to this, Widgit have incorporated Natural Language Processing  (NLP) into their database. This technology analyses the parts of speech in a sentence and can then send back the correct symbol.  So sentences like 'I drink a drink' are correctly symbolised, taking account of the verb and noun.

Symbol web browsers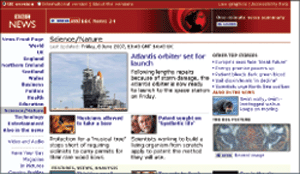 Symbol web browsers are a recent development and offer exciting possibilities. However many dedicated people create symbolised or symbol-supported websites, there will always be vastly more sites that are text-based – but many of these sites could be accessible to symbol users. Symbol web browsers like Communicate: Webwide make this possible. Webwide allows users to click on a button which will change the view of a site to text only or to symbol-supported text. Symbol web browsers, of which Webwide is the first, will offer access to vastly more sites than are currently accessible to symbol users.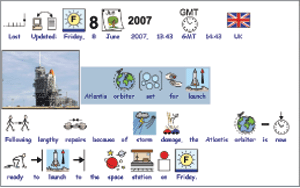 But it is important to recognise the limitations of this approach. Not all sites will be easily intelligible even with symbol support and the assistance of a knowledgeable mediator will often assist in the selection of a specific section of a text-based site which is suitable for symbolisation. Over time, it will be important to extend the use of this tool so that symbol users can shop online, take part in forums and engage in live chat. Just as those people with physical disabilities have often welcomed the ability to engage in online discourse without their disability being noticed, so symbol users may find a greater level of inclusion in the digital society through the use of tools such as a symbol web browser.

The future

Whatever technologies are deployed, the feedback from a great many web users is emphatic. There is a wide demand from the community for diverse types of information. Although currently in English, the technologies are also being developed in a number of other languages, the day will not be far when one can have the technology to enable greater interaction so that the questions and views of the community can be shared on-line more widely.
Follow and connect with us on Facebook, Twitter, LinkedIn, Elets video