From Access to Engagements – Community Access Centres
Publisher: UNESCO
Conceptualisation and coordination: Seema B Nair
Copy editors: Sajai Jose, James Baer
Photo credit: Pankaj Arora, Mukunda Bogati, Kamal Wanniarachchi
ISBN: 81-89218-09-3
Pages: 105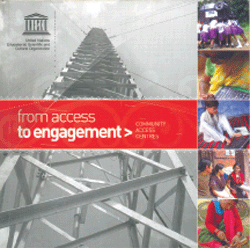 This book is the result of earnest efforts put forth by UNESCO offices jointly in New Delhi, Bangkok and Kathmandu to showcase/compile the exciting and phenomenal growth rate of Community (Multimedia) Access Centres (CMCs) across South Asia. The trendsetting methodologies of such centres in spreading awareness among the masses, has ushered a new path for development in the society. UNESCO stands in support of such movements, that ensures digital inclusion for isolated parts in South Asia.
The CMCs role in disseminating information and how it helps to spread awareness through different modes of Information and Communication Technologies (ICTs) – telephone, community radio, community television, community library, community notice board, etc. are captured finely with pictorial depictions. The beneficiary individuals and  communities, their comfort levels and difficulties in using these techonologies were represented picturesquely with conviction. They show how access to ICTs has helped the common people of the remote locations in South Asian region to learn and enlighten themselves.
The book is replete with such examples of individuals and communities, cutting across South Asian region, where penetration of  ICTs have spread a new wave of hope and confidence into their lives. Some initiatives are etuk tuk, a three wheeled motorcycle rolling in the hills of Kothamale in Sri Lanka, broadcast of programmes produced by differently abled people in Western Nepal, functioning of a Village Information Centre Library at Kurypanawela village in Sri Lanka, Community Learning Centre in Dindigul in Tamil Nadu, India, the initiative of Doti Khirsain in Nepal conducting special classes for under privileged children, etc.
Likewise, Twaka tukka, a programme made and cablecast by the local CMC cable channel, is a reflection of the lives and times of the community in Tansen, Nepal. There is also an instance of a community radio reporter, Birandra Mishra's story on water shortage, in Lumbini, Nepal that brought some much needed  attention to the plight of many children in a hospital who fell sick with dehydration.
Precisely, the book substantiates how the modern technologies and ICT initiatives are vital to  steer clear inventive approaches for development. The content is broadly divided into five parts: They are: (i) access, (ii) learn, (iii) empower, (iv) innovate, and (v) develop. It stresses on providing accessibility to educate and gradually empower and later innovate in its applications to one's own living conditions to develop further.
The modern Information and Communication Technologies, undoubtedly has helped to give a new dimension and outlook to the innovative approaches to address a whole lot of socio-economic, environmental and livelihood issues. The concern has been told in a very impressive manner. The pictures also add to the narration, on how ICTs have triggered a new direction in improving the living conditions of individuals and communities to build their self confidence in facing the world. Subsequently, it also tells how the ICTs have empowered the differently abled, women and children and other marginalised groups of the respective societies.
Language, diction and narration of the book is simple and lucid enough for any reader to glide through. The photographs in the book again deserves mention and due acknowledgement. They are very illustrative and exhaustive enough to narrate the whole story. Perhaps, the mere pictorial depiction is sufficient enough to carry the message of visible impact of enabling technologies on common man's life. The pictures give a unique feel and added weightage to the stories and literally takes the reader a journey down the lane. Conceptualised and coordinated by Seema B Nair and her colleagues, the team also deserve due credit for the diligent work and the neat execution of the book.
Follow and connect with us on Facebook, Twitter, LinkedIn, Elets video