Moodle has a vast potential to consolidate the fragmented      knowledge and keep alive the pedagogical principles and is a robust course management system

Moodle is a Course Management System (CMS) for educators, students and online learning communities. Moodle is a free and open source software package for producing Internet-based courses and websites. The word Moodle is an acronym for Modular Object-Oriented Dynamic Learning Environment. Originally the alphabet M stood for 'Martin', named after Martin Dougiamas, the developer of Moodle. It is designed to help educators create online courses providing vast opportunities of interaction. The modular design and the licensing of open source is useful for adapting to suit the requirements of the users. It is possible for people to develop additional features. The only condition is that it should be once again released under the GNU Public License of any new modules or features that have been developed.
Copyrighted under the GNU Public License, Moodle also provides additional freedom of accessibility. The Free Software licensing permits free download and use on any computer. It provides three main powers to users:
Provides the source to others

Not modify or remove the original license and copyrights

Apply the same license to any derivative works
Moodle runs without any modification on any Unix, Linux, FreeBSD, Windows, Mac OS X, NetWare and any other systems that support PHP including most web host providers. The philosophy of Moodle includes a socially constructive approach to education. It emphasises that learners and educators can contribute to the educational experience in many ways. The features of Moodle show that it is available in various designs, like it allows students to comment on entries in a database or to work collaboratively in a Wiki.

Components

Moodle is available in every mode of teaching. It can be used for both introductory and advanced delivery of content or assessment. Moodle is divided into three main categories as following: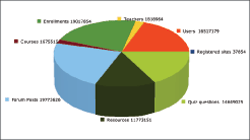 Moodle community: Moodle has more than 330,000 registered users on its site, speaking over 70 languages in 196 countries. It has variety of groups discussing topics in other languages. It scales from single teacher to a university with 200,000 students. Moodle has 84 sites with more than 20000 users. The site that most users prefer is moodle.org with 49 courses and 370,161 users. The moodle.org offers 19,223 e-Learning courses with 41,305 active users. As of November 2005, nearly 7,000 sites from 142 countries have registered their Moodle installations. The vast global community of moodle users has made this a very robust Open Access Education Platform whose value for e-Learning is growing day by day.

Moodle developer/development: Moodle has a list of developers who are contributing towards the development of Moodle. Developers are developing the source code road map, the coding guide and CVS guide to access the source code. Moodle developer/development module has also  Request Tracker solution, where users can report about general bugs, feature requests, fix the bug and other issues. The current version of Moodle 1.8 is already translated into 61 different languages. The real number of current active Moodle installations is unknown, but Moodle is downloaded over 500 times a day. The development of Moodle is supported by a team of programmers and an international user community, drawing upon contributions posted to an online Moodle community that encourages debate and invites criticism. Moodle has also some auto install packages to facilitate the installation including Fantastico and the Moodle package for Debian GNU/Linux.

Moodle downloads: Moodle is available in a variety of downloadable packages with different levels of stability, as well as via CVS. Currently, there are 75 language packs. These zip files are generated daily from the latest files checked into Moodle's CVS archive, and may be incomplete translations.
Two valuable books for download to learn Moodle and to develop courses using Moodle are available on the left menu of the home page of the Moodle website.



Promotion of social constructionist pedagogy (collaboration, activities, critical reflection, etc.)

Suitable for 100 percent online classes as well as supplementing face-to-face learning

Simple, lightweight, efficient, compatible, low-tech browser interface

Easy to install on almost any platform that supports PHP. It requires only one database and it is sharable

Full database abstraction supports all major brands of database

Course listing shows descriptions for every course on the server, including accessibility to guests

Courses can be categorised and it also supports thousands of other courses

Emphasis on strong security throughout. Forms are all checked, data validated, cookies encrypted, etc.

Most text entry areas (resources, forum postings, etc.) can be edited using an embedded WYSIWYG HTML editor

Conclusion
The opportunities provided by Free and Open Source Software for course development and management for the education sector are wide and extremely valuable, especially for developing countries, which face severe shortages of teachers and physical infrastructure of schools. e-Learning using Moodle could be an important and valuable  policy decision by education decision makers in the field of making investments and planning for ICT in education.
Follow and connect with us on Facebook, Twitter, LinkedIn, Elets video