'K'nowledge is Power-Experience it!', was the key theme of the GK3 conference held in Kuala Lumpur, Malaysia from December 11 to December 13, 2007. More than 2000 global visionaries, innovators, practitioners and policy-makers were gathered in a three-day conference to share their knowledge and build partnerships on a platform created by and for stakeholders from every sector: private companies, governments, international institutions and civil society groups.
With the outcomes of the Second Global Knowledge Conference (GKII), held in Malaysia from March 7-10, 2000, the Third Global Knowledge Conference (GK3) was based on three cross-cutting themes, called Emerging People, Emerging Markets and Emerging Technologies. The GK3 conference had expert panels with interactive debates about the latest trends, innovations and future perspectives. Apart from these cross-cutting themes, there were more than 20 hands-on workshops and an array of parallel and associated events took place before, during, and after the conference.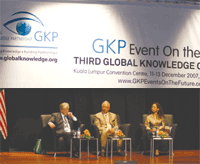 The GK3 conference was inaugurated by Yang Amat Berhormat Dato Sri Najib Tun Razak, Deputy Prime Minister of Malaysia on December 11, 2007. Rinalia Abdul Rahim, Executive Director, Global Knowledge Partnership and Chair of the GK3 Working Committee, Walter Fust, Chair of the Executive Committee, Global Knowledge Partnership and Director-General, Swiss Agency for Development and Cooperation and Abdullah Ahmad Badawi, Minister of Education, UAE were other panelists during the opening ceremony of the conference.
While sharing her moments at the Opening Ceremony of the conference, Rinalia Abdul Rahim st have found new partners and initiatives, I think that gives us encouragement to move forward."
Follow and connect with us on Facebook, Twitter, LinkedIn, Elets video