Introduction
NASSCOM Foundation (NF), conducted its Second National Consultation on 'Sustainability of NKN telecentres' between 19 and 21 December, 2007 at the Vishwa Yuva Kendra, New Delhi. NF has been formed with a vision to provide technology assistance to NGOs and leverage ICTs for development. NF is also mandated and aims to promote corporate social responsibility (CSR) in the IT industry. NASSCOM Foundation's key activities are geared to contribute to the achievement of the Millennium Development Goals (MDGs). NF focuses on poverty reduction through improved access and opportunities to education, health care and livelihood.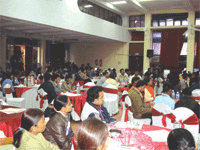 The Consultation was supported by NASSCOM and Intel and participated by key leaders from the IT industry, NGO leaders and over 100 grassroots managers from the NASSCOM Knowledge Network (NKN) telecentres. The aim of the three days workshop and the training programme was to build capacities of the NKN telecentre managers to evaluate and reinforce their efforts to make their telecentres sustainable in the long run. Currently NASSCOM Foundation impacts over 30,000 community members including youth, women and children across the country through technology assistance, adult literacy, health awareness, IT skills development, micro enterprises, life skills, and women empowerment.
Inauguration
The National Consultation was inaugurated by Kiran Karnik, President, NASSCOM and Trustee, NASSCOM Foundation and Chaired by Sourabh Srivastava, Chairman, NASSCOM Foundation. Rufina Fernandes, CEO, NASSCOM Foundation moderated the Inaugural Panel. Other key panelists included Dr. Akhtar Badshah, Senior Director, Global Community Affairs, Microsoft, Amit Goel, Advisor, Ministry of Panchayati Raj, Government of India, Ashok Chandravarkar, Regional Marketing Programme Manager, Intel and Pranav Roach, President, Hughes Network Systems India and Director, Hughes Communications India Ltd. The three day consultation begun with the address of key leaders from IT industry, government, this session was followed by an 'Introduction to NKN telecentres', later Hughes Communications India conducted their workshop.
A critical study
Many ICT-based projects flounder because of insufficient attention to the training, not only of the users or clients, but of the managers and staff responsible for such projects. This has also been found to be the case with telecentre projects, where it is not the availability of the technology that is crucial, but its acceptability and appropriate application. It was observed that the quality of the staff and their skills, attitudes and ability to work with people from a variety of different backgrounds were paramount to the success of telecentres. For a sustainable telecentre, the telecentre managers, need to develop a range of business, administrative and community support skills. Training the operator continues to be critical in the telecentres being set up around the world, particularly in the developing world as the least-advantaged have to fight to avoid becoming even more disadvantaged in the Information Age.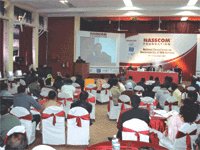 A scale-up of telecentres and information kiosks cannot happen without a large cadre of qualified local operators. High-quality ongoing training is crucial to ensure that the operators are familiar with these technical resources, aware of their strengths and weaknesses, and capable of using them to maximum advantage. Management skills and computer skills were the 'necessary prerequisites' to making telecentres work. But it is clear that business and financial skills are high priority.
NF's training
Given this backdrop, NASSCOM Foundation realised the importance of training NKN telecentre operators and organised the three day long training on management and financial trainings. It had also released an 'Infomediary training handbook for telecentre managers and staffs'.
The aim of the three days workshop and the training programme was to build capacities of the NKN telecentre managers to evaluate and reinforce their efforts to make their centres sustainable in the long run. The telecentre managers, who came from NKN centres located in twelve different states in India, participated with enthusiasm, shared their experiences and concern, and were very keen to implement the principles and processes in their telecentres.
The workshop involved an interactive, participatory and activity based training. The training was focused on understanding issues in entrepreneurship and skills needed to be an effective entrepreneur. The workshop also involved training on budgeting, keeping accounts, resource utilisation, managing risks, problem solving marketing and selling services and community mobilisation.
The workshop was primarily conducted in English and Hindi, but for the benefit of NKN telecentre managers the whole training programme was translated by the language translators (volunteers from the telecentre lead coordinators and the NF team) in seven Indian languages that included Marathi, Gujarati, Kannada, Tamil, Telugu, Oriya and Bengali.
Anirban Gupta and Nidhi Arora from Dhriiti (www.dhriiti.org) conducted this workshop. Dhriiti is an effort, a venture to change, an innovative concept by the youth for the youth of this country. In Hindustani, Dhriiti means 'Courage'.The courage to change and make a difference. Dhriiti is a progressive measure to build and motivate a culture of entrepreneurship and set up sustainable small-scale enterprises. Dhriiti's primary objective is to promote micro enterprises through a creative and professional approach.
The consultation ended with two brief sessions on 'Optimal Utilisation of Search Engines' by Jayalakshmi Chittoor of CSDMS folowed by an introduction to 'BiG Tech' programme by Manasi from NASSCOM Foundation. BiG Tech (www.bigtech.in) assists non-profit organisations and charities by offering access to the software donation programmes of NF's donor partners. It saves the ICT budget of non-profit organisations. In India, this programme is delivered by NASSCOM Foundation in partnership with TechSoup (www.techsoup.org). Currently, BiG Tech is offering Microsoft products and has plans to add other software and hardware donation over a period of time.
For more details please visit: www.nasscomfoundation.org
Follow and connect with us on Facebook, Twitter, LinkedIn, Elets video