"Bureau of Police Research and Development (BPRD) is using IT and Internet in a big way. BPRD website is the finest police site today. All the information of the department is available on the site.  All our researches and studies are online, even  before the hard copy comes, the report goes online," says Kiran Bedi, (IPS), Director General, Bureau of Police Research and Development, in an exclusive interview with egov magazine
What are the objectives and goals of the Bureau of Police Research and Development?
The Bureau of Police Research and Development (BPRD) was set up on 28th August, 1970, in furtherance of the objective of the Government of India to modernise the police services.
In the beginning, the BPRD had two divisions: Research Division and Development Division. Thereafter, three more  divisions were added to the organisation. They are viz., Training Division (1973); Forensic Science Services (1983); and Correctional Administration (1995).
The BPRD was assigned the responsibility of promoting a speedy and systematic study of police problems in a changed society and bring about rapid application of science and technology to the methods and techniques of the police in the country. The BPRD has evolved as a multi-faceted consultancy. A number of additional responsibilities have been assigned to the BPRD over the time which is a reflection of the trust which the government and police forces have in the BPRD. The services of the BPRD have also been utilised by police forces of friendly foreign countries.
At present the BPRD has four divisions as follows:
Research Division:  The Research Division is involved in identifying the needs and problems of police services in the country and initiate, stimulate and guide research in this field, in coordination with various academic and professional institutions. It also organises seminars, symposia, workshops and congress on various subjects of topical interests to the police forces in India to develop national consensus and draw actionable conclusions.
Some of the major functions of the Research Statistics and Publication Division of Bureau of Police Research and Development is analysis and study of crime and problems of general nature affecting the police, assistance of police research programmes in states, processing and coordination of research projects, organising Police Science Congress and other conferences and seminars relating to study of police problems, maintenance of all India statistics of crime, statistical analysis of trends of crime, documentation relating to Police Science and Criminology, publication of journals like Police Research and Development Journal; Crime in India and Indian Police Journal; publishing research reports and news letters and reports, reviews, other journals and books relating to matters connected with police work.
Development Division: The Development Division keeps itself abreast with developments in the application of science and technology to police work in India and other countries and studies new procedures with a view to promote induction of appropriate equipment and techniques. It constantly scouts for new technologies and scientific products and examines feasibility of their implementation in our country. It has been laying standards in procurement / application of number of equipments like body armours, bullet proof vehicles, weapons, motor vehicles, etc.
Training Division: The Training Division was established on 13th September, 1973 in pursuant to the recommendation of Committee on Police Training (Gore Committee) to function as Central Police Training Directorate to cater training needs to the police forces in the country. The Training Division overseas the three Central Detective Training Institutions established at Chandigarh, Kolkata and Hyderabad, which run courses for state police officers in the field of scientific investigation. It is also involved in evaluating the existing programmes and designing training strategy and methodologies of the training establishments throughout the country by assessing the future needs of police training. This Division liaises with the State Police Training Institutions and other academic bodies and helps in preparation and circulation of syllabi and training materials of different specialised courses. It also conducts quality audit of police training institutions to facilitate their upgradation.
Correctional Administration Division: This division was established in the BPRD on 16th November, 1995, with specific charter of functions, which include responsibilities relating to the study of problems affecting prison administration and the promotion of research and training in this field. The division has not only been sponsoring research and training programmes through state governments and academic institutions but also undertaking on its own projects on issues deserving priority in this.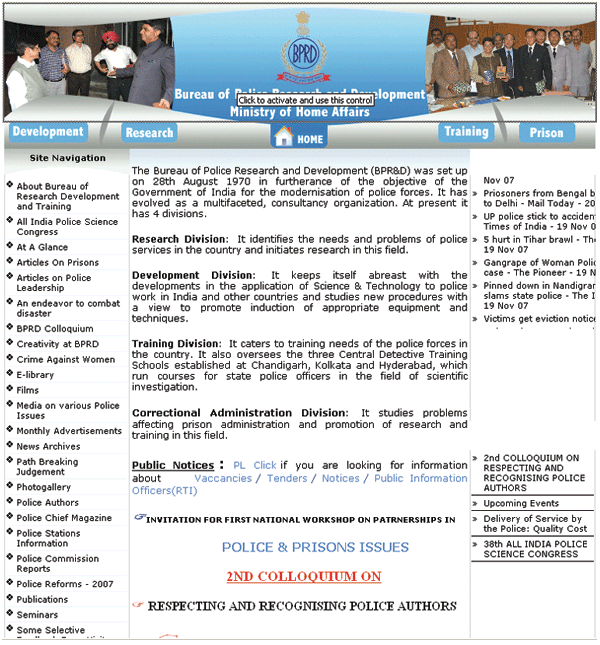 How is IT being used by BPRD to reach its desired goals?
BPRD is using IT and Internet in a big way. BPRD website is the finest police site today. All the information of the department is available on the site.  All our researches and studies are online, even  before the hard copy comes, the report goes online. To make police and other citizens aware, on every first of the month, we give an advertisement in the newspapers, saying 'Information of the Police is 'Just a Click Away'. And we also say, 'Please see the space next month for new…' And whatever is new, we give it here. So every month this is the reminder.
On our website site we have different sections – articles, reports, presentations, e-Library, fi  lms on police, news, events, path breaking judgements, police station information, media on  various police issues; news archives; all publications; police authors; articles on prisons;  articles on Police leadership; BPRD colloquium; and more.
So whatever treasure of information this bureau has, it is available here. Now you can see every study here, you can go to authors, subject etc. For the fi rst time the information is available to the media.
The postal address of police station with phone and fax numbers and residential phone  numbers of station in-charges can be accessed through the Internet now. It also has the contact details of offi ces of assistant police commissioners and deputy superintendents of police  of respective areas. Some police stations have provided their e-Mail IDs also. Providing  contact details of police stations across the country would bring people and police together.  This is a beginning to get police stations connected through the Internet which will improve  onnectivity and access and making policing in the country transparent. So, this way, we   ave utilised the the tool of information and technology. BPRD is a very  small department, but its charter is very big. It is also the
smallest in number and the smallest in budget. Although we may be the smallest in size but  we are the only one who has got the material. So the decision I took when I took over the  department, was to use the medium of Internet, the e- Route and that is why we have become  truly global. Now we have every thing available on Internet (focus of the month, numbers of  police stations, manuals etc). Every day we update our site and daily we answer to the eMail  queries. We also have positive reporting uploaded online, because people assume there no is  positive reporting about police. Although the number of such reporting is small, but we put it on the site.
We at BPRD envisage a scenario where all police stations across the country could be  connected through e-Mails where people can send information to investigators and lodge complaints. We should develop such a software that a mail, which is a complaint or  information, received at the police station is acknowledged automatically. Incidents like  refusal by offi cials to fi le FIRs on missing children and women in Uttar Pradesh's Nithari  village could have been avoided if there was a 'fool-proof' mechanism to ensure  accountability. We should utilise available technology to plug the loopholes in the system and open it up.
What support is your department getting from the National Informatics Centre (NIC), which is the implementing body of the e-Police mission mode project?
I would give full credit to Dr. Gairola, Director General, NIC and his team at NIC, who did the  BPRD portal for us. Even though we did not have the budget, we went to Dr. Gairola and told  him that 'we have full faith in you and we have no budget, and he said 'budget will come  later.' He asked Dr. Neeta Verma, Senior Technical Director, and she did it for us. And then  later on we gave them only INR 0.6 million. They have given us a full time web master. So  one young web master sits daily in our morning review meetings where we review our work  and decide to upload something new. The information about this new upload is then circulated  through wireless messages to every police functionary, whereby we request them  to see the website. So we utilise newspapers, wireless messages etc. for disseminating the new messages.
What is the kind of response you are getting from the police functionaries? How do you ensure that the language does not prove to be a barrier?
We are now moving to translate the site and other material in Hindi. Recently, a police  constable wrote to us and we uploaded this as 'BPRD reaches its destination'. It was written by  Babulal (police constable): "My self constable I do job at Gatodia police station, Ahmadabad  city, Gujarat, I feel good to read some article on BPRD website". We uploaded this on the  website without any editing and called it as 'BPRD reaches its destination'. He even got a reply  from the Director General of Police, of Gujarat state, who said he was very happy that a  constable of his state wrote. So in every thing of BPRD, we are using as much of the Internet as  possible for the dissemination of information. Thanks to the support of NIC and our  everyday homework, all our documents are available on the site. There is the latest news, a  list of articles which you can look and for the fi rst time we have put fi lms, short fi lms, which  anybody can download. We have put road safety fi lms. Then we have the police history fi lms  online available for the fi rst time in both English and Hindi and very easily downloadable.  We are getting 8 prison fi lms and we will put all them here. The objective is whatever we create, it is for everybody. Similarly our training material, we keep updating it on our  website. For the fi rst time drill manual is here, workbook, feedback management, training need analysis, training material schedule etc. The fi rst time we have put bugle tunes. It is not  available in India and this is something which is rare. We have put the names of the people who have made these bugle tunes and their addresses for people to contact them. Now a  days, no police man wants to become a bugler, as the art and craft, this is getting extinct. So  we have the tunes. We have 2 million hits, 50% are from the West and 50% from India.
We have put online all the police authors and their contributions. We also receive calls from  the authors who are reporting that their names are not included in the list and request us to  put their names too in this list. This is a very positive sign that people are reading our website. For the fi rst time we are organising the authors meet in November. The digitisation process is  going on for e-Library (e-Granthalaya). Now you can just click and you get introduction of  the book so that you can contact the publisher. We have also put presentations on the site.  Any good presentation, we put it on the site, so that one can go through it and can benefi t.  Recently I gave one presentation in the Director Generals' of police conference and put it on the site for everyone to see the presentation, download or take a print-out. This, for me, is the  right to information. So this is the way we are using the IT. Since BPRD is small, I think the best way for us to disseminate the information is through the use of Internet. I fi nd this as the  most potent weapon, most useful tool but the tragedy is that not everybody is valuing this.  This is why there is a difference between the different states of India in the use of ICT by the  police department. Some states are using the computers, some not. It will take sometime to change this scenario for the better.