Kisan Call Center has been launched by Department of Agriculture and Cooperation, Ministry of Agriculture, Government of India, to provide an easy access point to the farmers, all over the country,  and in their local languages. They have been set up  by the Telecommunications Consultants India Ltd. (TCIL), a Government of India enterprise. The farmers can call up in Kisan Call Center (KCC) which is accessible by toll free number 1551 and enquire about the various queries/ problems related to the crops, seeds, fertilisers, agriculture commodity prices, pesticides, horticulture, veterinary, etc., free of cost. KCC is operational since January 21, 2004 across the country. Initial contract with TCIL was for 3 years with further renewal option from year to year on mutually agreed terms. This has been renewed for another term so as to expire on 22nd June, 2010. Also fresh request for proposal (RFP) has been issued by TCIL for appointing call centre provider for the next term.
TCIL Role
TCIL was appointed by the department of agriculture and cooperation (DAC) to provide consultancy to examine various technological options, modalities, issues, procedures, cost estimates, Implementation and operation of 'Kisan Call Centers', to deliver agriculture related information to the farmers in India, on turnkey basis. Initially, 13 centers were proposed in different cities in India covering the entire country.
Scope of work of KCC
14 call center locations

144 call center seats

Available in 3 shifts (6 am to 2:30 pm, 9:30 am to 6 pm and 2 pm to 10 pm)

Generation of MIS report

Handling more then 3000 calls daily

Mis report analysis

Future strategy

Call Flow Mechanism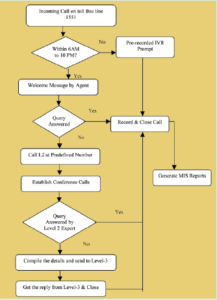 These call centers will be accessible on 4-digit toll free telephone number 1551. Bharat Sanchar Nigam Limited (known as BSNL), a public sector communications company in India, has implemented the numbering plan in its remote and local exchanges all over the country. The calls initiated from a given states is forwarded to the call center located in the respective city. The call center has facilities to answer the queries of farmers.
 During normal office timings, call center operators act as the first level of support. The first level operators preferably would be an agricultural graduate with rural background knowing local language. They posses' good communication skills and resolve the queries. In case, these operators are unable to answer the queries, caller is referred to DAC experts in a conference call along with the information collected by the Call Center Agent.
Beyond office timings, caller records the queries along with his/her personal details. These are processed separately and caller is informed of the answer for his queries. The call center has a front-end with an interactive voice response system for welcome message only for normal working. The call flow diagram is as shown below:
It is also desired to obtain the various MIS reports from the call center so as to optimize the operations of the call centers. In future, TCIL/DAC shall also attempt to develop a Knowledge Management system, which shall be supported by the database build up using the Frequently Asked Questions, other queries and their answers being provided by the Call Center Agents and DAC experts.
Call Center Set-up
The broad Schematic Diagram of the Kisan Call Center is given below: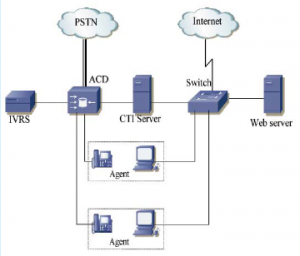 Benefits to Citizens
KCC is a new dimension in agriculture extension management, which takes account of, and makes full use of on-going information and communication revolution, by optimally utilising the communication bandwidth to serve the farming community in remotest areas of the country by connecting them to best of the agricultural scientific community. This is  an important value multiplier for the existing extension mechanisms, which finds it otherwise difficult (in terms of infrastructure and finances) to reach their desired clientele.  This will enable establishment of close linkages and seamless communication mechanism among the key stakeholders in the extension system namely– agricultural scientists, extension functionaries, farmers and marketing agencies.
Strengthening agriculture information system of ministry of agriculture, by making the knowledge available to farmers at their doorstep, on a toll free telephone number (1551).

Putting the farmers directly in contact with agriculture experts.
Making authentic field data available for agriculture policy decisions.

It will open the employment opportunities for students graduate with a degree in agriculture.
KCC – Call Analysis over 3 years of operations

Role of Public-Private Partnership
Kisan Call Centre scheme is an example of successful partnership between government i.e ministry of agriculture and private i.e call centre operators, for providing services to public i.e. farmers. Following are the stakeholders of Kisan Call Centre project:
Department of Agriculture, ministry of agriculture

Call centre operator from private

Farmers

TCIL as turnkey consultant
Future Plans

Development of knowledge management system as a decision support system for the agents.

One KCC for each state for local flavour and better linguistic support, thereby increasing Call Centre locations from 14 to 32.

Increase in the number of seats to provide better service to the farmers.

More awareness generation through media and different channels for increased awareness of KCC services.
Follow and connect with us on Facebook, Twitter, LinkedIn, Elets video