Mizoram has been impacted by the surge of the knowledge explosion, pushing towards the mainstream of knowledge creation. There are challenges and opportunities on the part of higher education of Mizoram in the global scenario.

Dr Lalzama, the Minister of State, Higher and Technical Education, Mizoram, writes on the state's efforts to promote quality in Higher Education and to foster for global competition.
Higher & Technical Education is of paramount importance for social, cultural and economical development of the nation. Thus creating an environment conducive to such development is a major challenge for which institutions of higher education have the main responsibility by providing skills and knowledge creation to make knowledge society. For knowledge creation, science and technology has emerged as major forces, which havs all pervasive influence in the system of higher education. With the emergence of globalisation and liberalisation an the advent of information and communication technology, the knowledge platform has been widening out to people living in the remotest corner of the globe, like Mizoram.
The history of higher education in Mizoram started only with the establishment of one private collage in 1958, which is now constituent college of Mizoram University. At present, there are 25 colleges, and 22 of them teach conventional subjects of general education and three others are professional colleges such as College of Teacher's Education, Hindi Training College, and Mizoram Law College. There are 10 government colleges and 14 others are called "deficit college" and there is one constituent College of Mizoram University. Seven Colleges offer Science stream along with arts and one college is a Science College. Bachelor of Computer Science (BCA) Course / Programme is opened in two Government Colleges.

Technical Education in Mizoram is in a fledgling stage. There are now two polytechnic institutes of diploma standard. Of which one is a Women Polytechnic. There is also one Veterinary College financed by the North-Eastern Council (NEC). The growth is visible with the fact that only six colleges existed before 1975 and all others were established after 1980. There are 14 colleges recognised by the UGC eligible to receive development grants.

The Government of Mizoram adopted UGC norms of pay and other facilities for teachers of colleges and other institutes of higher education, since 1986. However, full implementation of the norms are still awaited due to few technical snags in the administrative procedures.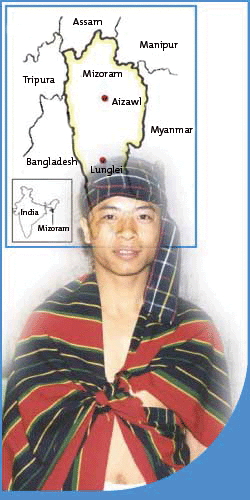 Technical Education is where Mizoram is lagging behind from other states. The State does not have even a single Technical College. This is the area where a thrust is given by the State Government ICFAI University has taken initiatives in Mizoram in the field of management. Now a BBA Programme has been started. To promote Technical Education, the Mizoram State Council for Technical Education was established in 1998 under the chairmanship of Minister of State, Higher & Technical Education and Director, Higher & Technical Education as the Member Secretary. The Technical Cell of the Directorate of Higher & Technical Education functions as the administrative unit of the Council. AICTE Norms and pay scales have been adopted for Technical Education in Mizoram. The Govternment has proposed to establish one Engineering College during the 11th Plan.
In all district headquarters one or more colleges are established to ensure higher education tenable from the rural folk and to build inclusive society. The State Government has made all-out effort to promote higher education to ensure progress and development of the State and has taken pro-active measures in this direction. State Level Quality Assurance Coordination Committee (SCQACC) and Quality Assurance Cell (QAC) at the Directorate of Higher Education were constituted in 2004. Quality sensitisation programme was conducted in the state-wide colleges. High level of motivation for quality promotion was generated in the higher education sector by the sensitising programme. As a result, colleges have taken quality initiatives and quality promotional measures and this movement has substantially raised the quality standard of higher education. There are nine colleges out of 25 which have been awarded NAAC accreditation. For quality measures, the Government has set the target for all colleges in the state to be accredited by the 11th Plan period.
There are some major challenges that the Higher & Technical Education in Mizoram have been facing viz-a-viz with the advancement of Science and Technology, which has set the road to globalisation. However, to make the best use of technological advancements in the teaching
Follow and connect with us on Facebook, Twitter, LinkedIn, Elets video