A two-day National Conference on "Emerging Technologies and Trends in IT" was organised by the   Institute of Technology and Science (ITS), Ghaziabad on 6th & 7th April, 2007 at Jacaranda Hall, India Habitat Center, New Delhi. The objective of the conference was to bring together researchers and practitioners for sharing and exploring new vistas of research and developments in Information Technology (IT).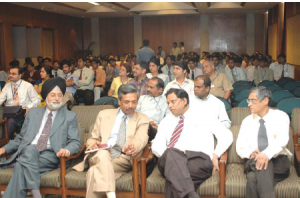 The Inaugural session started with a brief overview of the conference by Prof Abhay Bansal, the Convener of the conference. In his welcome address, Prof. Shekhar Ghose, Director General, ITS said that the conference aims at providing an opportunity of retrospection and forecasting IT and its applications for growth and success of IT and mankind. He was of the view that IT has reduced distance between people and has helped provide knowledge to the deprived. Dr P V Indiresan, Padma Bhushan and Former Director, Indian Institute of Technology, Madras (Chennai, India) was the chief Guest. In his inaugural address stressed upon the need for adventure of ideas and its experimentation. He stressed on the need for innovative thinking to develop and open new vistas of technology applications. Dr Y S Rajan, Principal Advisor, Confederation of Indian Indstries (CII), was the Guest of Honour and Key Note Speaker. Dr. Y.S. Rajan in his deliberations presented a brief history of Technology Development in India, post 1991 scenario in IT and various social and economic challenges faced by India. He was of the opinion that IT may be helpful in reducing rural poverty by integrating villages with global markets.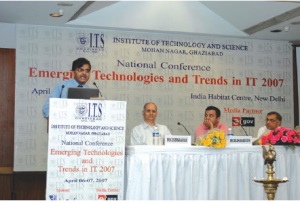 Inaugural session was followed by the power panel discussion on "Impact of IT on Society". K.Subramanian said that IT has removed the barriers that impede the development. He stressed on the need to create the robust infrastructures for good health & hygiene, diffusion of old innovations and human skills. Md. Shahabuddin, mentioned that the significant impact of IT industry is that any one job in IT creates four new jobs in other supporting areas. S K Gupta said that IT might be useful to common man through Database & Communication. Chetan Sharma stated that there is no sector where IT cannot be applied. IT may be very useful in solving social problems like poverty alleviation, employment generation and empowerment of weaker section of the society.
Power Panel discussion was followed by five different sessions namely IT-Applications, Challenges & Remedies in Computer Networks, Solutions to Complex Problems using Algorithm, Data Base Technologies, Trends in Software Engineering. The conference covering various new aspects in the field of IT and from different parts of the country.
In the Valedictory Session, the Chief Guest  K. K. Bhardwaj, Managing Director, Vidyatech Solutions Pvt. Ltd. called for Indians to be technopreneurs rather than technocrats. Finally Dr.V.B.Dhawan, Director-IT, ITS concluded the Conference and proposed vote of thanks.