ITIL is a set of best practices standards for Information Technology service management that provides businesses with the best practices to achieve quality service and overcome diffi culties associated with the growth of IT systems*. Dubai e-Government (DEG), which was offi cially launched in December 2001, is selected as a case study for service management assessment based on ITIL standards.
INTRODUCTION
The advances in the Information and Communication Technologies (ICT) have raised new opportunities for the implementation of novel applications and the provision of high quality services over global networks. The aim is to utilise this 'information society era' for improving the quality of life for all citizens. This is in terms of disseminating knowledge, strengthening social cohesion, generating earnings and finally ensuring that organisations and public bodies remain competitive in the global electronic marketplace. e-Government is the term refl ecting the use of ICT in public administration in an attempt to ease access to governmental information and services for citizens, businesses, and government agencies.
E-GOVERNMENT STRATEGIES, IMPLEMENTATION AND PROBLEMS

e-Government Strategies

There are different strategies to build an e-Government and deliver its services to the public. Some countries have created comprehensive long-term plans. Others have chosen to identify just a few key areas as the focus of early projects. In all cases, however, the countries identifi ed as most successful have begun with smaller projects in phases on which to build a structure. Many e-Government projects faced serious problems and some ended in failure. In addition, the level and quality of services vary signifi cantly and therefore, a proper measure is required to assess these services. An e-Government strategy is a fundamental element in modernising the public sector, through identifying and developing organisational structure, the ways of interactions with citizens and business, and reducing cost and layers of organisational business processes. It provides a wide variety of information to citizens and businesses through Internet. e-Government can develop the strategic connections between public sector organisations and their departments, and make a communication between government levels (e.g. central, city, and local).
e-Government Implementation Phases

The process of e-Government implementation is divided into three phases. These three phases are usually identifi ed as: information, communication, and transactions. (http://www. cdt.org/egov/handbook/part1.shtml).
Phase 1: Information services: deliver government information via static and dynamic web pages. Phase 2: Communication services: involves two-way communications, starting with basic functions like email contact information for government offi cials or feedback forms that allow users to submit comments on governmental or policy proposals.
Phase 3: Transaction services: use online forms, workflow and payment systems to allow citizens and business partners to take care of their business with government online just like a transact website which offers a direct link to government services, available at any time.
e- Government Transformation

In order to realise effi ciencies, governments need to develop a citizen-centric model that involves key stakeholders. These include businesses, trade associations, scientists, academics, and NGOs. Without their input, e-Government projects may not be able to achieve their ultimate objectives. Mikadze, A. and Esebua, K. (Council for ICT) have emphasised five elements of successful e-Government transformation; these are: Process Reform, Leadership, Strategic Investment, Collaboration and Civic Engagement.
e- Government Problems:
Like any other new technology, e-Government is subjected to different types of problems. Some of the main problems that may be encountered in e-Government implementations are related to: building and maintaining governmental websites, use of electronic mail through the e-Government website, web publishing, publication of information of legal value, access to information databases through the website and the availability to all potential users. Governments and IT organisations attempting to increase service levels, decrease costs and improve security are usually looking to the ITIL framework for guidance. ITIL, or the Information Technology Infrastructure Library, is widely accepted as the world's leading compilation of IT best practices.
ITIL and e-Government

e-Government enables provisioning of public services over innovative channels. e-Government services require certain service levels to be achieved as they replace services over the traditional channels. e-Government also increases the dependence of government agencies on information technology based services. High quality services entail high performance, availability and scalability among other service characteristics. Defining the requisite service levels for such service characteristics is a key activity. ITIL provides a systematic approach for achieving pre-defi ned service levels for various service characteristics. The processes identified, design d and implemented as part of ITIL framework can be considered as a tool or means to achieve the pre-defi ned service levels for e-Government services. The actual ITIL processes can be thought of as strategic trade-offs among different alternatives. Needless to say, targeting 99.5% versus 99.9% availability (service level) of an e-Government service will inherently require different processes for achieving them. Hence target service levels will impose constraints on target service delivery processes. ITIL allows decision makers, planners and managers to address IT services related issues in a coherent and unifi ed framework. It also allows concomitant management of information technology services.

DUBAI E-GOVERNMENT AS A CASE STUDY

Dubai e-Government

Dubai is a city of population of over 1.5 million and has a blend of over 150 nationalities live in harmony. Dubai is expanding fast and is increasingly housing international business, entertainment, media and technology. The most common spoken languages in offi cial circles are English and Arabic. Besides its spatial expansion, Dubai is racing against the clock in its advancement in cyberspace, particularly its e-Government migration. A day can hardly pass without enhancing an existing eService, offering a new eService, launching an electronic initiative, or starting a journey towards the digital world. Dubai e-Government has been offi cially launched. The re-evaluation of eServices is timely in view of the target of conducting 90% of government services electroni cally by the year 2007. At present, the status is 81%, with a total of 1,900 eServices. The real challenge for the depart ments is meeting the target of 50% of government transactions on electronic channels. This demands that depart ments reach a unique level of quality, and make these services compete with their conventional counterparts (DEGe4all, the Offi cial Magazine of Dubai e-Government, Issue 33, July 2006, pp. 12).
Self Assessment Plan

The aim of the assessment plan is to evaluate the level of service of DEG and to fi nd out how well it is performing compared to ITIL best practice. The assessment plan also aims to create awareness of management and control issues that may be addressed to improve the overall process capability. Table 1 illustrates how the assessment is categorized.
The assessment is based on a generic framework, which recognises that there are a number of structural elements, which need to be in place for process management and for it to satisfy the overall intent and meet the needs of the customer.
To establish where a particular organisation stands in relation to the process capability framework, a variable number of service criteria should be met. These criteria are weighted, i.e. those, which are deemed as having higher signifi cance, are considered mandatory for a 'Yes' answer at each level of capability. These service criteria are denoted by an 'M' symbol (indicating that a 'Yes' answer is required if the level is to be achieved).
Eleven different categories were evaluated: six of them under Service Delivery and the other fi ve under Service Support. Each category has nine different levels starting from level 1 and ends at level 5. At each level a number of service criteria are identified. This number varies from a level to another and from a service to another. To pass a level, it is not necessary to pass all the listed service criteria but a subset of it. However some of these services are mandatory to pass for the whole level to be considered a pass. Starting at Level 1 and continue up the levels until the service criteria for the current level are not met. For example, should the service criteria be satisfi ed for Levels 1, 1.5, 2, 2.5, but not met for Level 3, then no further checks need to be attempted and the organization's capability level is deemed to be 2.5. This is so even if the service criteria are met at level 3 and/or any other higher level.
This process is repeated for all the other categories. At each level of a category there are a variable number of service criteria to be met. These service criteria are different at each level of the same category and also at the similar levels of the different categories.
Assessment Analysis Highlights

The self assessment of Dubai e-Government with respect to ITIL standards gives very mixed results. On one hand it has scored fairly well in Service Support categories while on the other hand it did not do well in Service Delivery. For instance, it achieved level 4.5 for Confi guration, Change and Release Management, and level 3.5 for Service Desk and Problem Management (Figure 2). The status is different with ITIL Service Delivery. Dubai e-Government has achieved level 2 for Capacity Management, level 1.5 for Service Level Management and Continuity Management, and level 1 for Financial and Availability Management (Figure 3).
SERVICE SUPPORT ASSESSMENT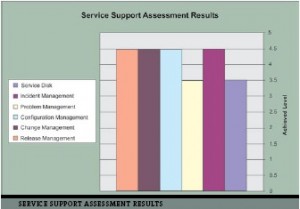 The following are some analysis notes on the ITIL Service Support Assessment Results:
Figure 2 shows the maximum achieved level by each ITIL Service Support component with all lower levels achieved. Prerequisites, Management Intent, Process Capability, Internal Integration, Products and Quality Control requirements of ITIL Service Support are satisfi ed by Dubai e-Government. Service Desk has achieved level 4.5 but failed to achieve level 4. Therefore the recognized level is set to 3.5. Little work is required to raise this category to level 4.5.
Similarly, Problem Management has achieved level 4.5 but failed to achieve level 4. . Little work is also required to raise this category to level 4.5. Customer Interface requirements are not satisfi ed by any component of Dubai e-Government Service Support.
A Service Support implementation plan for Dubai e-Government should focus on Customer Interface level.
To fairly rank Dubai e-Government Service Support based on ITIL, we propose to give one point by each achieved level and divide this by the total number of levels for all components as follows (First level is 1 and maximum number of levels is 9): Total Number of Achieved Levels / Total Number of Levels = 44 / 54 = 81.5%
SERVICE DELIVERY ASSESSMENT

The following are some analysis notes on the ITIL Service Delivery Assessment Results: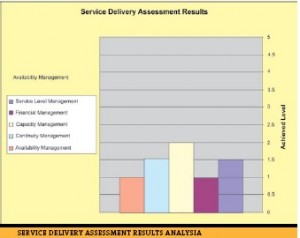 Figure 3 shows the maximum achieved level by each ITIL Service Delivery component with all lower levels achieved. Prerequisites requirements of ITIL Service Delivery are satisfied.
Process Capability (Level 2) of Capacity Management is the maximum achieved level for all Service Delivery components of Dubai e-Government.
To mark Dubai e-Government Service Delivery based on ITIL, we propose to give one point by each achieved level and divide this by the total number of levels for all components as follows(First level is 1 and maximum number of levels is 9): Total Number of Achieved Levels / Total Number of Levels = 9/45= 20%
MORE DETAILED ASSESSMENT ANALYSIS

In the above highlight analysis we only showed if a particular service has achieved a specific level or not. It is not clear how good or bad the service is. The reason we are saying that is that the range between the minimum accepted level for a pass and the maximum level that could be achieved can be wide. In many cases the achieved levels are on the minimum side while some of not-achieved levels are just below the minimum. This is actually not very helpful for the people DEG to judge how much work is required at each level whether it is achieved or not. Therefore a detailed analysis for each service at the different nine levels is required.
RECOMMENDATIONS FOR IMPLEMENTATION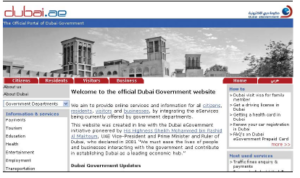 The beauty of ITIL is that it is not a fi xed methodology, it is a framework. One does not have to follow it step by step. It is more important for the organisation planning to implement ITIL to have a clear vision about the expected achievements. They should determine if they simply want to raise operations to a new level to satisfy customer demands or they are merely looking for their IT team to earn certifi cation in an internationally recognised standard. Not every aspect of ITIL might be applicable for a particular organisation. They have to extract the best practices that will really help their organisation and their business move forward and leave out those that they do not believe will add any value. The following are some common wrong practices in the implementation of ITIL that DEG should avoid:
Running the implementation as an IT project instead of an organisation change project.
Improper balance between strategic efforts and shortterm wins.
Sole focus on one or several ITIL processes instead of all service support and delivery processes.
Over-designing the ITIL process solutions.
Scoping the implementation to one processing location.
Lack of implementation governance.
Too much emphasis on process maturity as a goal or end state.
Treating the implementation as a one-time project.
Staffing the implementation effort with people in the wrong positions.
The above assessment enables DEG to determine where their IT service operations on the ITIL  continuum are, and how their current operating practices compare to ITIL best practices.  Once DEG is done with the analysis of where they are and where they want to be, they need to look at the cost in terms of time and effort it will take them to get there. The following are some Critical factors for successful ITIL implementation for DEG:
Full management commitment and involvement with the ITIL implementation.
A phased approach.
Consistent and thorough training of staff and management.
Making ITIL improvements in service provision and cost reduction sufficiently visible.
Sufficient investments in ITIL support tools.
Conclusion
This work is aimed to assess the level of service management of Dubai e-Government as a case  study of the application of ITIL in e-Governments. This requires that DEG e-Services will have  to match the international standards of e-Government service management, both in Service  Delivery and Service Support. The bulk of the work was devoted to draw a comprehensive  self-assessment plan that can be used to evaluate the DEG current and future e-Services. This  plan was carefully drawn after a thorough investigation of the quality standards of the  e-Services of e-Governments and other IT services worldwide This plan represents the core of  the DEG Gap Analysis that is conducted by the authors of this project under the full  cooperation of the DEG officials.
Eleven different categories of service management were evaluated; six of them under Service  Delivery and the other five under Service Support. DEG scored fairly well in the Service  Support with a score of 81.5%. Service Desk, for instance, has achieved level 4.5 but failed to  achieve level 4. Therefore the recognized level is set to 3.5. Similarly, Problem Management  has achieved level 4.5 but failed to achieve level 4. Little work is required to raise these two  categories to level 4.5 and hence raise the overall score to 88.9%.
When it comes to the performance of the Service Delivery, the picture is completely different.  None of these remaining five categories has scored well. The overall performance of DEG  Service Delivery could not achieve more than 20% on ITIL standards. DEG is required to do a hard work to improve their Service Delivery to an acceptable ITIL level.
Follow and connect with us on Facebook, Twitter, LinkedIn, Elets video