UNDERSTANDING THE CONCEPT

The term e-Procurement and e-Distribution is already in use in several contexts. So it may give rise to various kinds of thoughts in the minds of readers depending on their perspectives. To have a fresh approach on this subject, let us understand this as "e-Procurement and e-Distribution of foodgrains in order to empower farmers and below poverty line people largely residing in rural India, together consisting of about 70 percent of the Indian population.
Basically the whole concept rests on use of IT/ICT in:
1. Agriculture sector, especially for the purpose of procurement of food grains from the farmers, 'for which the Government of India is committed by providing Minimum Support Price (MSP) in order to save them from distress sale' and fl ow of agricultural credits to them. This system can further be extended to procure other commodities as well for which MSP is guaranteed by the Government
2. Targeted Public Distribution System (TPDS) through which Government is committed to ensure food security of every citizen especially to the vulnerable sections of the society, belonging to below poverty line category.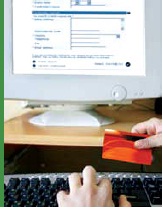 The former can be accomplished by electronically registering each sale/purchase of agricultural produce by any farmer to any agency, whether Government or Private, by means of electronic cards provided to each one of them and swiping it through swipe machine or inserting in computer system of the purchasing agency so that credit or the cost of grains sold is directly credited in the account of respective farmers.
Similarly for the latter, each purchase at any ration shop by any person must be electronically registered by swiping electronic ration cards provided to each family in lieu of ration cards in the form of booklets.
Now before we talk of method of implementation and benefi ts thereon it is important to know the present status of functioning in this area, mainly of Food Corporation of India (FCI) which is the nodal agency of Government of India in maintaining food security and safeguarding the interest of farmers.
ABOUT FOOD CORPORATION OF INDIA

FCI is an important undertaking of the Government of India under Ministry of Consumer Affairs, Food and Public Distribution (Min. of CAF & PD) involved in the food security management of the whole Nation. Established in 1965 under an act of Parliament called Food Corporations Act 1964, it has been mandated with following important responsibilities:
• To provide the farmers remunerative prices
• To make foodgrains available at reasonable prices, particularly to the vulnerable section of the society
• To maintain buffer stocks as a measure of Food Security
• To intervene in the market for price stabilisation
With these objectives, FCI in its over four decades of existence has seen India coming out of food scarcity and becoming not only a food suffi cient and but also a food surplus nation. This has been possible due to two pronged policy of supporting farmers by guaranteeing MSP i.e. saving them from distress sale in order to grow more and more of food grains and providing food grains to people all over the country under public distribution system. In this journey it has seen many highs and lows. At present due to its vast operations covering huge sections of society, it has assumed an important role in the development of rural India.
At present, FCI's huge operations involve procurement of more than 41 Million Metric Tonnes (MT) of wheat and rice in a year from farmers, directly or indirectly by operating at more than 14,000 purchase centers through out the country.
SHORTCOMINGS OF UNIFORM MSP AND ITS SOLUTION
In principle, every farmer should be able to get at least MSP for wheat or rice (paddy) they produce. But at present it is limited to only medium or large holding farmers in few states growing food grains in bulk, like Punjab, Haryana, Andhra Pradesh, Chhattisgarh etc., where the system of procurement is centralised and mechanism is working smoothly. The benefi ts of MSP is not being availed much by farmers of decentralised states and other states which have low production, either due to lack of will of local state Government or due to lack of infrastructure.
Besides there are instances of recycling of rice, delivered under levy system i.e. rice issued for distribution coming back to FCI, in the name of paddy procured by the farmers. In many cases traders buy wheat and rice from smaller farmers in remote areas at much below MSP and sell it to Government agencies at MSP. Millers deliver levy rice at very high prices with certifi cation from local authorities that they have purchased paddy by paying MSP whereas they have not actually paid MSP to farmers. So to plug in these leakages IT can be introduced in this whole process. For this purpose every farmer should be issued 'Farmers Credit Card' (in fact there is already provision of Kisan Credit Card) which should be linked with his Bank Account. This card should also incorporate the farmers' land holding details and income.
Now for any transaction to take place, swiping of this card be made necessary by the purchasing agency, at least by those who ultimately deliver the procured quantity to Government or its agencies. Therefore every purchasing agency must have its bank account linked with card swipe machine which can generate data base required for verification.
Benefits of such a system:
1. MSP guaranteed by the Government will actually reach farmers account directly.
2. Recycling of grains by millers would be reduced to zero,as they cannot deliver any quantity without purchase from farmers by paying at least MSP.
3. Small farmers would not be blackmailed and duped by middlemen and cooperative societies as they can actually register their sale.
4. Depending on the capacity of production by a particular farmer, agricultural credits can be simplifi ed and made available to the farmers on time for investing in farms through the same account. Such credits extended can be debited from their account at the time of sale. It may be noted that agricultural credits available at present is at higher rates as compared to many other loans available in the market for simple reason that recovery is difficult. In states where there is not much infrastructure of procurement, private parties such as local traders, millers can be encouraged to undertake procurement safely on behalf of Government at specifi ed quality and prices.
5. Once this system picks up, details like plot holding,number of family members, labours engaged, their income etc. can be linked with the card to plan other activities of development such as passing on incentives for growing a particular crop, crop holidaying for any season, support in buying seeds, crop insurance, contract farming and many other activities in times to come.
6. Taxation of high income group farmers can be initiated after this system spans the whole country.
7. The agriculture sector can be regularised and monitoring of activities like contract farming, involvement of private sector in procurement etc would be simplifi ed.
LEAKAGES UNDER DISTRIBUTION AND POSSIBLE SOLUTION

Like in procurement, there are lacunae in the distribution of food grains as well. According to many surveys done by various agencies, at least 30% of food grains meant for TPDS goes into market and do not actually reach those for whom it is issued at subsidised rate. Food grains allocated by the Central Government to different states under various schemes are issued to agencies of the concerned state Government by FCI field offi ces at specifi ed subsidised rates of specifi ed quality. But once it leaves the FCI Godown premises, it does not go to the intended ration shops. Instead it fi nds way to open market where it is sold at higher rates. Poor ration card holders are either not issued food grains at all or they – are given lesser quantity than entitled on the pretext of fi ctitious reasons. In many cases food grains of lower quality are bought from the market and sold to ration card holders on the plea that poor quality food grains have been issued for TPDS.
To check such leakages, Government has already recognised this as a problem area and in its 10th Five Year Plan, Planning Commission of India has already initiated a system of Smart Ration Card in place of normal Ration Cards similar to one being suggested in this paper. However the proposed system here envisages that all types of ration cards should be made electronic with family details, their profession, income and educational level etc. Simultaneously all Fare Price Shops (FPS) i.e. ration shops be equipped with swipe machines linked to local administrative unit. Once the system is in place ration or food grains should be issued only through swiping of cards and not without them.
Long Term Benefits:

It can be seen that involvement of IT in any sector has accelerated the pace of development. As agriculture sector is contributing about 23.5% in GDP, its future planning has to be addressed for maintaining the pace of growth and of course for maintaining food security of the nation. Introduction of such a marketing system enabled with IT would not only prepare us for future but also help the pace of development in rural/agrarian India. Similarly IT in distribution of foodgrains can empower rural people for claiming all the benefi ts they are entitled for so that they can come up and contribute in the development of the whole nation.
Follow and connect with us on Facebook, Twitter, LinkedIn, Elets video