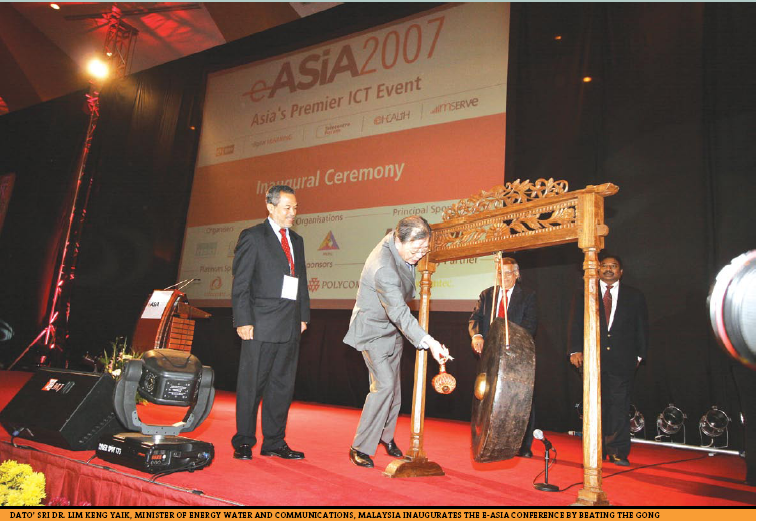 Dato' Sri Dr. Lim Keng Yaik, Minister of Energy Water and Communications, Malaysia Inaugurates the e-Asia Conference by beating the gong
TheCentre for Science, Development and Media Studies (CSDMS) organised egov Asia 2007 from 6-8 February 2007 at Putrajaya in Malaysia. The conference was fourth in the series of e-Government conferences, following those in India in 2005, Thailand in 2006, and again in India in 2006. A part of the 3-day Asian ICT conference and exhibition eASiA 2007, the conference was hosted by the Ministry of Water, Energy and Communications (MEWC) along with the Malaysian Communications and Multimedia Commission (MCMC). The event, which was inaugurated by Dato' Sri Dr. Lim Keng Yaik, Malaysia's Minister of Energy, Water and Communications,comprised of five thematic ICT conferences – egov Asia, Digital Learning Asia, e-Health Asia, mServe Asia, and Asian Telecentre Forum. The e-Government track of the event 'egov Asia 2007' offered a high-level cooperation platform for delegates from various countries to conduct and initiate consultative dialogue, strategic planning, knowledge networking and business partnering, along with seminal discussions on opportunities and challenges in leveraging ICT for improving government services.


From Left to Right: Walter fust, Director, Swiss agency for Development and Cooperation (SDC); Barry Ridway Diretcor, Government Industry, Microsoft Asia Pacific; Dr Chang Hak Choi, Director General, e-government Presidential Committee, Republic of Korea; R Chandrashekhar, Additional Secretary, Ministry of Communication and Information Technology, Government of India
The event received endorsement of several international organisations such as Swiss Agency for Development and Cooperation (SDC), Switzerland; Commonwealth Secretarileveraging at, UK; Commission on ICT, Philippines; Global Knowledge Partnership (GKP), Malaysia; Telecentre. org (IDRC), Canada; USAID, India; South East Asian Ministers of Education Organisation (SEAMEO), Thailand; The Asia Foundation, USA; Bellanet, Canada; National University of Singapore (NUS); ICT Agency, Sri Lanka; and many other institutions of repute. Symantec and Polycom participated as premium sponsors.
The conference saw the participation of more than 300 delegates, representing various key policy makers from government departments, multilateral and bilateral agencies, academic institutions, NGOs and the IT industry. The  conference brought together different stakeholders on one platform through keynotes, papers, special workshops and exhibition, and provided an opportunity to interface with private sector players, practitioners, government executives, decision makers and experts.
Sessions & exhibition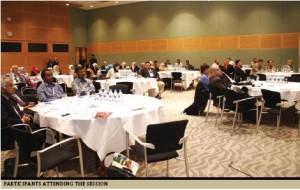 Participants attending the Session
The conference was structured into plenary sessions and main sessions. The two-day egov conference had presentations from across Asia and beyond, including countries like Malaysia, India, Korea, Nepal, France, Sri Lanka, UAE, Singapore, Philippines, Australia,USA, UK and Japan. There were some special sessions on individual countries and their e-Government success stories and initiatives such as session on Malaysia, Korea and Philippines. Some sessions also highlighted the role of technology in e-Government process and administration.
The first plenary session was titled 'e-Governance: Vision for Asia'. The session was organised against the background that in the field of digital government, citizens' needs and government goals move in a constant cycle of re-evaluation and self-adjustment. The speakers in the session included Dr. Noor Aliah Mohd. Zahri, Deputy Director General (ICT); Malaysian Administrative Modernisation and Management Planning Unit, Malaysia; R. Chandrashekhar, Additional Secretary, Minstry of Communication and Information Technology,Government of India; Barry Ridgway, Director, Microsoft Government Industry,Microsoft Asia Pacific; and, Devindra Ramnarine,Adviser (Public Sector Informatics), Commonwealth Secretariat, UK.
Dr. Zahri informed that e-Government in Malaysia is well advanced and should now be an integral component of a much broader service delivery agenda for the public sector. "Successfully transforming the Government delivery system would require continuous leveraging of ICT and changing the way the civil service operates," she said.
R. Chandrashekhar emphasised on the role of ICT for good governance efforts in India, which aims to bring about transparency, accountability and responsibility in governance. He described the National e-Governance Programme (NeGP) as a massive programme for transformation of public service delivery. Barry Ridgway provided a perspective to the e-Government, especially in the Asian region. One of the key areas often overlooked is the perspective of the citizens that must interact with Government. "Today, many e-Government projects simply layer technology over top of bureaucracy, and offer little advantage to citizens. Governments must transform their processes to be truly successful in e-Government," Ridgway said. He also provided the perspectives of IT from political leadership, business management and IT management points of view.
Devindra Ramnarine made a presentation on the Commonwealth Connects programme. He gave an overview of ICTs and the digital divide. According to him, ICTs create opportunities for better governance, foster social and economic development, support entrepreneurship and poverty alleviation, enables broader development goals. However, ICTs cannot be exploited equitably by all, and therefore creates the 'digital divide', which is a growing problem in Commonwealth.
The second session of the day was a special session on the Ubiquitous Korea (U-Korea), which was chaired by Dr. Chang-Hak Choi, Director General, e-Government Presidential Committee, Republic of Korea. The speakers included Dr. Choi, Seok-Sang Rhu, Director, National Information Agency, Ministry of Information and Communication, Republic of Korea, and Young-Sik Kim, e-Government Advisor,NITC, Government of Nepal (Republic of Korea). They spoke on e-Government as a driving force for Government innovation in Korea, u-Korea Government and the e-Government Korea-Nepal International Cooperation case study.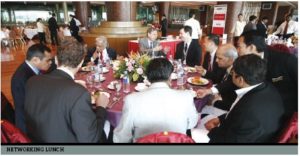 Networking Lunch
Dr. Choi provided details about the evolution of e-Government and ICT policy in Korea, as also the direction, strategy and the organisation that facilitate Korea's global competitiveness in e-Government. Both Dr. Choi and Seok- Sang Rhu brought to light the efforts which led to Korea succeeding in commercialising CDMA for the first time in the world, and creating an ICT environment where anyone can enjoy new ICT services such as WiBro and DMB anytime, anywhere. Y.S. Kim made a presentation on Korea e-Government collaboration case in Nepal. As part of the Government-to-Government collaboration model with Nepal, Korea has established eGMP (eGov Master Plan) project,which is a nationwide masterplan establishment for e-Government in Korea that has the scope of G2B, G2C and G2G infrastructure.
The first day also had a session titled Emerging Technologies in e-Government, organised to highlight emerging technologies which the governments could use to extend and expand its ability to provide information and services to citizens, businesses, civic groups etc.. The speakers of this session included Adi Tedjasaputra, Founder RFID Asia; Hiroshi Mizuta, Chair, Virtual Enterprise Center, Japan; James Whittred, Public Sector Solution Architect, Microsoft Asia Pacific; Ashish Srivastava, Business Development Manager, Symantec Consulting, Singapore; Danister De Almeida, Senior Solutions Marketing Manager, Strategy & Solutions Marketing Group, Polycom; and, Ashot Hovanesian, CEO, Synergy International Systems, USA. Danister De Almeida made a presentation through teleconferencing.
Adi Tedjasaputra presented the benefits, challenges and implications of electronic ID applications for e-Government in Asia Pacific. A presentation on effective IT compliance and good governance was made by Ashok Srivastava. He pointed out that the e-Government applications must ensure that vulnerabilities are patched, customer data is protected and security needs urgently responded. Ashot Hovanesian pointed out that during Tsunami, the existing ICT tools could not manage the international assistance rendered. In March 2005 representatives of tsunami-affected countries and partners proposed that national tracking system be established to monitor the tsunami reconstruction process. Hiroshi Mizuta talked about the Template, which is an organising tool for virtual enterprise. According to him, Template assesses the electronic collaboration, strengths and weaknesses of an organisation using four capabilitiesProcess, Information, Organization and Technology. James Whittred informed that governments need to take advantages of the emerging technologies.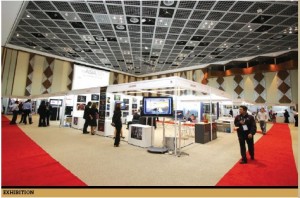 Exhibition
The last session of first day was e-Government in Philippines, where the participants showcased the e-Government initiatives taken by the Philippines government. The session was chaired by Angelo Timoteo M. Diaz de Rivera, Commissioner for e-Government Development & Director General, National Computer Centre, Commission of ICT, Philippines. Other speakers included Josefina De La Cruz, Governor, Province of Bulacan and Teresa Maria Camba, Director For Field Operations, National Computer Centre, Philippines. The second and the final day of egov track had sessions on Asia and a special session on Malaysia.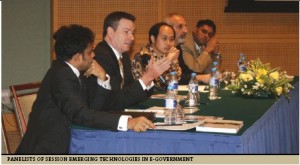 Panelists of Session emerging technologies in e-government
The speakers included San Ng, Program Officer of Information and Communications Technology (ICT), The Asia Foundation, USA; Prof. V.K. Samarnayke, Chairman, ICT Agency (ICTA), Sri Lanka; Dr. Rauf Abdul Ambali, Faculty of Administrative Science and Policy Studies, Universiti Teknologi Mara, Malaysia; Michael Mudd, Director of Public Policy, Asia-Pacific, Computing Technology Industry Association – CompTIA, Hong Kong, China; James Whittred, Public Sector Solution Architect, Microsoft Asia Pacific; Andreas Mossberg, International Organisation for Knowledge Economy and Enterprise Development (IKED), Sweden; Dr. SL Sarnot, Director General, STQC, Department of IT, Government of India; Bindhumadhava, B.S., Group Coordinator, Centre for Development of Advanced Computing, India; Barry Ridgway, Director, Government Industry, Microsoft Asia Pacific; Rouchouze Bruno, Chairman of Eurosmart ID Working Group, Gemalto, France; Harsha Wijayawardhana, Consultant, University of Colombo School of Computing, Sri Lanka; Ahmad Darian, Research Scholar, University of Tehran, Iran; Bimal Pratap Shah, National Information Technology Centre, Ministry of Environment, Science and Technology, Nepal; Dr. Mihyar Hesson, Professor, Al Ain University of Science and Technology, UAE, Gayah Gulam Haider, Multimedia Development Corporation, Malaysia; S Ratha Krishnan, Principal Assistant Director, eProcurement Unit, Ministry of Finance, Malaysia; Hazman Shah Abdullah, Professor, Faculty of Administrative Science & Policy Studies, UiTM, Malaysia; Hajah Rugaya Hj. Guy, Associate Professor, Faculty of Administrative Science and Policy Studies, Universiti Teknologi Mara, Malaysia; Mustafa Man, Lecturer, Department of Computer Science, College of Science and Technology, Malaysia; Marhaini Mohd Noor, Lecturer, Universiti Teknologi Mara, Malaysia; Dr. Dhrupad Mathur, Fellow & Alumni, Diplo Foundation, Geneva; Devaka Punchihewa, University of Colombo, Sri Lanka; Raymond Teo, Technical Sales Director, Asia-Pacific, Scytl Secure Electronic Voting, Singapore; Chola Pratapa Singh Chhetri, IT-Professional, NTNCACAP, Nepal; M. Prabhakara, Director of Treasuries, Government of Karnataka, India; Ananthalaxmi, Joint Director, Centre for Development of Advanced Computing, India; Ajay Adala, Joint CEO, Chhattisgarh infotech & biotech Promotion Society, India; Senthil Kumar, Project Leader, Centre for Development of Advanced Computing, India; and, Rajinder Kumar Vij, Inspector General of Police, Government of Chattisgarh, India. The speakers presented case studies and perspectives in various sessions such as 'e-Government implementation in Asia – Challenges and Opportunities', 'Technology Framework for e-Government', 'International Perspectives in e-Government', 'e-Government in Malaysia', 'Initiatives in e-Government – Asian Experience' and 'e-Services for Citizens'. Through the exhibition, the conference provided an opportunity for updating on new advancements, solutions and services in the field of e-Governance. The event had different exhibitors from the government and industry, who showcased a wide range of products, services and initiatives in the domain of e-Government. These included Polycom, Symantec, HP-Scytl, Scan Associates, Rentwise, Beskom, among others.
Recommendations

The conference concluded with a presentation of summary of conference recommendations by Ravi Gupta, Director, CSDMS. The recommendations are as follows: Role of ICTs in creating opportunities for better governance, foster social and economic development, support entrepreneurship and poverty alleviation; Technology presents opportunities to transform policy, but by itself it is not necessarily going to lead to better outcomes for citizens; e-Government should move in the direction of beyond computer-based electronic ID, towards mobile electronic ID; There is a need to link varied perspectives – policy development, execution of policy and the role of technology; Harnessing the impact of IT requires national vision and leadership; Policies should promote innovation, competition and non-preferential procurement practices; Leadership should help measure and evaluate outcomes of policy and should support efficient administration and decision making; IT departments in government should champion innovation and help educate the business on the art of possible; Government should focus on citizens/employee value as well as agency value and work with vendors to build the e-Government scenarios; Government should adopt bottoms-up approach to increase e-Participation; and, Government should reduce the accessibility cost related to hardware, software and infrastructure.
delegates' feedback

Thank you for a successful event with great value added.
                                                   -Andreas MossbergProgramme Officer, IKED, Sweden
I must congratulate you on having put together such a wonderful event. It was a great experience & was very knowledge intensive. –                                                               Dr. Dhrupad Mathur Fellow & Alumni, DiploFoundation, Geneva
I enjoyed the conference and my KL tour immensely. Congratulations to the whole team.
                                                                 -Maria Teresa Camba
Director For Field Operations,National Computer Center, Philippines
It was very nice conference for me.
                                                                 – Dr. Chang-Hak Choi
Director General (Bureau of e-Gov.)Presidential Committee on Government Innovation & Decentralization, Republic of Korea
I really appreciate the team's effort to have organized such a memorable Conference that brought almost the whole world to that gathering at PICC.
                                                             – Dr. Abdul Rauf Ambali
Faculty of Administrative Science and Policy Studies, University Technology Mara (UiTM), Malaysia
Thanks for inviting me to participate.I really enjoyed the event.
                                                                 – Devindra Ramnarine
Adviser (Public Sector Informatics), Governance & Institutional Development Division, Commonwealth Secretariat, United Kingdom
Follow and connect with us on Facebook, Twitter, LinkedIn, Elets video