The first European and Indian eInfrastructures conference, which was held at the Grand New Delhi, New Delhi, India  from 14-15 December 2006, attracted over 250 ICT research, industrial and academic delegates. The aim of the first of its kind event was to exchange views on how eInfrastructures are currently deployed in both Europe and India with the objective of analysing how their increasing role is viewed in a business, educational, socio-political and scientific context. The 2-day intensive discussions looked at promoting the sustained use of the EU India link (Geant2 connectivity) and its use by new user communities especially.
The conference was organised by the BELIEF (Bringing Europe's eLectronic Infrastructures to Expanding Frontiers) consortium. The BELIEF partners hail from varied backgrounds and areas of expertise spanning Europe, Asia, America and Latin America. The BELIEF Consortium possesses experience in Community development, eInfrastructure expertise, networking connections and Digital Library development, sharing complementary skills, international resources and links in the areas of eInfrastructures.
The programme specifically targeted industry and research experts and new users who wish to adopt eInfrastructures effectively within their workplace or research activity. The participants represented a rich mix of industry, government, research and academia, NGOs and European funded projects. The participants were mainly from India, besides European and Latin American delegates.
Some of the speakers in Europe included representatives from: CNRS-IN2P3  (France),  Copenhagen Business School (Denmark), D – Grid (Germany), Eindhoven University of technology (Netherlands), Enginnering (Italy), GEIE ERCIM (France), GRNET (Greece), INFN Cagliari (Italy), Infra Technologies     (France), KTH (Sweden), Martel GmbH (United Kingdom), Poznan Supercomputing (Poland), RENATER     (France), University of Salerno (Italy).
Additionally, European Commission officials and delegates from the European Union to India were present to exchange information with delegates on opportunities for mutual, collaborative R&D European funded programmes.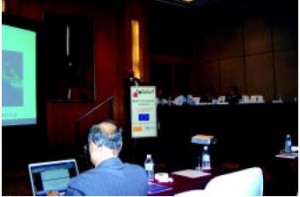 Representatives from India included those from the Ministry of IT, ERNET India, Avanade Inc, Sullivan University, C-DAC Noida, Centre for Science Development and Media Studies (CSDMS),DELNET-Developing Library Network, Development and Media Studies, IIIT Bangalore, IIT Bombay, Indian Institute of Statistics, Indian Institute of technology, Institute of Biomedical Technologies, National Informatics Centre, and, PlanetEDU Pvt. Ltd.
The visionary plenary and stimulating parallel sessions explored the eInfrastructures. The various topics discussed included Connectivity and sustainability– new user communities for  eInfrastructures (services) between India and Europe; Government delivered services –  eInfrastructures the current case studies, future plans and visions in India and Europe; e-Health – The new opportunities for EU-India e-Health cooperation using eInfrastructures;  Scientific repositories – How can the EU best collaborate with India to create worldwide digital repositories; Digital divide – The eInfrastructures role in reducing the digital divide; Enabling  Business – what impact will eInfrastructures have on business in India; Distance  and eLearning – harnessing the power of eInfrastructures; and, Mobile Grid – The  convergence of eInfrastructures, mobile and Grid technology.
Conference Highlights
EUIndiaGrid Project Session: The EU-IndiaGrid (www.euindiagrid.org) project session discussed priorities for training and interoperability between EGEE and Indian Grid infrastructures; and explored possibilities of pilot applications for this new infrastructure support project.
Belief Conference Promotional Zone: This Promotional Zone displayed highly relevant documentation published by the European Commission and ERNET. The focus of this promotional area was innovative Grid-enabled technologies and eInfrastructures developed or being developed by Europe and India; national and international initiatives aimed at facilitating the adoption of these new, more powerful resources; and, intensifying collaboration between the two regions and spurring innovation for mutual benefit.
Get In Touch Sessions: BELIEF offered all delegates the chance to participate actively in the conference and learn about the activities of various projects as well as FP7 opportunties. Each session comprised a series of 10-minutes presentations focusing on project activities and ideas for eInfrastructures funding under FP7. The EuroIndia-IT project was on hand to offer expert advice on future opportunities under FP7 to foster further collaboration between India and  Europe.