European broadband penetration gap widening
Sixty-four million people now have broadband access across the 25 countries of the European Union – but the gap between the best and worst performers is widening. Denmark, the Netherlands, and Finland lead the European Union in broadband penetration while Greece, Slovakia, and Poland trail, according to a recent broadband survey by European Competitive Telecommunications Associations (ECTA). Back in the US, broadband penetration among active Internet users neared 75% in August 2006.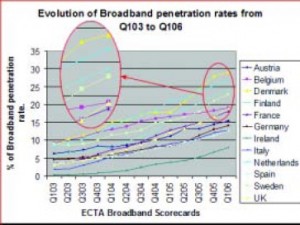 Denmark tops the EU with broadband penetration of 29.3% while last place Greece trails far behind at just 2%. Broadband uptake in high scoring countries is growing faster than the low scoring countries, widening the gap between wired and unwired countries. ECTA attributes the widening gap to regulatory action which creates more choice and competition.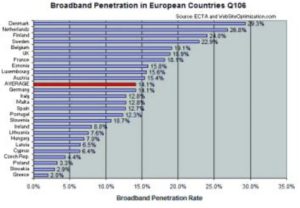 Denmark tops the list at 29.3%, followed by the Netherlands at 26.8%, Finland at 24%, Sweden at 22.9%, Belgium at 19.1%, and the UK at 18.9%. At its current growth rate, the UK is poised to pass Belgium in broadband penetration to become fifth among European countries surveyed. Greece at 2% broadband penetration, Slovakia at 2.9%, and Poland at 3.3% trail all countries in the EU. Overall, the average broadband penetration rate of the EU is 14.1%, up 5.5 million lines over the 12.9% penetration rate of the previous quarter.
Follow and connect with us on Facebook, Twitter, LinkedIn, Elets video