We are moving fast towards an era where the simplified and diverse use of technology will facilitate a number of routine and non-routine activities and behaviours. Needless to mention, that the impact of this amalgamation of technological applications and gazettes with our daily life would be revolutionary not only because of the underlying technology core which is developing very fast but also because of the innovative models, processes and forms where it is applied.
This technological phenomenon extends adequately to reach the domain of governance and will soon play a vital role in assisting and even deciding the fate of the governments. We are witnessing a rapid transformation towards a better world, where all the other forms of governance have succumbed except democracy. The level of awareness among various sections of society is increasing. The opinion of the public is at the epitome, which is also the key driving force in any democracy. Elections and Voting are thus considered the foundations of a democracy. In this context, there is a paramount need for a fair electoral system in order to ensure a healthy government.
By undertaking a careful study of the existing electoral system one can only conclude that there is a need to develop the technological alternatives for effective governance by ensuring infallible electoral system. The model presented here is developed with a perspective to ensure better efficiency, dependency, fault tolerant and robustness of the election system. It is developed with reference to the Indian context. However, this can be applied to other countries as well, and can be suitably replicated. It is also fully sustainable and can be used for a variety of other tasks.
Elections and voting are the foundations of a democracy. For ensuring a healthy government, fair electoral system is a prerequisite. There is therefore a need to develop technological alternatives for effective governance by ensuring infallible electoral system, particularly in the Indian context
Existing electoral system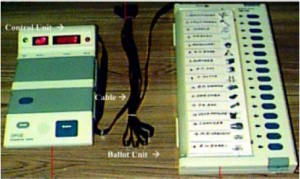 Elections are observed as festivals in a democracy. The nation comes to a halt with its schedule getting disrupted when voting takes place. Everyone is affected– from school kids to stock markets. However, the government departments suffer the most. Their staffs are deployed on election duty and for some days, and the departments suffer due to lack of caretaker. The district and state administration has sleepless nights. If suddenly there is a calamity or emergency of any kind then the complete system cripples. We have to call the police and security forces from other states to restore the show.
The election commission promises free and fair polls. On the other hand, our existing voting system has several lacunas. These include exorbitant costs, system not being foolproof and secure, low level of awareness among voters, and Election ID card not uniformly implemented countrywide.
There are exorbitant costs involved in the whole exercise. The present electoral system is in fact a great financial burden on the nation. Over the last 20 years the election expenses have increased more than 14 times. This can be gauged from the fact that in 1967 the election expenditure was INR17,969,000 (US$397,390.43) whereas in 1999 it was INR8,800,000,000 (US$194,619,049.38). Electronic Voting Machines (EVMs) have provided certain assistance, but we cannot think of a time when we can conduct referendum on fly (relatively) and certainly can't think of a system which can be utilised for any other purpose also – transforming this cost centre to value centre.
The existing system is not fool proof and secure. Half of the system is automated and half of the system is manual thereby creating an inefficient (and costly) blend. Also, the present system requires a lot of security forces deployment due to easy accessibility of the polling event and the procedure being straightforward with no foolproof checks. There are numerous instances of proxy (surrogate) voting. Imagine a polling booth in far-flung areas captured by some hooligans and easily taking away the ballots, stamping and putting them in the ballot boxes. On the flip side is the electronic voting machine, which is a step further in curbing the mess. But ironically the votes collected on a booth reside in the EVM installed there. Hence any damage to the booth or equipment will cause the votes to go void. Also, the existing system does not take care of voters' mobility. The voter has to be in his own constituency, otherwise he cannot vote. Postal voting ballots are not very popular.
There is a low level of awareness among voters. Most of the times the voters do not know the authorised whereabouts of the candidates. Often the party workers misguide the voters with promises or fringe benefits as a result the voter is swayed away from making a correct decision. At present, there is no facility for comparing and contrasting the achievements and background of the candidates. Most of the people do not know even a handful number of candidates in their constituency. Voters largely do not know that they may be casting vote for a person who is convicted or has serious criminal record. The hands-on information about a candidate is not available. Most of the time a voter votes in a judgmental manner.
Furthermore, it must be noted that so far we have hardly been able to cross the mark of 60% polling. A large part of eligible population (around 40%) has not participated in the elections. In the first General Election held in 1952 only 61.2% of the population participated whereas in the 13th General Election held in 1999, only 59.99% of the population participated.
In the case of Election ID Card, there exist several discrepancies. The existing voter card identification system has become a financial burden and has not been so far implemented uniformly to all parts of the country thus making the very concept redundant. Also, the concept of unique citizen ID number has not been implemented. Besides, the Election ID card that has already been made does not contain the amount of information to justify the cost of the whole exercise.
Hundreds of thousands of rupees were squandered because of scores of incorrect entries, interchanging the photos of voters, wrong address, name misspells and other information etc. More than 400 million Election ID cards have been distributed till now.Major discrepancies are reported every year in the election rolls, where due to the lack of any centralisation several names are not found and then the person is barred from voting. A funny situation was once reported when the chief election officer of a state was not able to find his name on the election rolls and could not cast the vote. Later on, it was found that his name appeared on some other polling booth's list. And, this is just the tip of the iceberg, the complete gamut of automated and manual process makes it a show that is difficult to manage and run. The existing electoral system therefore gives a clear idea about the depth of intervention, which is required to improve this impoverished system. The complete process in fact needs to be overhauled.
Development of Instant Electoral System
There arises a paramount need to develop a mechanism that is more logical, comprehensive, expressive, inexpensive and secure, which eliminates manipulations and use of muscle-power in elections. This can be achieved by the transformation of existing processes and developing a novel Information and Communication Technology (ICT) based model – the Instant Electoral System (IES) – for taking over the existing electoral system in a phased manner.
Instant Electoral System once implemented would be able to transform the existing electoral process to the extent that this manpower and resource intensive ritual would become virtually automated and temper resistant. From security personnel protected booths towards virtually 'unmanned booths'. Instant Electoral System will be futuristic in approach and efficient. This system envisages an intelligent approach towards having a minimal bearing on the existing system in a safe and secure manner.
Proposed Solution Architecture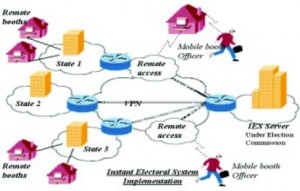 Instant Electoral System can be implemented using web based VPN tunnelling, specifically using a virtual private dial-up network (VPDN), which is a user-to-LAN connection used by a company that has employees who need to connect to the private network from various remote locations. Typically, a corporation that wishes to set up a large remote-access VPN will outsource to an enterprise service provider (ESP). The ESP sets up a network access server (NAS) and provides the remote users with desktop client software for their computers. The telecommuters can then dial a toll-free number to reach the NAS and use their VPN client software to access the corporate network.
A well-designed VPN will greatly benefit IES in several ways that includes extending geographic connectivity, improved security, reducing operational costs versus traditional WAN, reducing transit time and transportation costs for remote users, improving productivity, simplifying network topology, providing intensive networking opportunities, providing telecommuter support, and providing faster realisation of investments.
IES security through VPN would be ensured by AAA servers (authentication, authorization and accounting). They are being used for more secure access in a remote-access VPN environment. When a request to establish a session comes in from a dial-up client, the request is proxied to the AAA server. AAA then checks authentication, authorisation and accounting.
Depending on the type of VPN (remote-access or site-to-site), we will need to put in place certain components to build IES VPN. These include desktop software client for each remote user, dedicated hardware such as a VPN concentrator or secure firewall, dedicated VPN server for dial-up services, NAS (network access server) used by service provider for remote-user VPN access, and VPN network and policy-management center (to be managed by Election Commission)
IES implementation outcome
The election will become a process rather than an event. As using IES we can, not only have polling in a specified duration of time but can also extend it over a comfortable duration, say, a polling week, hence increasing the participation and decreasing the hassles and haste associated with the existing system in extremely secure way. As soon as a vote is cast it goes straight to IES server and does not stays anymore in the booth so what ever might happen to the booth, the votes are safe and confidential.
IES entail introduction of unique
citizen identification so that there would be no chance of surrogate voting as the system would not allow duplication in any way. There would be a provision for two-way authentication, one by the voter identification and another by the electoral officer in charge id. As soon as a transaction is committed it, becomes permanent and every transaction is activated and endorsed by the officer in charge. Now imagine, in case of a possible booth capturing even if someone overpowers the officer in charge, no one can actually put in more than one vote because the unique id would locked as soon as the voting transaction takes place apart from the officers authentication which would not be available in this case. Also, with the help of voting log maintained online, such cases can specifically be eliminated.
The system also ensures total geographical freedom. As anyone can vote from any place, provided he has the unique identification card. Postal ballot will not be required at all. It can be taken further towards posting the votes on website by the people who are out of country during the polling. The credibility of the candidate can be judged by the voters to a greater extent, as candidate profile would be available. IES would have arrangements for friendly user interfaces, where the multimedia systems interact with the voter, depicting the official whereabouts of a candidate like, his qualifications, achievements, social interactions, track record, criminal history etc. with the help of audio visual media. Hence, the voter will be stimulated to take a more rational decision.
We can also further think of having referendum of various critical issues, which will assist the legislature in determining the direction of a decision that directly affects society and nation. A major outcome of IES is extremely fast compilation of results. Result can be extracted virtually anytime at the click of the button. Analysis done of the data obtained during this activity with the help of various data mining techniques can further help the commission to streamline the process. Also, if they want they can share some of the information with the respective parties. IES will have minimal installations at the client side, as the complete framework uses web- based access to the core servers. In the remote areas make shift arrangements can be made using wireless or wired connectivity. Another major advantage is that IES will be one time expense rather than recursive. The enormous money so far spent for conducting elections would be minimised, as the operating expenses are going to be low in this case. IES can also be utilised for other e-Governance implementations like public distribution system, grievance handling etc. Other departments like Post and Telegraph may take advantage of the infrastructure developed through this endeavour.
Literally, there would be no manpower involved in the counting and security of the votes. There is no physical logistics involved in transportation of votes. This will save the nation a considerable amount of money. IES incremental uses are enormous in contrast to the prevailing system that even hinders other national processes. Various versatile uses and other information that can be stored in the card include Unique Citizen ID Card No., demographic information, Below Poverty Line Card No., Ration Card No., Passport No.,
Driving License No. etc. Thus IES strives to enable a virtuous cycle – correct information availability, more participation, easy accessibility, elimination of fraudulent practices, fairer elections, enabling selection of capable leaders, and better governance.
Follow and connect with us on Facebook, Twitter, LinkedIn, Elets video