The Indian Railways is Asia's largest and the world's second largest rail network. Adopting e-Governance in right earnest and to reap the benefit of IT explosion, Indian Railways have established a 'Corporate Wide Information System' (CWIS) called RAILNET to provide smooth flow of information on demand for administrative purposes, which would enable taking quicker and better decisions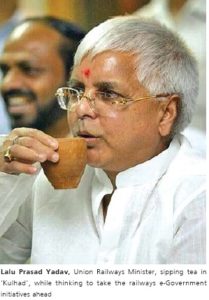 e-Government involves using information technology to improve the management and efficiency of government information technology resources for effective delivery of government services to citizens, businesses, and other government agencies. It intersects many legislative issues, including privacy, digital divide, public access to government information, service delivery, and information security.
There are four stages in the evolution of e-Government — presence, interaction, transaction,    and transformation. A project can skip levels, either from its inception or as it develops.   Presence isthe first stage of development and is the establishment of a placeholder for delivering information in the future. It represents the simplest and least expensive entrance into e-Government, but it also offers the fewest options for citizens. Interaction generally revolves around information provision. These resources may include instructions for obtaining services, downloadable forms to be printed and mailed back to an agency, or perhaps e-mail contact to respond to simple questions. Transaction stage enables clients to complete entire tasks electronically at any time of the day or night. These initiatives effectively create self-service operations for tasks such as license renewals, paying taxes andfees, and submitting bids for procurement contracts. Transformation utilises the full capabilities of the technology to transform how government functions are conceived, organised, and executed.
There are several challenges to implementing e-Government. One of the most significant  challenges for implementing e-Government initiatives is computer security: security  program management, access controls, software development and change controls, segregation of duties, operating systems controls, and service continuity. Related to computer  security, privacy also presents a challenge to the implementation and acceptance of e- Government initiatives. Concerns about the use of "cookies," sharing information between  agencies (computer matching) and the disclosure or mishandling of private information are  frequent subjects of debate. For the public sector, the first challenge is of managing the development of the solutions on a continual basis and then managing the large number of  applications that need to interact with each other while maintaining security and privacy of  the data. The second challenge is of scalability, arising primarily from a need to maintain  large number of records that may be created in geographically distributed data repositories.  Another biggest challenge for e-Government is the diverse number of agencies. Not only are citizens and local firms customers, but in many cases, the agencies can be seen as customers as well.

The case of Indian Railways
The Indian Railways (IR) is Asia's largest and the world's second largest rail network under a  single management. It is a multigauge, multi-traction system covering over 60,000 route  kilometres, with 300 railway yards and 700 repair shops, and covers most of the country's  vast geographical spread. The rolling stock fleet of the Indian Railways comprises 7,566  locomotives, 37,840 coaches and 222 million freight wagons. With a workforce of around 1.6 million, it runs more than 11,000 trains daily.
Indian Railways virtually form the lifeline of the country catering to all its needs for  largescale movement of traffic, both passenger and freight, thereby contributing to economic  growth, while at the same time promoting national integration. With its phenomenal growth from 34 kms in 1853 to a gigantic network of 63,465 route kms, the IR in 2004-05 carried on  an average per day 1.65 million tonnes of freight and 14.84 million passengers. In more than  150 years of its existence, IR has successfully adapted to the changing needs of travel and transport and absorbed the advancements in railway technology and successfully met the  requirement of moving large volumes of freight and passenger traffic.
Realising the important role that information plays in customer services and in railways  operations, IR had embarked on its computerisation program, earlier than many other organisations in the country. IR developed a dedicated skeletal communication network, as a  basic requirement for train operation. After the early introduction of basic computer applications e.g. Pay rolls, Inventory Control and Operating Statistics, Railways went for  deployment of computers for productivity improvement through building up operational databases.
Some other initiatives include computerisation of the passenger reservation arrangement; developing a Freight Operations Information System; replacing the existing computers at theZonal Railways and production units with the state-of-the-art computer enabling the  organisation to computerise more applications; provision of computers at divisions, new  production units, workshops, sheds and depots and training institutes; and quantum improvement in the use of computers in the offices.
Use of IT in Railway
Passenger Reservation System (PRS): CONCERT (Country-wide Network of Computerised   Enhanced Reservation & Ticketing), Indian Railways fully automated PRS software, is a complex online distributed transaction application based on client server architecture interconnecting the regional computing system into a National PRS grid. The salient features of CONCERT software include allowing passenger from anywhere to do a booking for a journey in any train in any class from anywhere to anywhere; handling reservation, modifications cancellation/refunds; 31  supervisory online functions and 21 online enquiries; performing reservation for over 8,82,000 seats and berths (peak rush as high as 10,17,000) daily; 4262 reservation terminals; and across more than 1200 locations.
CONCERT software offers a range of operating options including 40 types of quota; 8 types of train; 9 types of classes; 192 types of concessions; 105 types of coaches including composite coaches etc.; printing of bilingual journey ticket; response time of less than two seconds for a reservation transaction; complex rules, validations and fare computation technique interwoven in the application; and database administration package to cater to dynamic operational requirement with respect to change in train profile, timetable and fares.
Dynamic information available on the website includes Enquiry and Static information dissemination. Enquiry includes PNR status, Train between pair of station, accommodation availability, train schedule, and station code enquiry. ll the available enquiries are also available through SMS on mobile phone. Static information dissemination includes reservation/refund rules, generalinformation, tourist information, special train, and availability of passenger amenities at any station.
e-Ticketing: CRIS (Centre for Railway Information System) has successfully developed the Internet ticketing solution launched by IRCTC (Indian Railway Catering and Tourism  Corporation). The effort involved interfacing the IRCTC front end with backend PRS Alpha servers, writing procedures for search and queries at the backend, ticket printing on existing clients and accounting software.
SMS and Alert Services: The following services are available on 676747, 8888 with major cellular service providers like Airtel, Hutch, Idea, BPL, MTNL & BSNL, etc: PNR status, accommodation availability, trains between stations, fare, train schedule, etc.
UTS (Unreserved Ticket System): UTS is the complete solution for computerised   unreserved ticketing from dedicated counter terminals and replaces manual Printed Card Tickets/Excess Fare Tickets/Blank Paper Tickets. In future, ticketing from handheld terminals smart card, automatic vending machines, etc. is also envisaged.
Features of Unreserved Ticketing System include latest technology; reduced queues; tickets  available from any station to any station; all concessions; Return/Reverse/Cancellation of  tickets; allows ticketing 3 days in advance; analysis of the demand on various routes to enable  planning of augmentation of train services/coaches; train fares printed on ticket are  current; only one ticket for more than one passenger in a group; UTS Works on 64 kbps data  channel of OFC (Railway) or BSNL; and for issue of General/ Second class tickets only.
IVRS (Interactive Voice Response System): IVRS is a telephonic enquiry system which   gives following information in multiple languages — Passenger Name Record (PNR) enquiry, Train Arrival/Departure information enquiry through NTES, and Berth availability position in any train. NTES (National Train Enquiry System): NTES provides arrival/departure as well as current status information about any passenger train in the entire Indian Railways. NTES is parallel to PRS. The servers are located at five metros i.e. Delhi, Kolkata, Mumbai, Chennai, Secunderabad and all are interconnected. Entries are made regarding running of train every half an hour at various locations including divisional headquarter all over the Indian Railways. NTES is used by IVRS and other web enabled services and mobile services for   providing train information to the public.
Computerised information about train running is available at www.trainenquiry.com with  the features namely — Spot Your Train, Find Your Trains, Train Arrivals, Train Departures, Train Time Table and Passing by Trains. Spot Your Train displays current running status of a  train along with the delays if any. Find Your Trains displays list of trains running between  two stations along with their timings and days of run. Train Arrivals displays list of trains  arriving at a station in the specified time frame (next 3 hours). Train Departures displays a  list of trains departing from a station in the specified time frame (next 3 hours). Train Time  Table provides detailed scheduled timings (arrival and departure) of a train at all halting  stations. Passing by trains show a list of trains arriving at a station in the next 24 hours.  Besides, there is a detailed list of Railways amenities at various stations of the 16 zones, information about prestigious trains (e.g. Palace on Wheels, Royal Orient etc.), information  about Railway rules, information pertaining to tourists, and Hindi section for important pages.

Railnet
To reap the benefit of explosion in Information Technology, Indian Railways have established a 'Corporate Wide Information System' (CWIS) between Railway Board, Zonal Railways Headquarters, Divisional Headquarters, Production Units and Centralised Training Institutes etc. called as RAILNET. It is able to provide smooth flow of information on demand for administrative purposes, which will helpin taking quicker and better decisions.  RAILNET has the potential for transfer of messages, files, and emails between important locations on Indian Railways.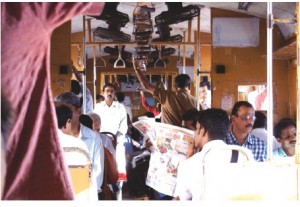 In addition, the internal website in Railway Board and Zonal Railways Headquarters support directives and other important information for day-doday use by various officials. RAILNETprovides computer connectivity between Railway Board and Zonal Railways, divisional headquarters, production units, Centralised Training Institutes, RDSO,CORE,  MTP/Calcutta and 46 major training institutes. The structure of RAILNET comprises Mobile  Train Radio Communication System and Network.
Mobile Train Radio Communication System: The system is primarily based on the European Telecommunication Standards Institute (ETSI) Global System for Mobile (GSM) Phase-2 standard and additional requirements specified in EIRENE and Mobile Radio for Railways Network in Europe (MORANE) SRS documents.
Network: Network shall support voice telephony services such as Pointto- point voice calls,  Broadcast voice calls, Group voice calls, Multicompany voice calls, and Emergency voice calls. All voice calls services except group calls shall be displayed and shall be able to operate between any combination of fixed and mobile equipment users. The system shall support multiparty voice communication between up to six different parties. Any of the parties involved in a multi-party voice call shall be able to talk simultaneously. The system shall provide direct mode capability for set-to-set communication within the radio coverage area of a base station. The network shall have the capability of supporting data services, which may be required by Railway in future such as Train control applications, General data applications, and Automatic fax and text messages. The network shall support point-to-point data communications. The network shall support data rates of at least 2.4 kbit/s.
The network shall support as a minimum following call related services — Display of identity of called/calling user; Restriction of display of called/ calling user; Priority and pre-emption;Closed user group; Call forwarding; Call hold; Call waiting; and Call barring. TheMTR network shall also provide support for railway specific services such as emergency calls, functional addressing including registration/deregistration, location dependent addressing, shunting mode, and multiple driver communications.
Management Information System (MIS) For running any business organisation, the efficiency of the MIS is very important. Indian Railways have many areas, where use of IT is going to have a telling effect. Some of the areas are — Rail Budget Compilation System, Comprehensive Payroll Processing System, Vigilance Software System, Material ManagementInformation System for P-Way material, and Comprehensive Accounting and Transaction System.
Rail Budget Compilation System (RBCS): CRIS has developed RBCS for collecting budgetary inputs from the different zones and production units of the Indian Railways. The   system facilitates capturing of data, building of database, analysis of demands and pruning of the estimates for inclusion in the Railway Budget. Besides MIS reports, the system enables printing of budget documents in bilingual, Hindi and English. This system is implemented at 88 locations spread over Zonal Railways and Production Units apart from Railway Board.
Comprehensive Payroll Processing System (CPPS): CPPS is a comprehensive bilingual package generating monthly salary bills including Incentive Bonus Calculation and Labour Accounting modules and pay slips in Hindi.

Vigilance Software System (VSS): VSS is designed specially for the requirements of Vigilance Department of Indian Railways and has been implemented in all the Vigilance Departments of Indian Railway Zonal Headquarters. VSS maintains information about vigilance cases/complaints includes various reports, forwarding letters generated by Vigilance Department and keeps track of Receipt.
Material Management Information System for P-Way material (MMIS): This package is designed specially for the requirements of Civil Engineering department of Indian Railways and helps the users in accounting' stores for P-Way materials. Special emphasis has been given to scrap disposal.

Comprehensive Accounting & Transaction System (CATS): CATS has been designed with common database to address functionalities for both personnel and Finance Departments. CATS contain two major modules Financial Accounting System (FAS) and Payroll System (PS).
Freight Operations Information System (FOIS)
While considerable inputs are needed for augmenting the capacity of rolling stock as well as    line capacity, the optimum utilisation of existing resources is considered more imperative for carrying additional volume of traffic. Realising the significant contribution that computerisation can make in improving the utilisation of Rolling Stock assets, Indian Railways have been planning from the early stages for the introduction of use of computers in the freight operations. Ultimately, Indian Railways decided in 1986 to go in for an integrated computer communication system called Freight Operation Information System (FOIS) with  an objective to computerise the information relating to all operational activities and monitor the performance of all activity centres connected with freight traffic management.
In the era of supply chain management and integrated logistic movement, continuous cargo  visibility is the most critical component of any physical distribution system. FOIS enables  management and control of freight movement and optimisation of asset utilisation. The  system is designed to enable freight customers, in future, to have instant access to  information on current status of their consignments in transit facilitating just in time  inventory. Its mission is to give a total transparent system with continuous cargo visibility and an uptodate business environment to the customers with instant access to information  regarding their consignments in transit for just in time inventory. It is also a system for management and control of freight movement, which assists managers to optimise asset  utilisation. This is especially important for the Indian Railways, whose key revenue earnings  come from its freight traffic.
FOIS is a 100% indigenous effort and uses state-of-the-art technology and is poised to bring  about an IT revolution in Railway Management Systems on a scale that has not yet been  attempted in any South Asian railway system. Once all the phases and modules are  integrated and implemented, it would place the Indian Railways at par with any other  railway system in the most developed countries of the world. It lays the foundation for a complete logistics management system, furnishing real time information on the chain of  physical distribution, an essential element in reducing inventory costs. Initially, the FOIS  project was sanctioned and included in the Northern Railway Works Programme for 1983-84, at an abstract cost of Rs 1,098 crore. Phase I envisaged the all-India implementation of core  functionalities. This included train and wagon movement control, including the Empty  Wagon Management and Locomotive Control modules of the TRACS software. The Yard and  Terminal Management System was to be developed indigenously. The implementation of the remaining modules was to follow in Phase II. But the detailed estimate sanctioned was only for  implementation of Phase I core modules, only on Northern Railway, at a cost of Rs 267.20  crore. Phase I of FOIS addresses rake and train movement, locomotive movement and yard  management. Phase II extends the functions of Phase I to include individual wagons. Together,  the two phases constitute the RMS or operating portion. Phase III introduces  Terminal Management or the commercial portion. Benefits from these two modules can accrue only when an end-to-end sharing of information is achieved. It was therefore,  imperative to spread them quickly over the entire Railway network, instead of confining  them to a limited corridor.
The key factors of its success were — a total commitment from the top management of the railways, from the railway ministry to the field; a wellresearched and properly defined customer focus; innovative change management, with a clear view of the railways business  model; and user involvement from the conception/design stage, resulting in user ownership.
Follow and connect with us on Facebook, Twitter, LinkedIn, Elets video