India's booming economy and growing middle class are largely fueled by high growth rates in the Services and Manufacturing sectors. Since these are mostly urban centric, it is important to ensure that India's rural millions are not left behind and the benefits of future prosperity and modernization are equally available to them through effective e-Governance
The government of India has launched an ambitious Rs 12,000 crore National eGovernance Plan (NeGP) to make all government services  accessible to the  common man through the Internet. This will make transactions with governmant departments much easier and more transparent.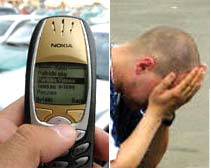 e-Governance requires the citizen to have a computer with an Internet connection preferably a broadband connection with a minimum speed of 250Kbps. The Government  is making an all out effort to reduce the price of computers and increase broadband coverage. Entry level computers are now being marketed for as little as Rs 10,000 (US$224.87), and Internet is also spreading.
Nevertheless, providing a computer with Internet connection to a sufficient number of  citizens to make e-Governance meaningful will take many years. At the end of 2003, only 3.9 fixedline phones, 0.4 Internet connections and 0.19 broadband connections were available per 100 persons.
Moreover, the disparity in Internet connectivity between urban and rural areas is increasing. Internet connections are mainly given through fixed line connections which are difficult to provide in the highly dispersed rural environment. As a result, the benefits of eGovernance will take a long time to percolate to the rural areas thereby deepening the rural-urban divide.
Mobile phones as alternative to e-Governance
The rapid growth of Mobile phones offers an immediate and low-cost alternate to the conventional computer-Internet road to eGovernance. Significantly, Mobile phones are no longer luxuries for the rich but a cheap and cost effective communication tool for the working class.
Mobile phones using SMS are already being used for e-Governance. Information on Railway bookings and air flights can be obtained through SMS. Private operators are bringing out new schemes every day for getting information through SMS on diverse subjects ranging from share prices and availability of cinema tickets to cricket scores, popularity ratings and opinion polls.
Use of Mobile phones in e-Policing
SMS is ideal for communicating small amounts of precise information. A concrete example will illustrate how SMS works. A person whose car has been stolen wants to know the status of the police case and whether the car has been recovered. He will actuate a  program resident on his Mobile phone which will ask him to key in the registration number of the car. A menu will then be dislayed with a choice of Frequently Asked Questions (FAQs) out of which he will choose — Whether car recovered or Status of the case. The Mobile phone will then send a coded SMS to the  Service Provider who will interact with the police database and send the reply also by SMS.
In West Bengal, the West Bengal Police Wide Area Network (WAN) connects all Police Stations in the state. Criminal cases and Missing Person information is recorded on computers at all the Police Stations and kept in a central database. Much of this information is in the public domain and is not sensitive or confidential in nature. Making this available to the public would definitely be a big step forward for e-Governance. A private service provider can be asked to develop and service a SMS-based program to provide this information to the public. Revenue raised through the large number of SMS generated by the scheme would finance the  project at no cost to the government.
The SMS Advantage
Mobile phones using SMS will immediately give e-Governance to the public. Sufficient infrastructure already exists in urban areas to provide this service.
The people have already given their verdict and chosen the Mobile phones as their gadget of choice for entering the digital world. The government must respect this choice and set up a mechanisms for motivating and coordinating all efforts in the government and private sectors for making programs for enriching e-Government content on Mobile phones. e-Government through SMS is a powerful technology to bridge the gap between the  backward regions and our new urban prosperity.
Follow and connect with us on Facebook, Twitter, LinkedIn, Elets video