A major e–Governance / e-Commerce initiative began in India on 3rd August, 2002 when the Honourable Minister for Railways inaugurated the official website of Indian Railways Catering and Tourism Corporation Ltd (IRCTC) http://www.irctc.co.in for the purpose of railway ticket booking through Internet. Over the last three years, the site has established itself as one of the largest and fastest growing G2C ventures in India.
In the process of implementing and managing this venture, which overlaps both the e-Commerce and the e-Governance space, a number of lessons have been learnt which may be of general interest.
The most fundamental lesson is that useful and effective Government IT projects can be implemented without exotic technology or huge budgets. Rocket science is not required to ease the citizen's burden of dealing with the state. A focused project, designed to deliver one or a few related services can be implemented quickly and cheaply. It can always be extended to provide additional functionalities. We can have a grand design, but we should plan modest and modular implementations.
Computerization of back office work is a prerequisite for implementing high profile, customer facing, front-end applications. If Indian Railways had not implemented a fully computerized and networked Passenger Reservation System, online booking of railway tickets would not have been possible. The task of computerizing back office operations is often difficult and low profile, but it must be done before useful citizen centric applications can be developed.
Awareness of and willingness to use the Internet is spreading rapidly in India
The month-wise ticket sales from August 2002 – October 2005 display a steadily rising linear trend. Fluctuations around the trend correspond to the busy holiday seasons and slack intermediate seasons. The steady growth emphasizes an increasing acceptance of the Internet ticketing system over time. In general, the conclusion is that if e-Governance / e-Commerce initiatives with on-line payments fulfill a perceived consumer need, they are acceptable to a wide range and increasing number of customers in India.
Given that there is a serious and significant scope for e-governance in India, the next question is to establish where, geographically, this market is concentrated. Common sense would dictate that the market is likely to be concentrated in the major metropolitan towns. However, we have noticed that as we extended delivery of tickets beyond the metros, an interesting change became evident in the city wise distribution of ticket sale. The share of Mumbai declined significantly by more than 6 percentage points in the total ticket sale whereas the share of cities other than NCR, Chennai, Bangalore, Hyderabad, Pune, Ahmedabad and Kolkata increased by more than 6 percentage points. A closer look at the "Others" category strengthens the conclusion that while the major metros lead in absolute numbers, the smaller towns are showing significant growth. For purposes of illustration, let us consider Jaipur, which opened its account with 55 tickets in the first month (January 2003) and reached 1030 tickets in October 2005; Allahabad began with 42 tickets and reached to 372 tickets; Patna began with 45 tickets and was at 294 tickets in October 2005. Many more such examples are available which demonstrate that smaller cities are extremely responsive to service offerings on the Internet.
Another important parameter in this context is the age profile of the citizens who use the Internet and make online payments. Conventional wisdom would suggest that most of the customers are urban, net savvy youth in the age group of 16 – 20 years, who have grown up with computers at home and school. Our experience at IRCTC shows that this conclusion is too limited and restrictive.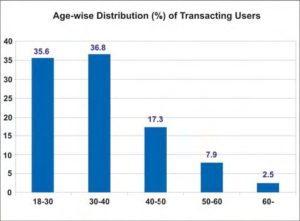 As a matter of fact, 35% of our transacting users are in the 18-30 years age group, 36% in the 30-40 years age group and 17% in the 40-50 years age group. More than 60% of our transacting users are above the age of 30 years. The point to be noted out here is that while the urban young may well constitute a big chunk of net savvy space, the 'market' is in fact much larger and the older generation is both willing and able to transact on the Net, if they find value in such transactions.
An interesting characteristic of transacting users on our website is that every month about 25% of those who transact on the website are new transactors i.e. people doing their first transaction on the site, while 75% are those who have already done one or more transactions. Thus, once a customer gets a reasonably satisfactory experience on the Internet, he returns to transact again and despite the conservative bent of mind that characterizes the Indian customer, especially in the context of new modes of doing business, significant numbers of people are ready to get on-line and pay on-line, if they get value there from.
To conclude, government can implement citizen friendly Internet based services quite quickly and cheaply as well, if it so desires. The technology is available and the citizen is responsive.
As Matsuo Basho, the greatest of Haiku poets, observed –
Spring too, very soon
They are setting the scene for it
Plum tree and moon 
Editorial Guidelines
egov is a monthly magazine providing a much needed platform to the voices of various stakeholders in the arena of e-Government, apart from being a repository of valuable information and meaningful discussion on issues of e-governance in general, and e-government in particular – both to the specialist and the generalist.
Contributions to egov magazine should be in the form of articles, case studies, book reviews, event report and news related to e-Government project and initiatives, which are of immense value for practitioners, professionals, corporate and academicians.
We would like the contributors to follow these guidelines, while submitting their material for publication.
•   Articles/ Case studies should not exceed 2500 words. For book reviews and event report, the word limit is 800.
•   An abstract of the article/case study not exceeding 200 words should be submitted along with the article/case study.
•   All articles/ case studies should provide proper references. Authors should give in writing stating that the work is new and has not been published in any form so far.
•   Book reviews should include details of the book like the title, name of the author(s), publisher, year of publication, price and number of pages and also send the cover photograph of the book in JPEG/TIFF (resolution 300 dpi).
•   Book reviews of books on e-Governance related themes, published from year 2002 onwards, are preferable. In case of website, provide the URL.
•   The manuscripts should be typed in a standard printable font (Times New Roman 12 font size, titles in bold) and submitted either through mail or post.
•   Relevant figures of adequate quality (300 dpi) should be submitted in JPEG/ TIFF format.
•   A brief bio-data and passport size photograph(s) of the author(s) must be enclosed.
•   All contributions are subject to approval by the publisher.
Please send in your papers/articles/comments to:
The Editor
G-4, Sector 39
NOIDA (UP) 201 301, India
Tel +91 120 2502180-87
Fax +91 120 2500060
Email: info@egov.csdms.in