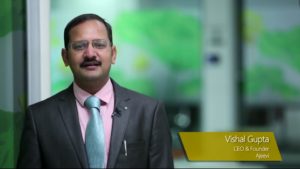 While working towards bringing social and environmental reforms, Ajeevi Technologies is trying to ensure that the common man leads a relatively easier life, says its Founder and Managing Director Vishal Gupta, in conversation with Priyanka Sharma of Elets News Network (ENN).
What vision for Smart Cities drives the Ajeevi Technologies?
Ajeevi, as the Hindi name suggests, implies long life. We want sustainable Smart Cities. The focus is to provide technology solutions and make the life of the citizens easier. We provide all the smart solutions needed by citizens in their everyday life, starting from waste management to healthcare and Internet of Things (IoT) devices as well. Ajeevi is a company which makes IoT devices and provides mobile and web applications to make life of citizens smooth.
What was the idea behind setting up of Ajeevi Technologies?
The journey of the company started three years ago to provide easy solutions to the common man. With my personal experience of 16 years, we, at Ajeevi, are trying to make new solutions every day.
For instance, waste management is easy. But some people still complain that their household waste has not been collected from their house. The citizen index ratio is pretty low. As a technology company, we can help citizens and the government so that process can be smoothened and operations can be made efficient in waste management. It has already been started in various cities of India, with Jabalpur already reaping the benefits of our waste management solution.
What smart initiatives have you undertaken in collaboration with the Government of India?
Under the Smart City Mission, the Central Government has set up certain benchmarks for transport in a metro city.  For example, any person should reach his destination maximum in 45 minutes. We have come up with such solutions which decrease travel time. The solution has already been implemented in the Delhi Government cluster buses for the past 2.5 years and phenomenal results have been achieved from that. Our solution provided for the Odd-Even scheme of the Delhi Government was appreciated.

What other projects are you undertaking in other States?
To provide clean drinking water, we have implemented a solution in Greater Noida authority.  All the water pumps reservoir in Greater Noida are using our solution. The Greater Noida Authority officer can see all the data of the reservoir at the centre and find out what is the level of the water, how much chlorine is being mixed, what is the flow of the water, how much electricity is being consumed to make this water. Due to automation through our solution, water is coming 24/7 at the Greater Noida localities.
What education and healthcare projects are you providing in States?
In terms of education, we are trying to make safe and secure schools. Parents nowadays are worried for their child's safety.  Ajeevi Technologies has created small devices with the help of which a parent can track his ward on the mobile. We are in talks with various State governments to implement this application as a State-wide policy.
In healthcare, we are soon coming up with wearable devices. We have a smart hospital solution which helps in monitoring every activity and operation of the hospital, benefitting the patient as well as the staff.