Ensuring that women benefit equitably from efforts to develop human capacity is at the core of the knowledge society
From information society to knowledge society

Much of the attention to the information revolution has been on technology rather than on information and knowledge. In recent years emphasis has shifted from the information society to an emerging global knowledge society focused more on people using knowledge, rather than technology. Though there is no denying the fact that information technology remains a central element of knowledge society, combined with continuous learning particularly in science and technology, as well as innovation particularly through entrepreneurship. In knowledge society information technology is applied to the acquisition and use of knowledge towards the end of human development and economic growth.

The key elements of knowledge society are ICT use, highly educated and skilled people, progress in science and technology and innovation in the development of Small and Medium Sized Enterprises (SMEs). Scientific and technological knowledge not only engenders competitiveness in the global economy but can also improve the lives of the poor in many ways, such as through better nutrition and health, higher crop yields, cleaner water, and providing renewable energy sources. Innovation develops national capacities and leads to job creation and poverty reduction. Entrepreneurship, particularly in small and medium-sized enterprises in new areas, is usually regarded as a key indicator of a country's innovation. The growth of SMEs is important for their role in creating local employment and strengthening local economics.

Our concern here is the creation of socially inclusive knowledge societies, especially including women who have been bypassed in many fields and in many countries. Knowledge is not only for economic growth but its foremost use should be to empower and develop all sectors of society to understand and use knowledge to increase the quality of people's lives and to promote social development. A socially inclusive knowledge society empowers all members of society to create, receive, share and use information and knowledge for their economic, social, cultural and political development.

Role of women in knowledge society

Amartya Sen makes the argument for the centrality of women in the knowledge society, placing emphasis on the agency and capabilities of women. He sees women's leadership as a crucial element in development and notes that the expansion of women's capabilities enhances not only women's own freedom and well being, but also has beneficial effects on society as a whole (Sen 1999)i.

This article takes stock of the progress of women in evolving knowledge society in two countries, identifying areas of success as well as constraints to greater progress. We look at the situation of women in two middle-income Asian countries, the Philippines and Thailand, where women are doing well on several of the success indicators for participation in the global knowledge society. We note that while women are making strides in progress in the key knowledge society areas of use of ICTs, entrepreneurship, higher education and technical skills, they are not doing so in a situation of full equality.

A case study: The Philippines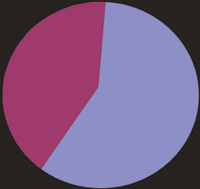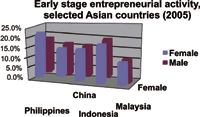 By a number of indicators, Philippines comes out as an early leader in terms of the participation of women in the knowledge society, as seen by their use of the Internet, their involvement as entrepreneurs, their high rate of education especially in science and technology and their numbers among highly skilled researchers. However, as we will see, leadership and a high level of participation do not necessarily result in equality.

Women have become significantly more numerous as users of the Internet than men in Philippines. Please refer to Figure 1 for further details.
In fact, the Philippines leads the world in the percentage of Internet users who are women, exceeding the rich countries of the United States, New Zealand, Canada and Australia by at least 6 points. Only Thailand comes close to Philippines in the rate of women's Internet use among rapidly growing Asian countries. Please refer to Table 1.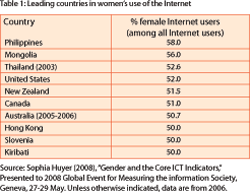 Women are also leaders in entrepreneurship in the Philippines. The number of women engaged in early-stage entrepreneurial activity, regarded as an important measure of innovation and potential for knowledge society participation, exceeds that of men. In 2006, 22.5 percent of women were new entrepreneurs as compared to 18.4 percent of men. (Allen et al. 2007). The rate of female entrepreneurial activity in the Philippines is high not only compared to men in that country but also is the highest among either men or women in a series of Asian countries noted for entrepreneurial innovation.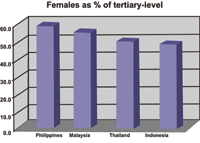 The Philippines also ranks first among several Southeast Asian economic powerhouses in percentages of women in higher education. Figure 3 depicts the percent of female students in tertiary level of education.

In the Philippines, the number of women engineers is low as an absolute percentage, but higher than in many other countries and increasing rapidly. While the rate for men graduating in engineering decreased by 10.8 percent between 1997 and 2004, that of women increased by 40.6 percent (Commission on Higher Education, Philippines, 2006).

The Philippines also distinguishes itself as being one of six countries in the world with more women researchers than men and among the top 10 countries in numbers of female science graduates. The World Economic Forum gender gap index put Philippines in the sixth place in 2006 and 2007 (see Table 2), the only Asian country in the top ten, notable for having closed the gender gap in education and health (again, the only Asian country to do so)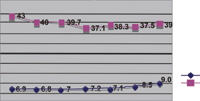 (Hausmann et al. 2006, WEF 2007). Philippines has the highest percentage of women researchers of any country in the world with a sizeable research community (UNESCO Institute of Statistics, 2006b).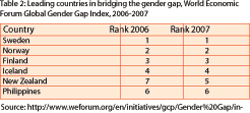 This high level of knowledge society-related activity comes at a price for women in the Philippines. They work for longer hours and for lower wages than men. Women doing similar work to that of men earn only 73 percent of men's wages, while women's earnings overall are only 59 percent of men's