Posted by:
Elets News Network (ENN)
Posted on: February 1, 2006
Posted in:
Read more on:
Bihar
|
Central Government
|
Chief Minister
|
Commissioner
|
DTOs
|
Government of Bihar
|
High Court
|
HTTP
|
India
|
Information Technology
|
Jharkhand
|
MICR
|
Oracle
|
Patna
|
Rabri Devi
|
RDBMS
|
REGIONAL FOCUS
|
Revenue Manager
|
Rs
|
Sales Tax Administration
|
software helps
|
software package
|
software packages
|
State Cooperative Bank
|
State Government
|
State Transport Department
|
Sudhir Kumar
|
United Nations International Children's Emergency Fund
|
Urban Development Department
|
VC facility
|
Video Conferencing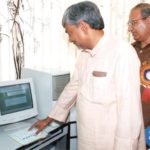 At a time when India is in the grip of an IT revolution with most of the States in the country taking a plunge and effectively moving towards e-Governance, the State of Bihar simply does not want to lag behind. Ever since the establishment of Bihar State Unit of NIC for the past 16 years, determined moves are now being made in a planned way towards promoting computer culture and undertaking of various computerisation programmes in different State Government Departments by introducing Information Technology tools.
The State of Bihar, a land of Buddha with its rich heritage and culture  having an area 94,163.00 sq. km. and population of 8,28,78,796, cannot afford to remain behind and become a loser insofar as the embracing of Information and Communication Technology (ICT) is concerned particularly when India is itself in the grip of an IT revolution. The National Informatics Centre (under the Ministry of Information Technology) established its Bihar Unit at Patna in 1988. Ever since inception, NIC has been moving in a planned way towards promoting computer culture and undertaking various computerisation programmes in different State Government Departments by introducing IT tools invariably.
NIC Bihar State Unit (NIC BSU) has already completed 16 years of service in the State of Bihar during which it has provided support to the maximum possible user departments including State Governmentt as well as Central Government and built up substantial socio-economic databases that are related to identify 27 priority sectors. The activities of NIC in the state has increased manifold over the years with the augment in pressure from the new user departments spanned in its 38 districts after its bifurcation on 15th November 2001 following the creation of the State of Jharkhand.
Major projects since inception Commercial Taxes Department
The Finance (Commercial Tax) department plays a vital role in the physical arrangement of decentralised tax collection throughout the State. NIC has developed comprehensive software 'STAMINA' (Sales Tax Administration Management Information Network Aided) to monitor the fund flow, defaulters' list, reminder letters, cases monitoring etc. The State government is working out on an ambitious program to monitor the revenue receipts through the network. The Software has been into operation in the seven circles of Bihar. The software packages have been designed and developed in ORACLE 8i and Developer 2000. The Software is being effectively used for monitoring of tax compliance of dealers, estimation of tax base and the revenue potential of the department. "It has thus far created additional revenue to the tune of Rs. 50 crores and has the potential to create hundreds of crores of additional revenue for the department," says Sudhir Kumar, former Commissioner & Secretary, Government of Bihar.
The STAMINA software has been stabilised to provide the necessary inputs to TACKIS (Tax Compliance Knowledge Information System) software, a new Software solution for macro level analysis of Sales Taxation developed at Commercial Taxes Headquarters to monitor the distribution network of companies within the state and to track down defaulter dealers regarding tax compliance. The result is encouraging and additional revenue of worth Rs 337 crores (approx) has been generated in a special drive, which resulted in the dealers being compelled to deposit their tax and dues thereby effecting an indirect impact of hundreds of crores on statewide business.  The combination of STAMINA and TACKIS software has been perceived by the Commissioner, Commercial Taxes, as an effective mode in Sales Tax Administration.
Cooperative Bank computerisation
NIC Bihar State Unit has developed and implemented Banking Software 'COIN' (Cooperative Banking in Place) for the Bihar State Cooperative Bank. The software helps banks to serve more customers efficiently with existing manpower resources. It keeps efficient tracking of agricultural and non-agricultural loans that happen to be the core activity of the Bank. The platform used is the SQL Server and VB6. Besides numerous unique features embedded in the software package, the highlight of the COIN is that for the first time in the country MICR clearing of claques is done through this application.
The then Chief Minister of Bihar Rabri Devi inaugurated the Bihar's  first fully Computerised Cooperative Bank on the 22nd May 2003. The COIN is being presently implemented at the Bankipur branch of the State Cooperative Bank.
Bihar State Electricity Board computerisation
Efficient functioning of the power sector is necessary to sustain the economic growth of any state. In Bihar, the Bihar State Electricity Board (BSEB) is the sole agency for all types of work related to power generation, transmission and its distribution across the state. Being a capital-intensive project, regular and accurate billing and timely collection of revenue is also necessary to keep the cash flow in proper shape, and is the focus of this project.
As such, the BSEB decided to introduce 'RACE' (Revenue Administration through Computerised Energy billing system), a web-enabled software package that deals with the consumers' billing system. The package is in opera- tion at three divisions in Patna. The IVR facility is also provided at the Kankarbagh Division where consumers can get the answers on their billings. Recently, the NIC designed, developed and implemented a website for the BSEB (http://bseb.bih.nic.in). The Project cost is around Rs 13.7 crore. The Revenue Manager has been developed on ORACLE RDBMS and Developer 2000.
School Education project
Bihar has been provided with a fund of Rs. 15.91 crore towards introduction of Information Technology for the students, studying in classes 8th to 12th. This fund is to create/ expand/ enhance Information Technology based infrastructure in the Secondary/ Higher Secondary schools of the state with special emphasis on the fact that no district should be left untouched. Altogether 37 district schools have been identified for the implementation of the project. For each district a sum of Rs. 43 lakh has been allocated. In the first phase of implementation 15 districts have been covered while the implementation process for the remaining 22 districts is underway.
High Court computerisation
This is an area where NIC Bihar State Unit has got major success and become an example for other High Courts in the country. The cause list preparation, AO filing etc., are the problem areas where computerisation has provided an effective solution. Many useful training sessions are conducted for the benefit of High Court officials. Patna High Court was computerised in the year 1990-91 and achieved the distinction of being the first High Court in India where computerisation was done. This exercise was extended gradually at the Lower Courts too. Presently, Indian Law Reports – Patna Series of approx. 200 pages is also complied and published regularly under the technical support of NIC Bihar State Unit.
Recently, Video Conferencing (VC)-based Public Justice for the Undertrials conducted in Bihar created a history in the judiciary system where VC facility was extended from Beur Jail to Civil Court and more than 100 undertrials were released after recording their statements of facts. This has brought a reform in the Judiciary system and expedited the administration of justice. A proposal for VC facilities for all Jails and respective Civil Courts has been prepared by NIC and submitted to the apex body for subsequent action. Patna High Court also started "e-Bail System" as the effective and efficient way of passing bail orders to various districts. It is considered as a paradigm shift in the dispensation of Criminal Justice and is a prelude to e-Court.
Land Record computerisation
Land Record Computerisation "Bhu-Abhilekh" Software has been designed and developed. Buxar and Nalanda districts have taken a lead as far as land record data entry work is concerned. Chalu-Khatiyan entry has taken momentum in districts like Bhagalpur, Motihari, Bhojpur, Siwan, Jehanabad, Darbhanga and Bhabhua. The 'Bhu-Abhilekh' software facilitates Land Holders Information, Land Detail Information, Annual Demand and Collection, Online Land Transfer and Mutation. It also generates all relevant reports like Chalu-Khatiyan, Khesra Panji and Khata Pustika alongwith RoR. Online Mutation has been started in Buxar Anchal from August 2002. Nalanda is going to be the first district to bring all land record related data on computer. Presently, the data entry work has been started in 22 districts.
Apart from this the NIC BSU has also designed, developed and implemented several software packages such as the Petition Monitoring System, Computerisation of Elementary Education in Bihar, Rural Development related Scheme Monitoring, Public Distribution System, Surplus Ceiling Land Projects etc.
Bihar State Tourism Development Corporation (BSTDC)
A website for Bihar State Tourist Development Corporation (BSTDC) has been designed and developed to provide crucial information to the tourists about the sites and routes across the state and how to reach a particular spot. It is rich in graphical contents and illustrations that exhibit the potential of different tourist spots. Online booking software for Transportation and Hotel has also been prepared. The website provides facilities for a person to book a room and make payment from any part of the world.
NIC Transport – NICTRAN
NIC has successfully implemented the computerisation programme of the State Transport Department and developed a package NICTRAN (NIC Transport), which takes care of Tax Collection, registration, renewal of licenses etc. The package has made the entire process of Revenue Collection very fast, easy and convincing to the taxpayers. Presently, five District Transport Offices (DTOs) have been fully computerised after the bifurcation of Bihar. While, the remaining DTOs would be computerised soon.
Finance computerisation
The Budget 2001-2002 was prepared through an innovative computerisation technique, which resulted in saving of Rs. 40 lakh to the State exchequer. It was also released on a CD-ROM to facilitate the users in micro level planning and analysis.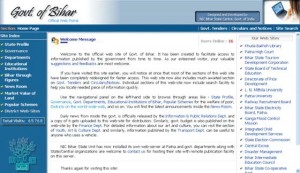 District Treasuries of Bihar were computerised in a phase manner through TRAMSNIC (Treasury Account Management System). Thirty-seven district treasuries were taken in the purview of the computerisation programme. In Bihar, all districts including the Sachivalay (Secretariat) Treasury have already been computerised. For the current financial year sub-treasuries would be taken up for the computerisation plan, and the work is currently underway.
'Bhabisyanidhi' – GPF computerisation
The Directorate of GPF, Government of Bihar, deals with almost 3,00,000 state government employees for the maintenance of their GPF subscriptions, loans, withdrawals and refunds. NIC has initiated the computerisation programme for the Patna District office comprising of 60,000 employees. The software package has been successfully designed, developed and implemented in Patna in ORACLE RDBMS with Developer 2000. Seeing the success of the GPF Directorate computerisation, state government is showing keen interest in extending the computerisation programme to all the districts.
Election Confidential –ELECON

Designed by the NIC BSU, ELECON (Election Confidential) is a software package for fulfilling the MIS requirements of the District Administration during Parliamentary and Legislative elections.  ELECON has the ability to initialise itself, generate its own database files, and to create its own data-entry screens based on local requirements.
Urban Basic Services for Poor (UBSP)
The UBSP scheme was put into operation by the Urban Development Department, Government of Bihar. The project is centrally sponsored scheme financed by UNICEF and executed by NIC BSU. The main objective of the project is to improve the overall living condition of the slum pockets of the cities in Bihar. NIC is engaged in generating various MIS and GIS based reports to monitor the lifestyle of slum dwellers vis-à-vis their existing environment. The Project is worth Rs. 66.06 lakh, and has been implemented in the Gaya District as a pilot project.
Computerisation of statewide Registration Offices under Registration Department, Governmentt of Bihar – SCORE  (System for Computerised Registration) has been designed and developed to simplify the registration process for the registry offices, accountability as well as transparency of the registered deeds. The features of SCORE include online capture of details of a Deed, identifier, auto-valuation of the property(s) based on the Minimum Value Register (MVR) requisite criteria; auto-calculation of required stamp duty, additional Stamp duty, registration and other fees; Photo captures of parties, identifier; fingerprints capture of parties and identifier; generation and printing of all endorsements, receipt, memo of presentation, and final registration endorsement.  SCORE has been presently implemented as a pilot project at Registration Office, Patna. Ever since its implementation, manual registration has been completely discontinued. Launched on 5th September 2005, SCORE is being implemented on a BOT (Build, Own and Transfer) model. The project has been successful and is to be extended to few more districts and Sub-Registry Offices.
Bihar official website
Bihar official website (http://bihar. nic.in)was inaugurated by the then Bihar Chief Minister Mrs. Rabri Devi on 14th August 2001. The website contains valuable information about Bihar, besides containing information on various State Government schemes for the downtrodden and economically backwards citizens.
Future e-Governance plan

Recently, NIC BSU submitted a plan worth Rs. 7.75 crore for the improvement of overall IT infrastructure and implemen-tation of e-Governance for Bihar to the Planning Commission, Government of India