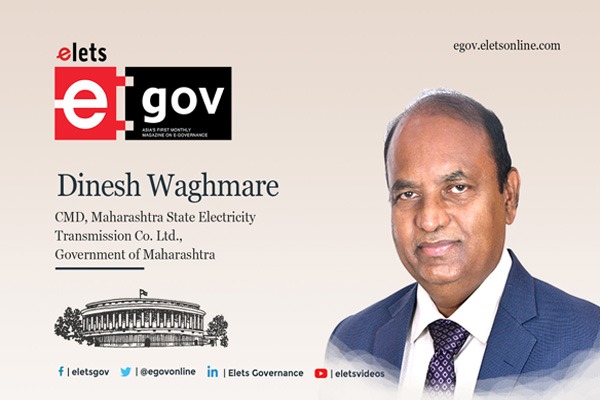 Work done by Maharashtra State Electricity Transmission Company Limited (MSETCL) has been recognised and awarded by SKOCH awards for the work related to digitalization of substations, OPGW network & Innovation in training practices and implementation of Automatic Meter Reading (AMR) system. It has brought various technological innovations to make energy transition a smooth process and to cater to the growing energy demand in Maharashtra, shares Dinesh Waghmare (IAS), Chairman & Managing Director, Maharashtra State Electricity Transmission Company Limited (MSETCL), in an exclusive interview with Vikas Nag of Elets News Network. Edited excerpts:
Please share insight into the key achievements of MSETCL. How are you aligning your organisation for its digital future?

MSETCL constructs, operates and maintains a huge transmission infrastructure all over the state of Maharashtra. Maharashtra being a highly urbanised and industrialised state, availability and reliability of power supply is of paramount importance. The company has achieved a record transmission of 28,000 MW due to its proper planning of transmission infrastructure & projects.
For smooth functioning of such a vast EHV transmission network & maintaining the availability and reliability of the transmission system, MSETCL has adopted various Predictive and Preventive testing and maintenance practices to minimise occurrences on the transmission lines and at its substations. This has been achieved by adopting innovative and advanced technologies for the transmission networks. As a result, we are able to achieve availability of HVAC and HVDC systems far excelling Regulator's benchmarks. MSETCL is in a continuous process of upgrading its technologies with time. Some of them are;
Remote Airborne Inspection and Scanning System (Remote Control Drone)
Insulated Type Aerial Work Platforms for Hot-Line maintenance works
Hot-Line Washing
Hotline Maintenance / Puncture Insulator Detection (PID)
Digital Substation & Digital Bay
Optical Fiber Ground Wire(OPGW)
Automatic Meter Reading (AMR) System
To meet the future challenges arising with integration of huge Renewable Energy, Battery Energy Storage Systems (BESS), Infrastructure for Charging Stations for e-vehicles etc., MSETCL has already taken up necessary studies in respect of installation of Flexible AC Transmission Systems (FACTS) devices.
As regards to the push for Digital drive, Optical Fiber Ground Wire (OPGW) network of about 3300 km has already been established by MTCIL which is a MSETCL-Sterlite joint venture. Further, all new EHV lines are being provided with optical fiber ground wire (OPGW) This communication superhighway will immensely benefit MSETCL's future digital drive.
Various awards have been conferred to MSETCL for the work related to digitalization of substation, OPGW network & Innovation in training practices and implementation of Automatic Meter Reading (AMR)
What is your perspective on a sustainable and forward-looking power sector providing high- quality customer service and fostering the socio-economic growth of Maharashtra?
Sustainable development is possible by the use of sustainable energy and by ensuring access to affordable, reliable, sustainable, and modern energy systems for citizens. Strong government support and rapid economic growth have pushed India to be one of the top leaders in the world's most attractive renewable energy markets. The government has designed policies, programs, and a liberal environment to attract foreign investments to ramp up the country in the renewable energy in India.
India's renewable-rich states already have a higher share of variable renewable energy (VRE) than most countries internationally. As a result, many states are already facing system integration challenges.
India is aiming to attain 500 GW of renewable capacity by 2030. Due to COVID-19 pandemic, there have been some hiccups. However, the country as a whole and state of Maharashtra in particular have already made significant transmission infrastructure plans for integration of renewables. Increasing power system flexibility will enable the integration and balancing of larger shares of solar and wind generation. As a result, for a given amount of solar and wind capacity, a larger share of renewables can be utilised. This will help Maharashtra and our country to achieve a high-growth, low carbon economy.
Reduction of overall costs of transmission and improvement of operational efficiencies to improve cost-effectiveness of power supply to the consumer is the key challenge. How do you tackle it? How is technology acting as an enabler to overcome the key challenges?
India has one of the largest and most complex power sectors in the world. Over the past few decades, the country has witnessed a remarkable evolution in power sector. However, the Transmission & Distribution (T&D) sector constantly comes across many challenges. The major challenges which T&D sector faces today includes integration of variable renewable energy, transmission system availability, transmission losses, Right of Way (ROW) , forest clearance issues, land acquisition issues, AT&C losses, timely project completion to avoid time & cost overruns, reduction in accidents & ensuring zero accidents.
In addition to above mentioned challenges, other challenges are cyber security, availability of capable & competent Manpower, automation of the network and adoption of new technologies. There is a slow pace of absorption of new technology by indigenous manufacturers of electrical equipment and also in power utilities because of the low investment in research & development (R&D). According to estimates, less than 1% of the annual turnover of the industry is invested in R&D. Deteriorating financial health of power distribution companies especially in the state sector also prevents any significant investments in new technologies which adversely affects new investments by Original Equipment Manufacturers (OEMs).
However, the government is bringing out policy reforms to suit the fast paced growing transmission and distribution environment. New policies will encourage the use of the latest technology and upskilling of the employees towards the awareness of tackling these challenges. Major technological reforms in the distribution sector viz. smart grid will improve financial health of power utilities enabling further reforms and implementation/adoption of state of the art technologies.
The Ministry of New & Renewable Energy (MNRE) has introduced the Renewable Energy Research and Technology Development Programme (RE-RTD) to promote indigenous technology development for the widespread deployment of new and renewable energy, in an efficient and cost- effective manner. How is Maharashtra embracing tech-led innovations to boost the renewable energy sector?
Renewable Energy Research and Technology Development Programme is an initiative taken by the Ministry of Power, Government of India towards the scaling up of the R&D effort during the period – FY 2021-22 to FY 2025- 26, for promoting indigenous technology development for widespread deployment of new and renewable energy in an efficient and cost effective manner across the country.
This programme will strengthen the research and innovation capacity of the country. MSETCL encourages initiatives taken towards the use of renewable energy in the transmission sector. MSETCL abides by all the policies, towards the development of the energy sector laid by the Ministry of Power, MNRE and the Government of Maharashtra.
MSETCL commissioned the Renewable Energy Management Centre (REMC) in January 2020 to provide a dedicated Renewable Energy (RE) management system, which facilitates robust & reliable grid operation. It is equipped with a Forecasting & Scheduling tool for real time monitoring of renewable energy generation for safe, secure and optimal operations of the overall grid. As of now, 104 RE pooling substations have been integrated for forecasting of RE generation. Efforts are being made to further enhance the accuracy with latest technological advancements.
In your opinion, what should be the holistic approach towards innovations in technologies in order to continuously evaluate the feasibility of their application to enable a clean energy future for the state?
Moving towards clean and green energy is the futuristic approach. Progress should always be a fine blend of technology, Innovation and socio economic growth going hand in hand. As per the report of Niti Aayog 2021, the Government of India plans to increase renewable capacity to 500 GW by 2030, but even faster growth will be needed in the following decades to meet ongoing growth in demand and reach climate targets.
It also suggests policy, market and regulatory measures to incentivise renewables and ease their integration into the energy system. MSETCL follows the policies by the Ministry of Power, MNRE and Govt. of Maharashtra (GoM) towards achieving the goal of encouraging clean energy for the state.
The advent of next-gen technologies such as smart appliances, data analytics, machine learning, AI, robotic process automation etc. are enabling organisation's to meet their business objectives more effectively. What are the key drivers making the adoption of digital critical for the power sector?
The Government of India is planning to modernise the transmission sector and make it future ready. MSETCL has adopted innovative and advanced technologies for the transmission networks. It is in a continuous process of upgrading its technologies with time.
Remote Airborne Inspection and Scanning System (Remote Control Drone): Previously, conventional methods such as ground patrolling/ monkey patrolling were used for observing the damages to the conductor/ hardware/ earth wire. However, apart from these conventional methods, MSETCL adopted the latest technology in line patrolling and introduced Remote Airborne Inspection and Scanning Systems which are Remote Controlled Drones. The use of Drones helps in cost and time savings in line patrolling and maintenance thereof.
MSETCL has procured 24 Remote Airborne Inspection and Scanning Systems (Remote Controlled Drones) for closer inspection of EHV lines to observe any breakage of conductor/ insulators, missing/damaged hardware, damages to conductor or earth wire, hot spot etc. These Remote Controlled Drones have pre-installed Thermovision & highly sensitive Visual Cameras along with GPS for precise monitoring of any possible defects/lacunae and also infringement/encroachment issues along the ROW etc.
Digital Substation & Digital Bay:
MSETCL is planning to undertake digitalization and remote operation of substations. It will improve the reliability, efficiency and safety of the system with the use of fibre optic cables rather than traditional copper connections. Presently, 220/33 kV Kekat Nimbhora digital substation is in service under Nashik zone and the work of 220 kV Digital Bay is under execution at existing 400/220 kV Lonikand-II S/s.
Optical Fiber Ground Wire (OPGW):
MSETCL is developing a project of establishment of a comprehensive communication network based on OPGW by replacing the existing earth-wire by OPGW on EHV
transmission lines. The project is being executed by the JV company of MSETCL. Under this project 3300 km of OPGW is laid and 26 SDH equipment are provided at various EHV substations. By using this OPGW and SDH equipment, a high bandwidth communication network is established, which is utilised to transmit data from various systems such as RTU, ABT, ERP, Line protection devices, etc. from various substations to SLDC, ALDC control centres & Maharashtra Asset Management Centre (MTAMC).
Automatic Meter Reading (AMR):
The AMR system for transmission substations throughout the geographical domain of MSETCL and in Mumbai utilities like Adani, TATA, BEST are being carried out in a phased manner for better granularity and flexibility in ramp up rate. This project enabled an automated, transparent and reliable process of interface energy meter data collection without manual intervention.
Project provides actual energy data for effective implementation of Deviation Settlement Mechanism (DSM) in the state of Maharashtra in line with the SAMASTA guidelines. This project will also help in scheduling and billing activity precisely at MSLDC level. The commercial benefits of this project are intangible.