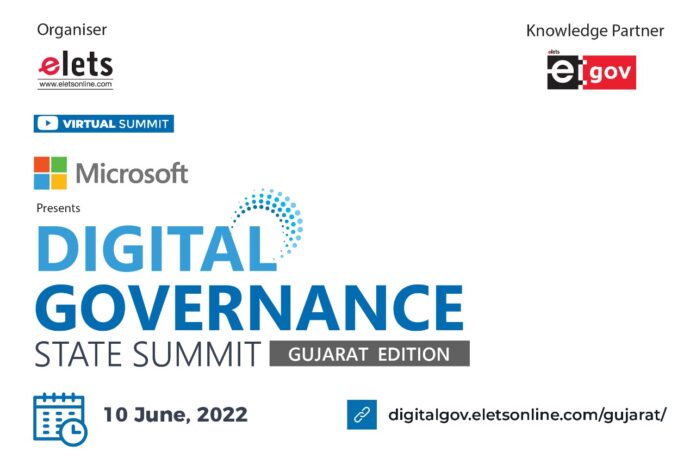 Microsoft India, in association with Elets Technomedia, is orgainsing Microsoft Digital Governance State Summit – Gujarat – on 10 June to delve into the evolving role of new-age technologies like Artificial intelligence (AI), Machine Learning (ML), and IoT in smart governance.
The virtual summit will also focus on data-driven governance to create a roadmap for future-ready digital governance.
Rushikesh Ganeshbhai Patel, Hon'ble Minister, Health & Family Welfare, Medical Education, Water Resources & Water Supply, Government of Gujarat will join the summit as Chief Guest.
The summit will bring senior policy-makers and industry experts together for deliberations on best practices and analysing of growth trends in e-governance. The knowledge exchange forum will also decode challenges around public sector digital transformation.
Key Discussion Points:
👉  AI/ML, IoT & data for efficient, transparent & productive governance
👉 Modernisation of government-owned utilities
👉 Citizen engagement and e-governance: trends, best practices & way forward
👉 Hybrid & distributed workforce: united by collaborative technology
👉 Tech-driven urban innovation & trusted digital services
& many more
Panel Discussions:
👉 Deliver Urban Innovation and Trusted Digital Services
👉 Modernisation of Government-owned Utilities: Bringing Operational Efficiency & Better Service Delivery
Technology Presentations:
👉 Reimagine Collaboration through Empowered Frontline Essential Service Worker
👉 Digital Technology- Enabling Connected Citizen Service
👉 Adaptive, Resilient, and Secure Infrastructure Solutions for Digital Governance – Azure
👉 Empowering Everyone with Local Language, Tech and Accessibility
For more details, visit: digitalgov.eletsonline.com/gujarat/