Prime Minister Narendra Modi talked about the significance of the Government e Market (GeM ) portal to sell products. While addressing women from the Self Help Groups, who attended the National Women Livelihood Meet 2019, he mentioned that the women members can directly sell their produce to the Government of India through this portal.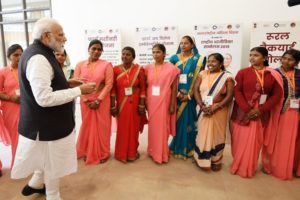 He spoke at Deendayal Hastkala Sankul in Varanasi, Uttar Pradesh on the occasion of International Women's Day. Over 65 lakh women across 75,000 locations participated in the meet through video conferencing.
Addressing the audience, Modi urged the women to innovate and understand the market better and to utilise the Government e Marketplace (GeM) portal to sell their products to the government.
He mentioned that out of 15 crore Mudra Loans, 11 crore loans have been given to women.
Appreciating the work done by the Self Help groups, Modi said that the women are not only contributing towards the development of their family, but towards the nation building as well. At present, around 50 lakh Self Help Groups are with membership of around six crore women are operating across the country.
 He envisions that at least one woman member from each family connects with a Self Help Group. He also said that the government is supporting these groups with better bank loans and other facilities.
The Prime Minister said that women have an important role to play in creating New India. He also mentioned that the Government of India has initiated various schemes contributing to the women empowerment in India. These schemes are meant for the welfare women and girl children in various fields such as health, nutrition, education, sanitation, employment, skill development, safety and security and gas connection.
He also spoke about various schemes such as the recently launched Pradhan Mantri Shram Maandhan Yojana, which provides financial security during old age, Pradhan Mantri Kisan Samman Nidhi and Ayushman Bharat Yojana.
Aided by the Uttar Pradesh Rural Livelihood Mission, an exhibition of products manufactured by the Self Help Groups was held, which was also attended by the Prime Minister. He distributed Electric Chaak, Solar Charkha and Honey Warp to women beneficiaries and appreciation letters to five women Self Help Groups.
Various women, who are part of Self Help groups supported by Deendayal Anthodia Yojana and National Rural Livelihood Mission (NRLM), Uttar Pradesh, contributed Rs 21 lakh to the 'Bharat Ke Veer' fund.