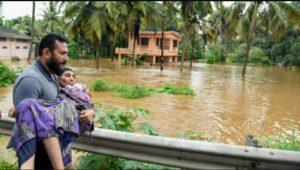 As Kerala struggles to keep afloat amdist the flood waters,  social media has turned out to be a handy tool for Indians who are doing their bit to help the #keralafloodvictims.

Citizens across the country are coordinating on social media websites not only to help but also to raise funds.
Mothers of the students in Bhavans school of Bharatiya Vidya Bhavan, Kakanadu, Kochi during seva activitie, packing food & utilities for the #KeralaFloodRelief camps.

The selfless service by common citizens during the flood shows Humanity is alive around us pic.twitter.com/Md5x80S2nR

— Anjali George (@Kuvalayamala) August 20, 2018
The Indian Army is also updating citizens on the rescue work through websites like twitter.
Update on #KeralaFloodRelief : The C-17 aircraft crew is working 24×7 to ensure continued support to Kerala. Today, 100 tons of food & medicines along with 5 tons of water was transported to Kerela. Also, 38 boats & NDRF personnel positioned for Ops. pic.twitter.com/f71wMWlZ94

— Indian Air Force (@IAF_MCC) August 19, 2018
The nation has united to help Kerala and through social media flood victims are being assisted towards food and other supplies.
Kasaragod #Thalapathy fans contributing to flood affected people… pic.twitter.com/nYqfXHtmLP

— Irshad (@Irshad5676) August 19, 2018
 people
The social media websites have also revealed a number of unsung heroes who have helped the flood victims in every possible way.
25 KG of rice donated to the #KeralaFloodRelief and #KodaguFloodRelief fund, by the security guard of Sri Venkatramana temple , Car street, Mangaluru.

Common people are doing their part, while some sick journalists are spreading hate between states during this time of tragedy. pic.twitter.com/NaGJa4mO7j

— Kiran Kumar S (@KiranKS) August 20, 2018
The Central Government has till now announed a relief package of Rs 100 crore for the State. More than 7.24 lakh people have been dispaced due to floods.
Follow and connect with us on Facebook, Twitter, LinkedIn, Elets video