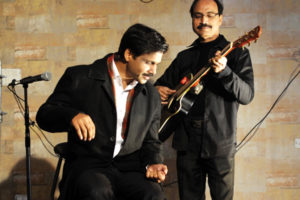 Presenting a distinct shade of an IAS officer's administrative personality, Dr Hari Om, Secretary, General Administration Department, Government of Uttar Pradesh, leaves a lot of people amazed with his singing prowess. In an exclusive interview with Arpit Gupta of Elets News Network (ENN), he talks about his singing, music and writings and much more in detail.
Isn't maintaining a balance between your passion and service a tough task?
What motivates you to pursue the passion? Music connects you with your spiritual side. When you try to rise above this materialistic world, arts like music, dance, writing, poetry, become a medium for it. Music and writing are my passion. I am driven to my inner sense through these arts. I enjoy the process of creating music, writing poetry and stories. Music is my love and I feel, think, and enjoy music to the highest level. I find time to follow music after my office hours.
How do you manage office, practise music and do concerts? How much time do you devote for them?
There are constraints also. I have to practise music daily. Otherwise, I will not be able to sing. I consider this practise as my worship and devote at least two hours to it daily. My voice has refined due to constant practise. As far as possible I do concerts on off days. If it falls on working day I take formal leave for that.
How has been this musical journey so far for you?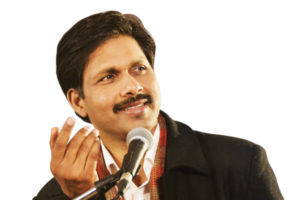 I hail from a small village from erstwhile Sultanpur district now Amethi. I studied in village school till Class 12. There was no pressure on us unlike the pressure which today's kids face. We were the happiest lot for achieving a score of 60-65 per cent in Uttar Pradesh board. There was folk music too. God gifts artistic tastes to peopele. I was born with the finer instincts. Folk music attracted me from the beginning. I used to spend nights listening to that music. My father was also happy to see my good marks. There was minimum use of technology in our lives then. So we used to get a lot of spare time. After completing school studies, I reached Allahabad University from where I graduated. After that, I went to Jawaharlal Nehru University, Delhi. I did my Ph.D later on while in service from Garhwal University, Shri Nagar now in Uttarakhand.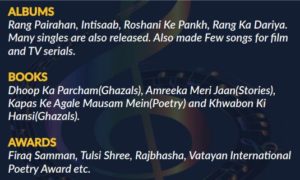 Music was always with me like a good friend. I kept my harmonium with me throughout my student life. I used harmonium when I got bored from my studies. We used to go out only when close friends used to visit me, otherwise I would spend time with music only. I did my PhD in Hindi literature.
My father wanted me to try for IAS and I did so. I cleared the civil services examination in 1997. Now music has become a way of life for me. I am a professional singer now. I have released many albums. My writing also continued simultaneously. I have devoted myself to creativity. I have published four books, released four albums and some more projects are in my mind.
Although I don't have any regular formal training of classical music but I have been learning it from learned local gurus wherever I was posted. And after the use of internet became handy I listened classical Ragas, etc, on YouTube and other websites to learn many things. I have learnt things in piecemeal because of my transferable job but I am exposed now to classical music.
What are your plans?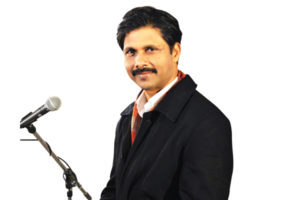 I want to create good music. I want to create my space in the world of ghazals. Great artistes like Ahmed HussainMohammed Hussain have already blessed me and my music and they have constantly supported me. I write my own ghazals, compose them and sing them. If my music finds a place in some film, I would also like to try that out. I am satisfied with my works in the field of music and writings so far. I would love to be known more as a musician and writer in future so just want to keep writing and singing.
Any memorable incident you want to share?
There have been many such incidents where my singing got common audience as well as Bollywood professionals like Kailash Kher, Shreya Ghoshal etc, got surprised when I shared stage with them and sang during my field postings as Collector. People normally don't expect an IAS officer to be an artist of professional standards. So whenever I sang in public, it was taken with utter surprise. Those were the days when I did not to performed in public. Now it's an open secret. People at large know that here is an IAS officer whose heart beats for singing
Follow and connect with us on Facebook, Twitter, LinkedIn, Elets video