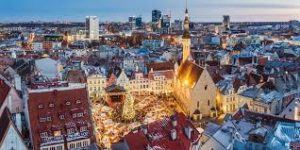 European country Estonia has started the e-residency programme inviting over 200 Indian start ups to participate in it.
This programme will enable the start ups to access the entire European Union from India through a government issued digital id.
Estonia will invite the start ups through a series of seminars and roadshows.
The motto of the programme is "Make in India and Sell in Europe.
Efforts are on by the Estonian officials to sign a Memorandum of Understanding with the Indian Government to provide knowledge on e-governance so that services can be paperless and easily available.
"We are lacking information and communication technology (ICT) people in Estonia, and we would like to get them from outside. So far, we have ICT talent coming in from Turkey, Ukraine, Russia. But we see that India could be a possible country because it has a lot of ICT talent. These people could come to Estonia to work immediately or to study first," said Estonia's Entrepreneurship and IT Minister Urvi Palo.
The World Economic Forum has ranked Estonia as the  most entrepreneurial country.
The e-residency program was established in December 2014. It has over 30,000 e-residents from 154 countries, with a majority coming from the United States, Russia and Finland.
Follow and connect with us on Facebook, Twitter, LinkedIn, Elets video