The Mizoram Government through ICT Department has put in the hard work to ensure realisation of Prime Minister Narendra Modi's vision of Digital India. We have set up infrastructure in the e-Governance domain and established State Wide Area Network, says Zodintluanga, Minister, Urban Development and Poverty Alleviation, Government of Mizoram in conversation with Ritika Srivastava of Elets News Network (ENN).
What is your vision for the Urban Development of Mizoram?

Provision for clean water, clean air, scientific collection and disposal of solid waste, sustainable land use, improvement of the public transport system are a must to make Mizoram a true modern urban State. The challenges in urban development are enormous, especially in a city like Aizawl where the terrains pose a big problem in planning. A hill city like Aizawl needs to have proper walkways and pedestrian footpaths. If Aizawl city can be transformed into a walkable city, it can become one of the most comfortable and livable cities in the country.
Therefore, there is a need to promote NMT and public transport system in the State. More footpaths need to be put in place along the length and breadth of the city wherever possible so that people can move with ease. Towards this end we now have Non-Motorised Transport Plan for Aizawl City which was prepared by Innovative Transport Solution (itrans) Pvt. Ltd., New Delhi. The task of implementing of the NMT Plan has been shouldered by Aizawl Municipal Corporation.
Matters relating to water supply and management of solid waste need to be tackled systematically. The State of Mizoram is still very new to the whole concept of urban development and management. Water is a big challenge everywhere.
What challenges are posing hurdles in effecting development?

There are issues that need to be properly addressed. In fact, for Aizawl city we have taken steps towards an improvement of water distribution system under AMRUT, drainage system has been improved to a great extent to prevent landslips and landslide which are rather a common phenomenon in hill terrains especially during the rainy season.
An interesting milestone to mention is, although we are small State, our performance in the implementation of AMRUT Schemes. In fact, we are the best performer in the whole Northeast and among the top 10 States in the country. Apart from this, under the Asian Development Bank funded North East Region Capital Cities Development Investment Programme (NERCCDIP), Solid Waste Resource Management Project is also underway which is expected to be completed in 2019. For a small State like Mizoram, we have taken up quite a big project.
"For Aizawl city, we have taken steps towards an improvement of water distribution system under AMRUT, drainage system has been improved to a great extent to prevent landslips."
Are there any special initiatives or policies formulated for difficult terrains of the State?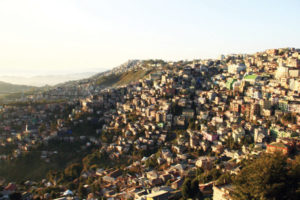 To develop cities into modern cities, civic amenities like playgrounds, stadiums and community halls need to be provided. Besides the aforementioned components, impetus needs to be given to transport and waste management. My Department i.e., Urban Development & Poverty Alleviation Department is currently pursuing one project namely Supporting Sustainable Urban Transport in Aizawl City with Ministry of Finance. Technical Assistance has already been given by Asian Development Bank consultants CDM Smith. Under this project, there is a plan to put in place cable cars as an alternate transport system in Aizawl city. In addition to this, there will also be a provision for procurement of state-of-the-art buses that aimed at addressing public transport problems in the capital city.
What steps have been taken to address issues related to Solid Waste Management here?
Solid Waste Management is indeed a colossal task everywhere. However, activities in sanitation have been carried out since 1977. The first Cleanliness Week starting from 2 October, 1977 was observed to mark Gandhi Jayanti. Mizoram has been observing Cleanliness Week since then, involving streets' cleaning and sweeping voluntarily by different communities and localities. Good performance is rewarded with prizes and incentives. In Aizawl city and other towns as well, domestic waste is collected at regular intervals by the Government in partnership with local and village councils, which are elected bodies. We have also declared 2018 as Cleanliness Year.
What measures are underway to realise Prime Minister's vision for Digital India Mizoram?

At the moment, the State government through ICT department has put in hard work to ensure success in fulfilling the Prime Minister's vision of Digital India. We have set up infrastructure in the e-Governance domain and State Wide Area Network, State Data Centre, Common Service Centre for a delivery channel, and develop G2C and G2G services for common man's easy accessibility.
Apart from Bharat Net project, the State has taken steps to improve Internet connectivity for all Government departments in districts through a wireless system under the State Government's flagship programme New Economic Development Policy (NEDP).
Furthermore, the department has done application development of Content Management System (CMS) for all government websites, Online Water Billing, Online Power Billing, Inventory Management System, Online Property Return System, Online Leave Application. The State Government of Mizoram has extended its horizon by introducing 'IT Education Programme for 100 Schools' and 'Interactive Digital Classroom for Development of Science and Mathematics'. Under Skills Development programme, IT has been introduced at the high school level. We have also mandated IT proficiency for all recruitments under the State Government wherein Course on Computer Concept (CCC) is the minimum prescribed. So, in near future, all State government employees will soon turn IT literate. It'll be a great boon for governance.
What makes Mizoram an attractive tourist destination?

The Mizos are very warm-hearted, hospitable and very trusting. You can still find unmanned shops in several places in rural areas. Mizos love singing. You can witness choral music at church gatherings, which is often something to marvel at for an outsider or a tourist. Our biggest cultural festival is the Chapchar Kût which will take place on 2 March, 2018. Year after year, we have more tourists coming for the Chapchar Kut Festival. The main celebration will be held in Aizawl. Not far from Aizawl, we have Reiek Tlang hill where you can go trekking all the way to the summit. It's breathtaking. For adventure lovers, we have a much longer trekking route at Vaipuanpho, which is a three days and nights journey.
Follow and connect with us on Facebook, Twitter, LinkedIn, Elets video