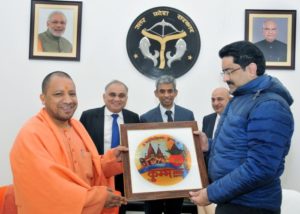 Eminent industrialist and Chairman of the Aditya Birla Group Kumar Mangalam Birla called on the Uttar Pradesh Chief Minister Yogi Adityanath at his official residence here today. During the meeting, discussions were held on the investment opportunities in the state.
The Chief Minister said that various facilities are being given to the investors by the state government, in establishing business in the state. The state government had spruced up the law and order machinery and also strengthened the infrastructure facilities. Industrial Investment and Employment Promotion Policy as well as sector-wise policies have been promulgated which contain attractive provisions for establishment of industries.
The Chief Minister also extended an invite to Birla to attend the Investors Summit to be held in the state capital in the coming month of February. He also presented a logo of 'Prayag-Kumbh-2019'.
Notably, Uttar Pradesh government is organising the 'UP Investor Summit-2018' on 21-22 February in Lucknow and has been inviting investors, industrialists and entrepreneurs from across the country to invest in Uttar Pradesh through roadshows. A large number of the prominent industry captains are expected to take part in the Investor Summit.