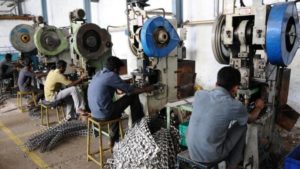 During the last two years, 1,50,000 Micro, Small and Medium Enterprises (MSMEs) have been established in Madhya Pradesh. These units have provided employment to over 5.81 lakh persons. Capital of Rs 15,091 crore have been invested in these units.

In the fiscal 2016-17, 87,0 71 MSMEs were established including 80,688 micro, 6,140 small and 243 medium enterprises.
Employment to 3,63,812 persons was provided and a capital of Rs 9,547, 32 lakh had been invested in these units.
Similarly, in the current year till September end, 65,0 86 MSME units have been set up including 61,0 377 micro, 3,583 small and 126 medium enterprises and employment to 2,17, 417 persons were provided. An amount of Rs 5,544,33 lakh have been invested in these units.
"Work is being carried out rapidly in the state for the establishment of Micro, Small and Medium Enterprises," said Sanjay-Satyendra Pathak, Minister of State, MSME. Pathak further informed that 'Facilitation Cell' established as per the announcement made by the Chief Minister has started working from March, 2017.
Support consultants in 20 districts have been posted under the cell who are monitoring the work in the nearby districts along with their working area. The project managers, financial experts, MSME marketing, legal and start up experts have been appointed in the cell. Pathak further said that "online free entrepreneurship training will be imparted under the MSME scheme.
Youths of the state will be imparted training by preparing a module in this regard. Facilities and assistance being provided for the establishment of MSME have been brought under the ambit of Public Service Guarantee Act".
Follow and connect with us on Facebook, Twitter, LinkedIn, Elets video