Uttar Pradesh's Yogi Adityanath Government is dedicatedly working to introduce and utilise new-age technology to improve the State transportation system, says Swatantra Dev Singh, Minister of State for Transport (Independent Charge), Government of Uttar Pradesh, in an exclusive Interview with Arpit Gupta of Elets News Network (ENN).
What are the achievements of Department of Uttar Pradesh under the leadership of Chief Minister Yogi Adityanath?
As stated in the Lok Kalyan Sankalp Patra, we have started government bus services in the villages to bridge the gap between villages and district headquarters. Buses of the Uttar Pradesh State Road Transport Corporation (UPSRTC) are now plying through 4,766 villages. Till now, they were deprived of bus connectivity and we are in the process of finalising 533 new routes to run government buses in nearly 7,000 villages. We have not spent any additional money in buying buses etc. for connecting villages with district headquarters through transport. Moreover, it has happened within existing infrastructure. Villagers in far-flung areas using transport facilities at an affordable cost, is one of the biggest milestones our government has achieved.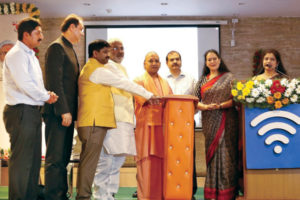 How many bus stations now have the free Wi-Fi facility and Water ATMs?
As many as 74 bus stations, spread across 66 district headquarters in the State now have free Wi-Fi facility. The Wi-Fi services with unlimited infotainment would be available for passengers through an app 'TG Connect'. Gradually, benefits of free Wi-Fi will be given to passengers travelling in buses.
Water ATMs have been installed at 10 bus stations including Varanasi, Allahabad, Azamgarh, Moradabad, Rampur and Hardoi in order to provide clean and cold drinking water to passengers. Under Corporate Social Responsibility, we have received proposals to install at 100 Water ATMs to ensure potable water at affordable price in all important bus stations.
Social media accounts of the Transport Department on Facebook and Twitter are quite popular due to instant response, how does it help connect citizens?
Anybody can register his/her transport related complaint through social media platforms like Facebook and Twitter (@ ParivahanUP). The Department is resolving close to 100 complaints daily which it gets from different social media platforms. Acting on the complaints, we are also taking stringent actions against the drivers and conductors if they are found doing driving or speaking on mobile while driving.
Recently, many passengers have received their lost belongings by lodging complaint on social media. And it has become possible because of active presence on social media.
We are also disseminating information and updates related to the Department through hashtag (#Know_UP_Transport) since September 19, 2017.
We have also launched a mobile app 'Track Your Bus', which is useful for checking online availability of tickets and tracking real time location. Passengers can also give their feedback through mobile app.
What initiatives have been undertaken by you to stop malpractices in the department?
Our Chief Minister Yogi Adityanath is committed to make Uttar Pradesh a corruption-free State and we are leaving no stone unturned to realise his dream.
We have developed and implemented the Automated Fuel Management System (AFMS) in 73 depots of the State. This has strengthened diesel storage and distribution mechanism, and at the same time ended the possibility of diesel theft.
Automatic driving test tracks have been constructed at Kanpur and Bareilly. An initial survey work has begun in all regions to explore feasibility of automatic driving test tracks.
How the digital initiatives have improved overall efficiency of the system and help ensure transparency?
E-challan
Uttar Pradesh Transport Department has implemented E-challan and provisions have been made so that e-payment of the fine can be made by the vehicle owner. E challan system has been implemented across the state. This app provides for automatic location logging through GPS. The system will automatically calculate the challan amount based on the type of offence selected by the enforcement officer. Automatic alerts and notifications will be sent to relevant stakeholders at predefined stages of challan process.
VAHAN 4.0
We have implemented web-enabled 'VAHAN 4.0' software – a common, centralised, web-based platform for all RTOs across all states, facilitating availing many vehicle-related services online. As a pilot project this system was started in Barabanki on 12, Jan 2016.
We are planning to have complete Digital RTO offices wherein all applications and payments of fee and taxes will be accepted online. We are also planning to convert all DL and RC records into e-files by scanning them so that when any applicant visits RTO office, it saves time and energy.
SARATHI 4.0
We have also implemented web-based Saarthi 4.0 driving licence application software. Applicant can submit new LL or new DL application and pay the respective fee online. They can even online book a particular time-slot of their choice for bio-metrics and LL/DL test which is being conducted in the concerned RTO/ARTO offices. Saarthi 4.0 has been implemented in Lucknow and Barabanki and the process is on to implement it across the State by the end of January.
Any special initiatives for women safety and encouraging lady passengers use more UPSRTC busses?
The grant of Rs 83.40 crore has been approved under Nirbhaya Fund from the Ministry of Road, Transport and Highways, Government of India in the backdrop of women empowerment and safety with the following components under MySafeBus and AdiShakti – 50 Ladies Pink Buses, CCTV, Panic Buttons and Controllers on 12,500 buses, 24 Interceptors and Advocacy / Advertisements / Awareness campaign.
On the occasion of Rakshabandhan festival, UPSRTC had provided free journey to as many as 11,16,332 women passengers. Besides, to ensure the safety and security of women, we are going to cover 100 places under CCTV surveillance. For differently-abled passengers we are going to provide wheelchair facility at bus stations like airports. As far as green transport is concerned, we will come up with a policy for electric vehicles and e-Rickshaw soon. Routes are also being finlaised in consultation with different agencies and their officials.
Follow and connect with us on Facebook, Twitter, LinkedIn, Elets video