Lucknow is all set to witness major transformation in smart infrastructure and public utility spaces in coming years to develop the Uttar Pradesh capital as one of the top smart cities in the country, says P K Srivastava, Additional Commissioner, Lucknow Municipal Corporation and Additional CEO, Lucknow Smart City Limited, in conversation with Arpit Gupta of Elets News Network (ENN).
"We expect an increase of annual footfall in green spaces by 15 per cent due to better maintained green areas, free Wi-Fi, drinking water facility and organised parking."
How is Lucknow Municipal Corporation (LMC) planning to develop Qaiserbagh area in a new way?
The key components for retrofitting Qaiserbagh area include utility improvement, smart grid, infrastructure development for slums and urban poor and Gomti riverfront development.
UTILITY IMPROVEMENT:
Under this scheme, utility duct (electricity, water, telecom, Optical Fiber Communication and Piped Natural Gas) will be improved. There are also plans to cover nullahs (open drains), strengthen and augment the existing network. For water supply, LMC aims to strengthen and augment the distribution network, increase use of smart metering, and use Supervisory Control and Data Acquisition (SCADA). For electricity, we are planning to improve our underground distribution cabling and relocate transformers, and at the same time increase the use of smart metering.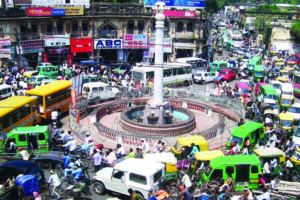 SMART GRID: We plan to install rooftop solar panels on all city buildings. All government buildings will be included in the first phase of the project. We are also aiming to harvest rain water. There are plans to treat and reuse the waste water as well.
INFRASTRUCTURE FOR SLUMS AND URBAN POOR: For people living in slum areas, we will undertake various infrastructure development works. Night shelters will also be set up for homeless people or the poor.
GOMTI RIVERFRONT DEVELOPMENT: This is one of the most talked about project of the LMC. We are beautifying the parks and green belts along the riverfront and are also establishing open gyms there. Wi-Fi hotspots will be created in this zone and a Smart City Knowledge Management Centre will also be established there.
Brief us about the new initiatives taken up by LMC for the development of the city?
We are setting up barrier-free pedestrian infrastructure and street furniture; building pelican crossings for interconnecting parks (Begum Hazrat Mahal Park and surroundings); setting up variable message signs; building new multi-level car parking at Globe Park; building infrastructure for vegetable markets, fish markets; developing Qaiserbagh crossing and providing smart parking solutions for off-street parking at Qaiserbagh bus stand, Dayanidhan Park and Sarojini Naidu Park; and smart parking solutions for on-street parking at nine locations. We are establishing smart ticketing system, which is a kind of temporary encroachment regulation and penalty system. We are also trying to improve roads and junctions.
For safety and security of the city, CCTV cameras have been installed at various important locations. There are emergency call points and modern police kiosks. We are also replacing traditional streetlights with energy efficient street lighting system.
Lucknow was not included in the top 100 'Swachh Cities' under the 'Swachh Bharat Mission' 2017 ranking, what steps have been taken to make the city clean?
To improve the drainage system, we are creating sewers along nullaha and are also strengthening the existing network.
We have started door-to-door collection of garbage through vehicles which are installed with GPS. We have also started using sensor-based smart road bins and smart community bins.
How are you promoting the rich heritage of Lucknow?
Lucknow indeed has a very rich culture. Samruddh Lucknow Movement is about rejuvenating existing heritage buildings.
We have started the Lucknow Awadh Walk on Thandi Sadak. We have also created an Awadh Point – which is a centralised recreational space at Begum Hazrat Mahal Park.
We are also developing an International Culture and Heritage Centre at Chhattar Manzil; tourist information centre at Sibtainabad Imambara; façade lighting and restoration of Lal Baradari; Archaeological Research and Heritage Centre at Roshan-ud-Daula Kothi; a public library at Kothi Darshan Vilas; Heritage Conservation Institute at Kothi Gulistan-e-eram; Cultural Club at Rifa-e-Aam Club and restoration of Morris Market near Qaiserbagh Crossing.
We also organise cuisine and handicraft festivals from time to time; cultural theme events; awareness campaigns through radio and television vision.
What are the corporation's future plans for the city?
We are aiming to reduce electricity pilferages by up to 40 per cent in the next five years. This will happen through underground cabling of electricity distribution lines. Currently, approximately 60 lakh kwh units are lost annually in the Area Based Development (ABD) zone due to pilferage.
In the coming five years, house tax coverage will be increased by 5.50 per cent. Currently, there are approximately 6,800 residential and 2,200 nonresidential properties under tax assessment in ABD zone, which is around 90 per cent coverage.
We are expecting seven per cent increase in house tax collection efficiency in the next five years.
In the next five years, 60 kms of utility ducts will be created.
We expect an increase of annual footfall in green spaces by 15 per cent due to better maintained green areas, free Wi-Fi, drinking water facility, and organised parking. Due to Gomti River Waterfront, 58 per cent of area availability of public spaces will also be increased.
In the next five years, we plan to build around 16 smart bus shelters in ABD. Currently, there are no such shelters in Lucknow. We are hoping that due to our efforts, open defecation in slum areas will be reduced to zero per cent from the current four per cent.
Rs 50-crore worth of electricity would be generated from installation of solar panels in smart grid, which account 14.28 per cent of the total value of electricity consumed in the ABD zone. The current value of electricity consumed from conventional sources is Rs 10.50 crore.
Follow and connect with us on Facebook, Twitter, LinkedIn, Elets video