The project titled 'Case Watch System (CWS)', being implemented in the Karnataka Appellate Tribunal (KAT), in consultation with Centre for e-Governance, Department of e-governance, Government of Karnataka, has unique and advanced features such as e-filing, e-payment, online scrutiny, dashboards to all stakeholders, etc, says Kapil Mohan, Chairman of Karnataka Appellate Tribunal, in an interview with T Radhakrishna of Elets News Network (ENN).
"CWS is a state-of-the-art application for e-filing and processing of cases at the KAT."
Give us an overview of Case Watch System.
CWS is a state-of-the-art application for e-filing and processing of cases at the KAT. Its objectives are:
1) To automate the existing process based on the Act, Rules and Regulations of KAT for speedy disposal of cases, and to improve communication between the stakeholders.
2) To make the system more citizenfriendly and integrate the State Commercial Taxes and Cooperation to resolve their disputes with the stakeholders in an effective and time-bound manner.
3) The CWS is developed with plans to link up with lower and higher courts for improving functionality with quasi judiciary authorities.
How does the CWS function? What benefits does it offer?
The CWS enables the petitioners and petitioner counsel to file a case online as well as through the judicial service manned counter at KAT. It enables status tracking of cases, viewing of judgement copies, view various documents on Acts and Regulations; viewing of cause lists. Registration is mandatory to file cases online-a valid mobile number and email ID are necessary, advocates, citizens and CA/ STP, companies and societies can easily register online. The application is available on all gadgets including mobile app. Some of the benefits are:
Promotion of teamwork: From the requirement stage to the implementation stage, all stakeholders are actively involved and made everyone felt responsible for the successful implementation.
Improved quality of services: Through CWS web portal, judicial service counter, kiosks, SMS/email and through mobile app, quality of services have improved drastically, and the same have been commented positively by all stakeholders.
Introduction of a unique idea or a distinctively new approach: The time allotted for a file to move from case worker to section head and then to next senior officer has a time limit of three hours, and any delay in that gets escalated to the next higher officer immediately and suitable action is taken.
Facilitating ICT–enabling /e-governance: Through web portal, kiosks, LCD screens, SMS, emails and mobile apps, CWS has ensured the speedy delivery of justice, transparency and accuracy.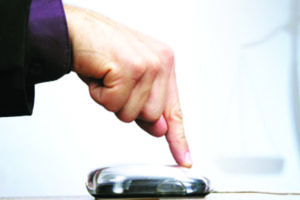 Enhanced citizen role, involvement and participation, citizen centric services, easier case filing mechanism, quicker scrutiny and feedback on submitted documents, SMS and email alerts in Kannada and English about every event in the case, judgment search option up to 30 fields Usability of mobile app and kiosk, survey number verification can be done for knowing whether there is any litigation on that particular land, promotional of sustainable PublicPrivate Partnership.
Increased efficiency or cost service delivered: Efficiency has been increased by making information available to all stakeholders with a touch of a button. Information is digital now and updated on a daily basis.
Computerisation of records and access to citizen:15,000 running case files are completely scanned and uploaded which consists of an average of 100 pages each, with metadata entry of close to 100 fields for each file.
What is the technical architecture of the application and what are its benefits?
The entire application has been built on open source technologies-Java as programming language and Liferay as DMS are used. The application has integrated with the document repository. The database used for the solution is postgres.
How CWS is different from e-courts application?
Unlike e-court project, the CWS has unique and advanced features. The e-courts application, which is currently used in all the lower courts and High Courts in India, enables stakeholders to see the case status, cause list and judgments online. These are the only three things that are made available.
What are the key features of this project?
The CWS offers many features which can be classified under Transparency, Accountability, and Responsiveness.
Transparency: CWS provides seamless access to the information regarding the status of the case and other important information through web portal, kiosks, LCD screens, SMS, emails and mobile apps.
Accountability: The complete registry part of the Court, which handles its backend court process like scrutiny, call for records and serving notice, etc., and the in-court process like assigning next hearing date, etc., are all automated and an escalation matrix is part of the system.
Responsiveness: CWS provides access to their case files from anywhere and at any time to law practitioners, litigants and department users including Judges, which makes the system more responsive and also easy in carrying out the court process.
Follow and connect with us on Facebook, Twitter, LinkedIn, Elets video