ABM is one of the front runners in e-governance solution providers and the only company which has implemented 750+ Urban Local Bodies (ULB) in India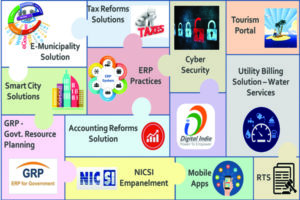 An important point here is projects are not just successfully implemented but have been supported and sustained from the range of five to 15 years. There has been continuous improvement aiming at better citizen service delivery and transparency, and ease of doing business at ULB level during this period.
The success and the sustenance of a pilot project in Kalyan Dombivali Municipal Corporation (KDMC) enabled the Maharashtra Government to decide on replicating this solution across the State.
ABM Knowledgeware was selected as Software Implementation Partner for State-wide roll out of 'e-Municipality in Maharashtra' in 231 ULBs. This implementation was done between 2010 and 2014. ABM is providing post implementation services to these ULBs and has institutionalised IT in these ULBs by enabling urban reforms. The total number of citizen transactions in these ULBs is more than 816 Lakhs and the volume of financial transactions executed is Rs 8,240 crores approximately.
ABM Knowledgeware has continued to create the footprints of success in 'E-Municipality'. For Example, ERP Practice at Municipal Corporation of Greater Mumbai (MCGM), where ABM started in 2006-07, is growing, benefitting MCGM significantly in areas of reforms and improved citizen services. Property tax reforms in Mumbai for which ABM developed a capital based value assessment system, ABM also developed the systems for various utilities like AQUA for water billing, ABM CFC and ABM CARE for power sector, etc.
ABM then glided into providing solution of Accrual based Double Entry Accounting System to the Ministry of Defence in pan-India initiative.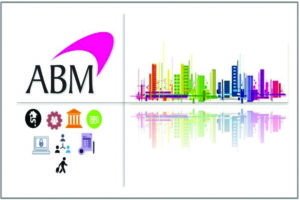 Maharashtra, believing in ABM's versatility with unified quality in its services, trusted ABM's capability to make tourism sector 'e' centric. Although all these projects seem countable, it took uncountable hard work, perseverance, focus, skilled manpower force and at last but not the least 'Adaptability to technology'.
It is needless to say that ABM Knowledgeware gave its best shot while implementing any project and ensured sustenance, and continuous improvement in all projects.
"Smart City and Smart Governance are inseparable for achieving holistic success. ABM has proven itself multiple times giving best RoI to its esteemed patrons across India and looks forward to partner with many more States," says Prakash Rane, Founder and Managing Director of ABM Knowledgeware.
ABM Knowledgeware being a proven leader in 'E-Municipality' in India, other big State Governments like Madhya Pradesh and Bihar entrusted ABM with their most ambitious state-wide roll out of 'E-Municipality' solution. Thereby, ABM Knowledgeware brought 'E-Nagarpalika' to the stage of its successful opening this year in Madhya Pradesh and 'Bihar Nagar Seva' in Bihar by respective Chief Ministers. ABM is trying to bring all best services under its umbrella to cater to the needs of the State. The most recent enhancement is being done by appending Cyber Security 'the real need of an hour' to its offering chain.
In this way, ABM Knowledgeware gradually expanded its offerings in various categories.
Some of them are:
E-Municipality Solution – This provides e-Municipality solution for ULBs, which caters to crores of citizens by giving Government to Business (G2B) and Government to Citizen (G2C) Services.
Tax Revenue Reforms – This offering by ABM is to assist municipal-bodies in migration from rent based property tax system to capital-value-based property tax system as well as its automation.
Accounting Reforms Solution – It helps government bodies in migrating from Single Entry Cash Based System to Double Entry Accrual Based Accounting System.
SAP Practise – ABM has been providing ERP implementation along with vital post implementation support to large sized government organisations, with large interface to citizens, since more than a decade.
Mobile Apps – ABM develops apps to provide anytime-anywhere service to the citizens as well as for the back offices.
"ABM Knowledgeware was selected as Software Implementation Partner for Statewide roll out of 'e-Municipality in Maharashtra' in 231 ULBs."
Smart City solutions – Smart City is formed by Smart Governance, which is solely dependent on e-governance solutions and is being rendered by us through our leadership in this domain.
GRP – Government Resource Planning – GRP is an ERP for Government. It is an indigenous 'integrated office automation system, for government and other government bodies, built with an objective to run a paperless office in all its administrative transactions.
Utility Billing Solution – Water Services – The offering provides billing, accounting, collection and MIS services.
It also provides Consumer Relationship Management solution for water distribution bodies through standardisation of customer facilitation centres and extending services that can be availed online, by mobile app, Kiosk, etc.
Solution for Tourism Corporations – This offering provides central Reservation System with development of tourism portal for the Government.
Cyber Security – This offering empowers your digital workforce which enables user to work faster with a highly secure, yet simple to use remote access solution.
ABM Knowledgeware, playing the major role in e-governance solution and services, is the most ready IT Company to contribute to Smart City initiatives. It is already making contribution in seven Smart Cities listed by the Indian Government.
In addition to this, it is conducive for other Smart Cities as well to get the maximum e-governance services. This is because its solutions are designed on the guidelines of Digital India. Whereas, various smart components of Smart City like transportation, health, education, security, etc, needs integration with smart Governance solutions given by ABM Knowledgeware.
Follow and connect with us on Facebook, Twitter, LinkedIn, Elets video