Over years, IL&FS Technologies have formed strong partnerships and alliances to create an ecosystem of global smart infra solutions. The company's value proposition to the city authorities is the unique ability as a System Integrator to aggregate and deploy these global solutions in Indian conditions, says Durga Prasad, Chief Executive Officer, IL&FS Technologies Ltd, in conversation with Elets News Network (ENN).
IL&FS Technologies Limited is developing Internet of Everything (IoE) based digital solutions for Smart Cities and Smart villages. What is your vision of the IoE?
As part of one of India's largest Infrastructure conglomerates, IL&FS Technologies (ITL) is well -poised to take advantage of the new wave of IoT based smart Infrastructure solutions. We started integrating Infrastructure with technology as early as 2011-12, through implementation of Smart Infrastructure solutions in the space of Smart Urban mobility, Public safety and Smart governance.
"IL&FS Technologies has an unparalleled track record when it comes to delivery of citizen services, both in India and South East Asia."
We believe that the key to success of a Smart City depends on data based decision making and increased citizen participation. At ITL, we are investing in developing capabilities to integrate IT (Information technology) and OT (Operational Technology) to deliver an Integrated Command and Control centre for city authorities to not only monitor but take actions in real time, thus realising the dream of a true Smart City.
What is your go-to-market strategy in India particularly for Smart Cities?
IL&FS group has been a pioneer in "Smart Cities". Its commendable contributions include the creation of GIFT city Gujarat. We have leveraged on the strength of the group and are among early implementers of Smart solutions. Our Smart Infrastructure practice focuses on the Smart City initiative. Over the last few years we have formed strong partnerships with leading companies in the IoT space. In addition to this, we have created an ecosystem of partners for providing Smart solutions such as Integrated Traffic Management System (ITMS), surveillance, Smart Parking, Smart Urban Mobility, Smart poles and Smart solid waste management. Our value proposition to the city authorities is our unique ability as a System Integrator to aggregate and deploy these world class solutions in Indian conditions.
The nation is transforming in sync with the "Digital India" initiative and so is the delivery system of citizen services, how big is this opportunity and what plans do you have in this regard?
IL&FS Technologies has an unparalleled track record when it comes to delivery of citizen services, both in India and South East Asia. 90 per cent of our projects are citizen- based projects delivering a myriad of services both statewide and countrywide. Post the initiation of the Digital India programme, we are witnessing a renewed focus on using Information and Communications Technology (ICT) to make a difference in everyday lives of the common citizen. We have reinvented ourselves to focus on e-governance, Smart Infrastructure and Analytics, which is the fastest growing market segment over the next three to four years.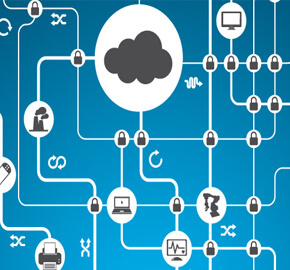 Could you tell us about your latest E-governance projects?
We have delivered many interesting projects over the years but two of them are worth their mention due to its relevance. The first one is the project we delivered for Rajasthan to implement their "Bhamashah" programme. The programme influences close to 13 million families and this project helped the state government to fulfill their objective to achieve Direct Benefit Transfer and social inclusion. As part of the project, we delivered a state resident data hub that not only ensured each and every beneficiary of the state's welfare scheme is uniquely identified.
The second programme that resonates well with the current times is delivering a single integrated portal for all citizen services for the e-district programs. We have worked with four State governments to successfully deliver this project and our experience while implementing them has been remarkable. The biggest challenge in such a program is the cross department coordination to ensure seamless transfer of information so that the citizen need not physically visit them.
How are you planning to integrate smart technologies with infrastructure?
We have identified two broad themes when it comes to delivering Smart Infrastructure solutions:
Smart Citizen service – City authorities face everyday challenge to deliver basic services, be it traffic management, public safety, waste management, parking, public transport, public utilities like water & electricity, etc. Integrating smart technologies with everyday public Infrastructure helps authorities overcome some of these hurdles. We believe that the benefits of enhanced infrastructure and investment on technology should reach the citizen and thus ITL is continuously enhancing and enriching its ready-to-deploy citizen service delivery framework. Smart Decision Making – A truly smart solution should not only report but should provide
Smart Decision Making – A truly smart solution should not only report but should provide behavioral prediction to enable smart decision making. Our data scientists use an algorithmic approach to build analytical models that can churn large amount of data to come up with relevant insights that help authorities to make informed decisions.
Data protection is a rising concern, do you think India needs a data security policy?
Data protection is increasingly becoming a real cause of concern in the growing Digital world that we are creating around us. The latest "Ransomware" threat is a prime example of how a small piece of code can cripple our economy, healthcare, transportation, etc. With integrated Infrastructure, this threat will spread even to the "traditional" systems like power and water grids. Hence, a robust data security policy is need of the hour.
Tell us about your future plans.
ITL will continue to focus on delivering smart Infrastructure solutions across industries with a special focus on the Smart City Initiative of Government of India. We are continuously forming alliances with cutting edge technology providers in the IoT space and we are looking to build thought leadership within ITL so that we can continue to help our customers become more effective and efficient
Follow and connect with us on Facebook, Twitter, LinkedIn, Elets video