As the country is embracing digitisation with a tremendous speed in various sectors, Chhattisgarh state's health department is also not far behind as it is using various digital initiatives to reach the last mile connectivity in health services, says R Prasanna, Director, Directorate Health Services, Government of Chhattisgarh, in conversation with Arpit Gupta of Elets News Network (ENN) and tells us more about them. Excerpts:
What are the various initiatives undertaken by Directorate of Health Services using Information and Communication Technologies (ICT) for improving efficiency of the public healthcare system?
We have started various e-health and m-health initiatives in the State. Some of them are:
Human Resource Management Information System (HRMIS):
HRMIS is a tool to manage the Human Resource (HR) related tasks which are being performed in the health department. This project captures collective information of health department's employees.
Kayakalp
Kayakalp helps to promote cleanliness, hygiene and infection control practices in public health care facilities. One online portal has been created for assessment and peer review of performance related to hygiene, cleanliness and sanitation.
After the assessment, the awards are distributed based on the performance of the facility on the following parameters:
Hospital upkeeping
Sanitation and hygiene
Waste Management
Infection Control
Support Services
Hygiene Promotion
Rashtriya Bal Swasthya Karyakram (RBSK) The main aim of this scheme is to detect and manage the 4Ds prevalent in children of Anganwadi Centre (6 weeks to 6 years) and government aided schools (6 years to 18 years) based screening. These 4Ds are defects at birth, diseases in children, deficiency conditions and developmental delays including disabilities.
Nursing Home Act 
This is an online web portal for any private hospital/maternity home/ nursing home, clinic and physiotherapy unit, medical laboratory or diagnostic services. Any new or established medical facility can register for license under nursing home act.
E- Hospital System–
(Implemented in three districts hospitals) E-hospital system made easy access to data to generate varied records including classification based on demographic, gender, age, and so on hence, enhancing continuity of care. It helps as a support system for the hospital authorities to develop comprehensive healthcare policies.
E-mahtari
This is online tracking system to track due and overdue services to be provided to the pregnant women during pregnancy, during delivery and after delivery and also to the newborn child up to five years. The aim of e-mahatari is to ensure that every woman gets complete and quality pre- and postnatal care and every child receives a full range of immunisation services.
Demonetisation has opened a new scope for cashless transactions across India, how Directorate of Health Services is working to make cashless payment system across the nation?
We are using the following systems for cashless transactions:
Direct Benefit Transfer (DBT)
With the aim of reforming government delivery system by re-engineering the existing process in welfare schemes, for simpler and faster flow of information/ funds and to ensure accurate targeting of the beneficiaries, de-duplication and reduction of fraud Direct Benefit Transfer (DBT) was started on 1st January, 2013 by the Government of India. In Chhattisgarh, DBT was piloted in two districts namely Koriya and Dhamtari in 2013. After successful piloting, it was rolled out across the State in 2014-15.
"The overall objective of the public financial management system is to help the Directorate of Institutional Finance of the Government of Chhattisgarh to identify gaps and weaknesses in expenditure tracking for health sector."
Cash incentives under various health schemes are directly transferred to the beneficiaries' bank account. Main schemes are Janani Suraksha Yojna, Family Welfare Programme and Mitainin incentives. Salary of contractual staff working under National Health Mission is transferred through DBT directly to the employees' salary account. In 2016-17, the department has transferred Rs. 16 crores to beneficiaries' bank accounts through DBT.
Public Financial Management System (PFMS)
Public Financial Management System (PFMS) was initially started as a scheme named CPSMS of the Planning Commission in 2008-09. To overcome the weaknesses of conventional government financial management system and to introduce improved systems, the last decade has witnessed large scale reforms in the public financial management systems in India.
What all ICT initiatives the Ministry is working on or planning to introduce in the near future?
We are soon going to launch the following android applications:
Health Emergency- Mobile App
This app will automatically call to 108 ambulance on just one click. It will also enable quick search for nearby hospitals in case of emergency i.e. accident, attack, burn case etc. This app will provide guide to the user about hospital address, distance, location and navigation through Google map.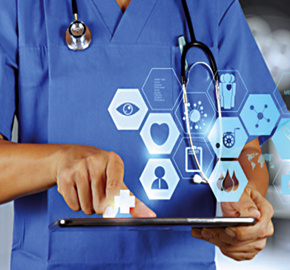 Health info app
This app provides information about various programmes and schemes of Department of Health and Family Welfare, information about Chhattisgarh's pregnant women and child vaccination scheduler, Body Mass Index and diabetes risk calculator and other information for general public.
mHealth is a very important component of eHealth. Tell us about medical and public health practices supported by mobile devices like mobile phones, patient monitoring devices, personal digital assistants (PDAs), and other wireless devices?
Some of the mHealth apps we are using are:
CGMSC-Drug Info (M-Application)
This android app provides drug information to its stakeholders, doctors, pharmacists and general public. Some of the key parameters of the drugs like expiry can easily be known. It also gives information about count of the issued medicine to any particular facility/district of Chhattisgarh, drug which is mostly consumed in particular district.
Follow and connect with us on Facebook, Twitter, LinkedIn, Elets video