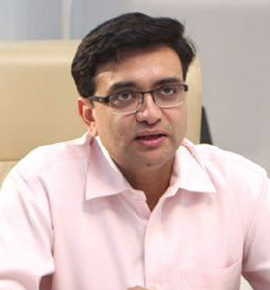 The Rural Electrification Corporation (REC) is the nodal agency for the Deen Dayal Upadhyaya Gram Jyoti Yojana (DDUGJY). It has been tasked to build a database of all sanctioned villages, identify progress of electrification in all villages and to prepare a village-wise plan for 100 per cent household electrification, says Dr Dinesh Arora, Executive Director, REC and Chief Executive Officer of REC Power Distribution Company Limited (RECPDCL), in an interview with Gopi Krishna Arora of Elets News Network (ENN).
How would you describe the overview of RECPDCL?
REC Power Distribution Company Limited (RECPDCL) is a 100 per cent subsidiary of the Rural Electrification Corporation (REC). It is an execution wing of Rural Electrification Corporation. RECPDCL implements IDPS projects, Deen Dayal Upadhyaya Gram Jyoti Yojana projects, renewal energy projects, power system management, roof top solar projects etc. We are working with distribution sector across India. We are right now working in almost 29 States and 36 DISCOMS, where we are adding value to the distribution chain.
"I think Digital India should drive on electrification mission in India. The poles which we are putting for rural electrification can be used for fibre optics."
On the occasion of 69th Independence Day, Prime Minister Narendra Modi announced all the remaining (18,452) villages would be electrified within 1,000 days, how big is this challenge?
The rate of annual electrification before this announcement was around 1,000-1,500 villages. This would have taken 9-10 years, had we gone with the same pace. So, we along with the Ministry of Power worked on micromanagement. We initiated three main steps. First, we started micro management and divided the village electrification process into 12 steps. Secondly, we appointed field engineers who could facilitate DISCOMS in giving us information on the wire. Finally, we have GARV app which shows development happening every day. It contains all the information like where and in which state the work is going on, in which state work is going on, who all are the contractors, which all officers are involved, has the village been electrified or not? If yes, what is the proof? Not only this, GARV app is also helping in impact analysis. So, it was a planned move and results are in front of us. As many as 12,789 villages spread over 19 States have been electrified as on March 27, 2017 and remaining 4,828 will be electrified in the next financial year (2017-18).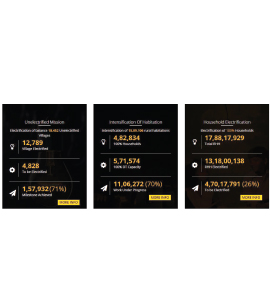 Why were villages left in the dark for 68 years?
And when the electrification of such villages is happening, to whom would you like to give credit? First, certain villages were in difficult terrain. They were in left wing extremists and forests areas, hence, their electrification was difficult. In many states, governance played a very important factor in rural electrification like in southern India, western India, Gujarat, Andhra Pradesh, Karnataka, Kerala and Tamil Nadu. But same can not be said for the states like Uttar Pradesh, Bihar and Jharkhand. These States had governance issues. Now all the States are on target, fully cooperating with the central government for rural electrification.
What are the challenges involved in working with different States and DISCOMS?
We are getting excellent response from most of the states. They have been responding very well and have clear vision for the mission of 100 per cent electrification. The credit for the progress goes to all. So, I would like to compliment most of the States for doing fantastic work and cooperating with us in this endeavour of village electrification.
What is the difference between the Rajiv Gandhi Grameen Vidyutikaran Yojana (RGGVJ) and Deen Dayal Upadhyaya Gram Jyoti Yojana (DDUGJY) from an execution point of view?
Rajiv Gandhi Grameen Vidyutikaran Yojana was for the electrification extension of untouched areas. It had a population policy for 300 households.
However, under Deen Dayal Upadhyaya Gram Jyoti Yojana (DDUGJY) population criteria was removed, the scheme was made comprehensive and suitable for DISCOMS. For example, system strengthening even in the existing areas, DISCOMS can augment their sub stations, new sub stations not only in untouched areas but also in existing areas.
The important aspect is household metering and feeding separation. These new components have been added, inspired by Gujarat model. Feeder separation is helping where a significant proportion of agricultural consumption is there in a village or district. So, 24/7 power can be provided to the households as well as adequate electricity can be supplied for agriculture purpose. In addition to this, off grid has been added as the major component, stand-alone solar is also added for the first time. A new monitoring system under the DISHA has been added in DDUGJY. The erstwhile RGGVJ became a very small component of rural electrification.
After village electrification, the centre proposed to expand its rural electrification drive to household electrification?
When you climb one mountain, you tend to climb the next mountain higher than the previous one. The village electrification is the first challenge, second would be an intensification of habitation and the third would be households electrification. We are ready for this challenge. Prime Minister Narendra Modi has already announced that by 2022, electricity will be provided to every household. We are internally working on the target whereby 2019-20 all habitations would get electrified and simultaneously all households will have access to electricity.
GARV-2 portal was launched on December 20, 2016. How difficult is to capture the huge amount of data from the ground?
It is challenging but promising also. We have started recording data from January 2017 and have around 1.5 lakh household data on GARV app. We have also started to release all subsequent payments only after the data has been filled by the states. All states are working hard on this and we are hopeful for their continued cooperation.
Electrification is the foundation for any innovation. How do you connect electrification drive with Digital India?
I think Digital India should drive on electrification mission in India. The poles which we are putting for rural electrification can be used for fibre optics. The Andhra Pradesh government is doing the same, so why it cannot be done by other States. I think we should not only have electrified but also a Digital village.
As per the GARV-2 portal, REC averages 30,000 new connections per week. What is next?
Rural Electrification Corporation is targeting to scale up the drive to grant 1,00,000 connections every week. India has never seen electrification at such a large scale earlier, and neither have details been made available on electrification at the household level. Electrification data was only captured for families below poverty line earlier.