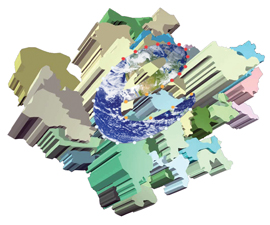 To achieve good governance and facilitate inclusive growth, harnessing ICT to evolve e-governance for improved service delivery and bridging the digital divide to achieve the objective of 'Digital Rajasthan' are part of the vision of Rajasthan Government, finds Team Elets.

eGovernance in Rajasthan has steadily evolved from computerisation of government departments to fragmented initiatives aimed at speeding up e-governance implementation across the various arms of the government at the state and local levels. These fragmented initiatives have now been unified into a common vision and strategy under the Rajasthan e-Governance Framework leveraging the Rajasthan e-Governance Architecture.
The Rajasthan Government takes a holistic view of e-governance initiatives across the state and departments, integrating them into a collective vision and a shared cause. Around this idea, a magnanimous state-wide infrastructure reaching down to the remotest of villages is evolving, and large-scale e-governance initiatives are taking place to enable easy, reliable access of people to the government services the e-way.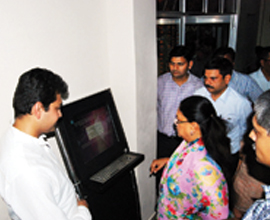 Over the last few decades, evolutions in the Information Technology and Electronics (ITE) arena have emerged as the most significant enablers for improving efficiency and effectiveness of the government and non-government organisations. Rajasthan recognises the enormous potential of ITE and has made significant efforts to ensure that the benefits of these sectors percolate to its citizens.
Rajasthan's multicultural population of 6.86 crore lives and works on a land area of 342,239 sq km, and has learned to combine skills and diligence with education and technology to sustain the momentum of economic growth. There is a widespread recognition that IT is needed to leverage the intellectual capital for the state to be the leader and trend-setter for e-governance in the country. A concerted effort to harness computer power began in the early 1980s, and in a manner that has become a state formula, the government has taken the leadership reins of the race.
E-governance is seen as a key element of the Rajasthan's governance and administrative reforms agenda. The Rajasthan e-Governance Framework and Architecture has the potential to enable huge savings in costs through the sharing of core and support infrastructure, enabling interoperability through standards, and of presenting a seamless view of the government to citizens. The ultimate objective is to bring public services closer to citizens.
BENEFITS OF THE SCHEME
Ensuring empowerment and independence of women
Financial inclusion for all sections of the society
End-to-end service delivery platform for cash and non- cash benefits with complete transparency and real-time delivery
Closer-to-home banking services for citizens
A unified platform for large number of schemes
Includes both family and individual beneficiary schemes
Rajasthan emphasises that creating digital opportunities in the 21st Century is not something that happens after addressing "core" development challenges, but it is rather a key component of addressing those challenges. There are three key challenges in stepping up e-governance: investments in and access to ICTs, capacity building to utilise e-governance services, and promoting people's participation in e-democracy. It is hoped that improved access to information and services will provide economic and social development opportunities, facilitate participation and communication in policy and decision-making processes, and promote the empowerment of the marginalised groups. In its continuing endeavour of development, the Rajasthan e-Governance, IT & ITES Policy 2015 envisages promoting citizen access to ICTs for encouraging their participation in e-governance. The policy is for the people, by the people. Though the 33 districts of Rajasthan are at various stages of development, the policy attempts to highlight the possibilities for other districts that are similar to capital in levels of development.
To promote the IT/ITES Industry in the city, this policy attempts to develop a more modern and vibrant ecosystem for Electronics and IT industry to support electronic governance initiatives of the Government of India and attract investment and talent to such industries in Rajasthan. Key focus areas of the policy include pioneering e-governance initiatives, research and development in electronic system design and manufacturing, support of the Micro Small & Medium Enterprises and promotion of entrepreneurship that harnesses the huge talent pool of the people of Rajasthan, and ensuring inclusive growth – for one and for all.
Key Objectives of Rajasthan e-Governance, IT & ITES Policy Till 2025:
Make two individuals (at least one female) in every household e-literate
Achieve up to 500,000 direct employable professionals in the ICT sector
Develop at least 2,000 technology startups
Prioritise IT/ITeS/ESDM sector
Increase in the current investment in IT/ ITeS sector, increase IT turnover to Rs 50,000 crore and increase in IT exports from the state to Rs 5,000 crore
In order to achieve the stated objectives of the Rajasthan e-Governance, IT & ITES Policy, the government has launched a number of ini- tiatives. Some of them are as following:
Government of Rajasthan's eMitra Committed to quick and convenient delivery of citizen services, the Government of Rajasthan had set up the eMitra platform of e-governance way back in 2004. Currently, over 250 G2C and B2C services are being provided through this platform across all rural and urban areas in 33 districts of the state. New services are added to its fold regularly. The eMitra service delivery points – centres and kiosks – are run on Public- Private Partnership mode.
Over 1 crore families across the state have been enrolled under the Bhamashah Scheme. It facilitates direct benefits transfer into the accounts of enrolled families. The state government intends to ensure effective disbursement of government entitlements and complete financial inclusion in the state through the scheme. The next step in this direction is to ensure disbursement of cash benefits to the beneciaries close to their doorsteps.
In order to facilitate this, the state government is under the process of setting up eMitra Pay Points. eMitra Pay Point is an exclusive payment disbursement kiosk network that uses point of service/sale (PoS) devices. These Pay Points will be set up by the local service providers (LSPs) to cover the unbanked areas and provide cash disbursement facility to the residents of these areas.
These eMitra Pay Points serve dual purpose of not only providing the facility of cash disbursement close to the residents door steps but also provide entrepreneurship opportunity to the youth in their own village.
VIDEO CONFERENCING
Video conference facility is an initiative of the state government with an objective to improve the responsiveness of administration. All government departments are stakeholders in this project.
BENEFITS
Enables 'jansunwai' Enables training of various LSP's and kiosks together Senior government officers can reach out the officers posted in remote districts of the state Helps monitoring of various schemes and projects being implemented by the state government thus leading to good governance, accountability and transparency
eMitra Mobile App 
eMitra mobile-based payment application facilitates e-payment, using any net banking/ credit card/debit card, of various utility bills like electricity bill, water bill, BSNL mobile bill and landline bill by the residents of the state. The app also allows a resident to validate the status of an application/ service receipt issued against any service by any eMitra kiosk across the state.
The app is available for Android, Windows & iOS platforms and can be downloaded from eMitra portal (www. emitra.gov.in) and respective app stores.
Rajasthan Sampark IT Centre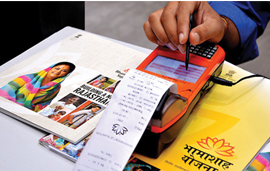 A Unified Service Delivery Platform Rajasthan Sampark IT Centres set up across Rajasthan ensure efficient delivery of services to people in an integrated and easily accessible manner. Coverage up to block level has been achieved and setting up of centres up to panchayat level is in progress with Rajasthan Sampark IT centres at each district collectorate and in all panchayat samities provides an easy approach to senior government offices/officers for the common man. These centres will enable the citizens to reach the departments of the state government for availing services and also for raising their queries and concerns, with the help of ICT interventions. Housed within Atal Seva Kendras, Rajasthan Sampark IT centres provide a centralised platform for following activities:
Service delivery to citizens
DBT through Bhamashah Scheme (banking correspondent services)
Permanent Aadhar enrollment
Work flow-enabled grievance redressal system (Rajasthan Sampark Portal)
Video conferencing facility for 'jansunwais' (public hearing) up to block level, i.e., 33 districts and 248 'panchayat samitis', review/ monitoring of government programmes/ schemes, etc.
Bhamashah Scheme
Bhamashah Scheme is an end-to-end service delivery platform to transfer cash and non-cash benefits to the targeted beneficiaries in a transparent manner. The scheme aims at including beneficiaries under various government programmes like ration cards, pension, NREGS and scholarships for higher and technical education and differently-abled.
The scheme is a family-based programme of financial inclusion, where each family is issued a 'Bhamashah Card'. The card is linked to a bank account that is in the name of lady of the house as the head of the family.
The card leverages bio-metric identification and core banking. Multiple benefits can be accessed through the Bhamashah Card and are directly transferred to bank accounts of the beneficiaries.
Under the scheme, the family is being mapped correctly and single unique data-set for the residents of the state is being made. Thus, duplication will be checked. All demographics and social parameters have been included to work out entitlement by various state departments.
The scheme implementation will be in a phased manner and eventually cover beneficiaries at all levels across the state.
Follow and connect with us on Facebook, Twitter, LinkedIn, Elets video