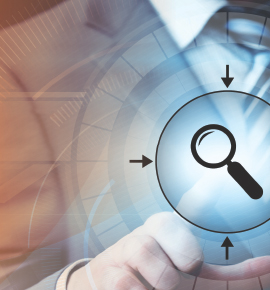 Municipal Corporation of Greater Mumbai (MCGM) is one of the biggest local governments in Asia and India's first municipal corporation. MCGM is the primary agency responsible for urban governance in Greater Mumbai and is accredited as the country's richest civic body.
The civic body is responsible for providing citizens with municipal services, infrastructure including public transport, water and electricity supply. MCGM has worked in the fields of education, public health, creation of urban amenities, art and culture, heritage conservation etc. with various non-political groups, NGO's and organisations of citizens.
Key Challenges
Document search and retrieval
Insufficient physical storage space
Information security
SLA adherence and regulatory compliance
No centralised repository
High turn-around-time
Growth Bottlenecks

With the focus of serving its citizens better, MCGM aimed at optimising its processes and enabling smooth collaboration within its departments. Managing the growing volume of information and storing physical documents were posing a huge challenge on the corporation's process efficiency.
MCGM realised that the manual way of processing transactions was time consuming, cost intensive and consumed more manpower. Managing umpteen number of building and property related proposals and supporting documents including notice, commencement certificate, occupation certificate, plan approval, NOC, property card, etc was a daunting task. The documents were being referred to physical files for verification which were maintained at different locations, hence, validation was a time consuming process.
Newgen's Solution
Newgen OmniDocs: An Enterprise Document Management System for management, archival, identification and easy retrieval of documents in real time
Newgen OmniScan: Digitisation and Automatic Data Capturing Tool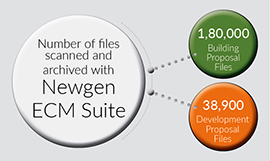 Transforming Business Processes
In order to transform the corporation's current manual workflows and making them more efficient, MCGM decided to implement Newgen's Document Management System. Newgen after analysing MCGM's current processes and future business needs proposed its Enterprise Content Management – ECM suite (OmniDocs) with a centralised bulk scanning solution – (OmniScan).
The solution enabled MCGM with end-to-end document management from creation to disposition of large volume of documents. The solution enabled digital archival, faster retrieval and efficient information dissemination across the organisation. The documents were scanned and stored in a centralised repository for easy access and collaboration across multiple locations of the organisation.
Achievement Score Card
Increased Employee productivity by 60%
Reduced turn-around-time by 90%
Improved Citizen Experience by 70%.
Reduced document retrieval time to 6 seconds
Easy document access any where and anytime through centralised repository
Faster tracking and monitoring of documents
Paperless office with documents scanned and indexed into system
Faster retrieval and secure archival of documents
Mitigated risk for any data loss Adhoc report generation and crossverification capabilities
Benefits of Newgen Solutions
Digital centralised repository for all documents
Citizen search access through MCGM Portal
Pre-defined and user-defined cabinet/folder hierarchy
Automatic quality enhancement and conversion of scanned documents into PDF format
Web based and authorised login to repositories, easy access to documents from any MCGM location anytime
Daily backup on DVD/HDD at scanning site
Implementation Impact
MCGM automated and optimised their document management process with Newgen's ECM suite. All the physical files were scanned, restored and archived with a single click. With Newgen's solution MCGM archived and digitised documents, including maps, agreements, legal documents, lease plans, lease deeds, site location plans, joint survey plans, occupation certificates etc as per the departmental hierarchy.


Newgen's solution helped in online availability of all the documents, making information available on MCGM website for easy access and faster retrieval. This helped MCGM in reducing TAT and adhering to regulatory norms. The system also provides capabilities such as rights based access, comprehensive audit trails and version management.
About Newgen
Newgen Software is a leading global provider of Business Process Management (BPM), Enterprise Content Management (ECM), Customer Communication Management (CCM) and Case Management solutions with a global footprint of 1300+ installations in 61+ countries with large, mission critical solutions deployed at the world's leading banks, insurance firms, BPO's, healthcare organisations, government, telecom companies and shared service centres.
Follow and connect with us on Facebook, Twitter, LinkedIn, Elets video