Hyderabad Metro Rail Project is full of highly advanced technical features. Some of the highlights of this project are conversions of metro tracks into precast mode and the elevated metro station design inspired by bird and cantilever structure, says NVS Reddy, Managing Director, Hyderabad Metro Rail Limited (HMRL) in conversation with Elets News Network (ENN).
Hyderabad metro rail project is the largest in the world under Public Private Partnership (PPP) model, what are the key highlights of this project?
Under this project, three high density traffic corridors (72 km) taken up in phase 1, which includes Miyapur – Lal Bahadur Nagar (29 km; 27 stations), Jubilee Bus Station – Falaknuma (15 km; 16 stations) and Nagole – Shilparamam (28 km; 23 stations). Integration and interchange has been planned with existing rail terminals, Multi Modal Transport System (MMTS) stations and Bus depots. Air conditioned "Merry Go Round" feeder buses between metro rail stations and catchment areas will be a major highlight. It will ensure "seamless travel" facility – on same ticket. The project aims at materialising an urban redesign and rejuvenation effort to transform Hyderabad into a people friendly green city.
'Transit+' concept means last mile connectivity with Non-Motorised Transport (NMT), pedestrian facilities and street furniture, ecofriendly stations with natural ventilation, skywalks, ramps, escalators, elevators and a host of commuter-friendly facilities.
What are the advantages of PPP model? Is it very difficult to implement PPP mode?
It is just that one needs guts and courage to carry out a PPP mode. If we have remarkable patience and willingness to do hard work, a PPP project will always be successful. We are abundant with dedicated officers who possess extraordinary skills. Further, private organisations' flexibility, tremendous capabilities to invent and their love for advance technologies are some of the crucial elements.
How is Hyderabad Metro Rail going to help Hyderabad transform into a competitive global city?
As we have said earlier, Greater Hyderabad is a mega city that covers 625 square km of municipal corporation area and 6,852 sq km of metropolitan area. It is fast emerging as the hub of IT/ Information Technology Enabled Services (ITES), biotech, pharma and tourism sectors. Its strategic geographical location, multilingual and cosmopolitan culture, tremendous growth potential and investment-friendly economic policy are all making it an attractive destination for corporates, entrepreneurs, academicians and homemakers alike. The increasing pressure of the burgeoning population is putting Hyderabad's Transportation System under constant pressure. The need of the hour is a robust system that is dependable, comfortable, affordable and sustainable. An efficient, safe, reliable and comfortable public transportation system is one of the prerequisites of good living.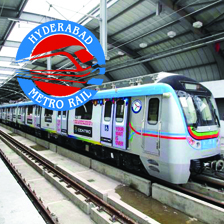 What are the latest technologies being adapted by Hyderabad Metro Rail Limited?
Hyderabad Metro Rail Project is full of highly advanced technical features. Conversions of metro tracks into precast mode, the elevated metro station design inspired by bird ("spine and wings" concept) and cantilever structure are some of the highlights of the project. Further, the capability of precise mode eliminated the need for temporary closure/blocking of the road while erection process has also helped to execute the work at a rapid speed. The project has bagged 'ROSPA (Royal Society for Prevention of Accidents) Gold' award for the last 3 years. Besides, the project has also won the best Global Engineering Project of the Year 2013 award offered by the Global Infrastructure Leadership Forum at the Forum's 6th Annual Conference held in New York.
Will you please brief us on the current status of the metro rail project in Hyderabad?
Presently, over 1,000 expatriate and Indian engineers are working on designs at various work stations. About 55 km foundations (76%), 53 km piers (73%) and about 43 km (61%) of viaduct have been completed so far. Besides, depot works at Uppal and Miyapur have been completed and precast yard works at Uppal, and pier and viaduct works is in full swing. 52 Train sets (3-car) arrived and test runs in two stretches (20 km) is on. The installation of signalling, telecom, Over Head Equipment (OHE) work at tracks is also in full swing.
Recently, on the instructions of Chief Minister Shri K Chandrashekar Rao, a senior officers' team of Telangana led by Chief Secretary Shri S P Singh inspected the Metro rail stretch from Nangole to Begumpet (16 km) to identify the gaps, the required street level works at metro stations, feeder services, passenger security arrangements etc, so as to commission it by the middle of this year.
Appreciating the footpath improvement done by HMRL at Gymkhana and Parade Grounds and the service roads, street furniture, greenery and other beautification works done by it at Uppal and Nagole stations, Chief Secretary Shri S. P. Singh has directed us to replicate such facilities at all the Metro stations in both Nagole-Begumpet stretch and Miyapur-SR Nagar stretch (11 km) so that these two Metro stretches can be opened for passengers with full-fledged facilities.
Follow and connect with us on Facebook, Twitter, LinkedIn, Elets video