Hyderabad City Police has recently launched many apps to empower the citizens to enhance their safety and security, says M Mahendar Reddy, IPS, Commissioner of Police, Hyderabad City, in conversation with Harshal Desai of Elets News Network (ENN).

Please elaborate how the Hawk Eye App will boost the security within the Hyderabad city? What inspired you to develop this app?
Mobile has become a cornerstone of the global economy. Use of mobile applications continues to grow rapidly driving new opportunities. Hyderabad City Police recognised the advent of smart mobile technology, its growth, and potential to broaden its adoption to a more transparent, cooperative and beneficial relationship between police and citizens. It has enabled to transform the ongoing police services delivery through citizen-centric interactive mobile app while enabling high standards for more open and participatory approach to understand the citizenry it serves. The mobile app of Hyderabad City Police named "Hawk Eye" was launched to the citizens of Hyderabad City keeping all this in mind.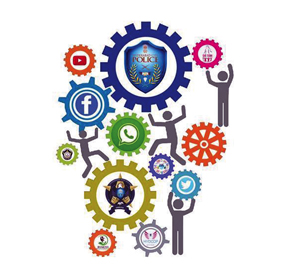 The GPS enabled mobile App is a technological innovation that converts the smartphone into a powerful emergency safety device where it facilitates the citizens, particularly women, to enhance their safety and security. The App comes to the rescue in the time of need, enhancing the safety. The SOS feature is essential in a distress, dangerous or emergency situation where it takes the GPS location of the person and sends alerts to the police network like the nearest patrol officers, station house officer, senior officers and central command centre for prompt response.
How this app is helpful for women?
This app is extremely helpful for women who are travelling alone in the city as the mobile app acts as best friend and protector to collect and send the transport details while on travel and confirms reaching the destination safely. The details are captured in the police network to send emergency alerts to police network for prompt response and chosen registered people to let them know about a person whereabouts if anything goes wrong.
Besides, the App acts as an open channel for citizens to lodge complaints, suggestions, violations or incidents and notify the police for corrective measures. The citizen can track the status of the logs and acknowledge its successful closure.
The app also provides the police contact numbers for easy accessibility of police officers for addressing the concerns of citizen and creates a path to build strong relationship between the police and citizens. It also disseminates traffic information, and police station Facebook links for "happening events / incidents".
What is HYDCOP Mobile App?
This app empowers the "front-line police officers" for smart policing on par with global standards to work more effectively. The App is for the internal use of police officers and it offers crime patterns and trends, criminal history, demography details, etc, from internal applications and databases by the officers on their smart devices that acts as a decision support system.
What are the other initiatives you would like to highlight?
City-wide IP based video surveillance system is one of the crucial steps. Effective and proactive city-wide video surveillance is proven to dramatically reduce crime, improve public safety, and heighten trust between police and community. It helps in punishing the suspect or criminal as "certainty of being caught, certainty of being convicted"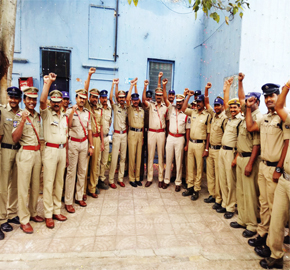 Further, the Integrated Traffic Management System (ITMS) and geographic information system (GIS) based crime mapping and analysis are the two significant initiatives. ITMS has centrally managed and coordinated traffic signals to reduce congestion and moderate traffic speeds, smoothing traffic flow, reducing auto emissions and dramatic improvement of traffic discipline. The real-time video stream and sensor data enables traffic controllers to identify the problems and provide solutions that measure the performance and continuous improvement. GIS-based crime mapping and analysis is the digital mapping of crime data disaggregated by location, type of crime, date and time, demography of victims and community assets. These variables can be analysed in isolation or cross referenced. The geospatial and temporal analysis offer powerful insight into patterns and trends of crime as it allows for effective crime prevention and crime detection process.
The amalgamation of Hyderabad police initiatives has resulted in significant reduction in overall crime rate by 8% year-on-year, particularly some of the perennial crimes, such as chain snatching has declined up to 66%, murders by 25%, serious/grave crimes by 31% and crime against women by 12%.
Effective and proactive city-wide video surveillance is proven to dramatically reduce crime, improve public safety, and heighten trust between police and community.
How significant is the role of Hyderabad Cyber Forensic Lab (HCFL)? Cyber forensic is an important aspect of every crime investigation and vital to criminal justice system. HCFL is a state-of-the-art laboratory equipped with modern tools and equipment for forensic analysis of physical or digital evidences to support every criminal investigation.
The computer forensics and digital investigations have become an integral part of investigations. It scientifically examinines the physical evidences collected from the scene of a crime or a person of interest.
HCFL is playing a vital role in forensic analysis in every cybercrime investigation and collect strong evidences to augment the investigation and prosecution process.
What about Cyber Security Training for police force?
The Cyber security training is the key component of building the police staff competencies. The tailored training solutions are planned and executed to impart on-job training with the aid of knowledge management with history of cases, use cases and trends in cyber security. The trainings are focused in the areas of cybercrime investigations and analysis, digital forensic and evidences, cybercrime processes in the areas of collection, analysis, preservation and cybercrime laws and legal framework.
Follow and connect with us on Facebook, Twitter, LinkedIn, Elets video